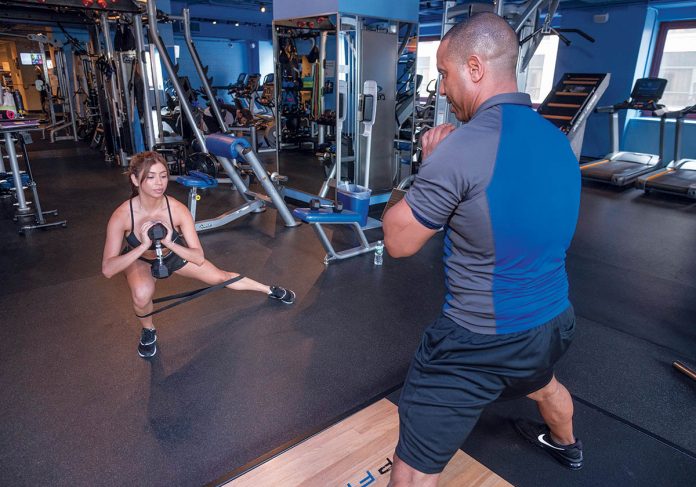 Joe Depena has a passion for iron – not the type found in vitamin pills or used to build office towers, but the kind he lifts to build muscle.
The 43-year-old has taken his penchant for exercise and turned it into a business, developing a niche among downtown Providence's fitness clubs. He owns and runs VP Fitness – the VP stands for "victorious people" – at 10 Dorrance St.
He opened the fitness club about four years ago at the same location vacated by a fitness center chain that once employed him there as a personal trainer.
He got the financial backing to reopen the Dorrance Street location, renovating the space and bringing in his own equipment and staff. He still spends long days there, managing the place, training clients and working out.
"I've been in the fitness industry for close to 20 years," Depena said. "There's no amount of money worth optimal health."
He said business is doing well. The club draws a mix of professionals who work in the downtown area, fitness-conscious millennials and older residents. But anyone is welcome.
Depena serves as the club's fitness manager, and operations manager Stephanie Peltier takes care of the bookkeeping.
He describes VP Fitness as a spotlessly clean, chic-looking 13,000-square-foot facility, mainly situated on the second floor.
The club features a fully stocked weight room, a sauna, locker rooms, a spin studio for stationary bicycling, a smoothie bar and a sports shop.
In addition to personal training, the club offers group classes in total body strength, core training, ultimate conditioning, kickboxing, yoga and Pilates, among others.
Parking downtown generally is not an issue, Depena said, as members can get up to two hours of validated parking at four parking lots within a short walking distance.
A standard one-year membership costs $54.99 a month, plus an enrollment fee. There are also month-to-month options available at higher prices. He said many members pay extra for the club's personal training services.
With several exercise-training certifications, Depena said he loves the feeling of being physically fit. And he wants to help others who want that experience.
"You have an obligation to take care of your body," he said.
He described it as a lifestyle choice with a touch of spirituality that, if someone desires, involves a tailored and strictly regimented diet and exercise program.
He enjoys delving into each client's program and helping them stay on track. As a result, he said, the club has developed a loyal following of clients.
"I love to see people get better," he added.
Depena came to the Dorrance Street location many years ago when it was occupied by a fitness center chain. He said he worked hard there as a personal trainer, but he yearned for his own business.
He eventually partnered with a Providence hotel, running a fitness center and personal training business there for several years. However, after the gym on Dorrance Street closed, he saw a bigger opportunity.
After securing financing and a deal with the building's landlord, as well as some delays with the renovation, VP Fitness opened in 2014.
Since then, Depena said, he had an offer to sell the club, but he enjoys what he is doing too much to change anything.
"We're here for Downcity," he said.
OWNER: Joe Depena
TYPE OF BUSINESS: Fitness club
LOCATION: 10 Dorrance St.,Suite 200, Providence
EMPLOYEES: 28
YEAR ESTABLISHED: 2014
ANNUAL SALES: $1.3 million
Scott Blake is a PBN staff writer. Email him at Blake@PBN.com.