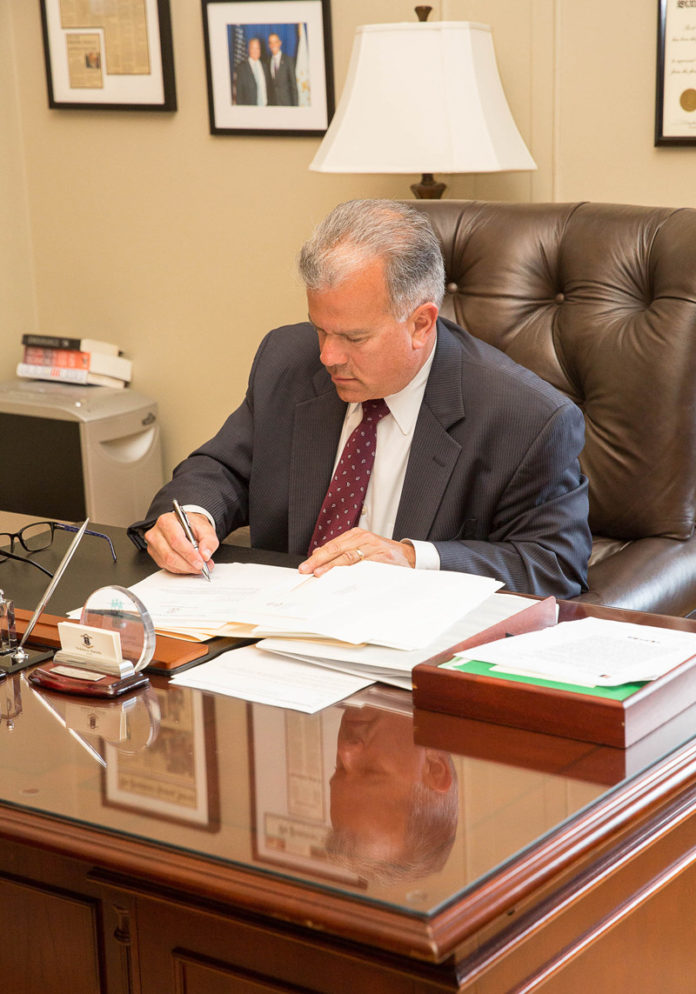 In addition to economic development, education and infrastructure, issues of ethics in governance were front and center in 2016. The behavior of elected officials was scrutinized during and after the most recent session. In May, then-House Finance Chairman Raymond E. Gallison, Jr., D-Bristol, resigned as the budget neared completion. He is reportedly the subject of an FBI investigation but has not been charged. His sudden exit triggered greater public scrutiny of the state's community-service grant program and of legislators in general.
In July, several weeks after Rep. John Carnevale, the vice chairman of the House Finance Committee, was accused of living outside his district, House Speaker Nicholas A. Mattiello, D-Cranston, stripped him of his leadership appointment. The Providence Board of Canvassers ruled that Carnevale does not live in the city he represents. He is not seeking re-election.
By the session's end, Mattiello had shepherded a bill through the assembly that will place a constitutional amendment on the November ballot seeking to restore full authority to the Rhode Island Ethics Commission over state lawmakers.
In separate interviews, Mattiello and House Minority Leader Brian C. Newberry, R-North Smithfield, recently discussed economic development and ethics, including whether the reputation of Rhode Island has been damaged.
Below is the conversation with Mattiello; next week will be Newberry's turn.
Some prominent members of the House had ethics-related challenges this year. Do you feel public confidence in the General Assembly has suffered?
Unfortunately, individual members have created issues that the public is, in one way or another, wrestling with. From my perspective, the House of Representatives is an institution I respect and I love. That's why I serve in it. It's an institution that serves the public. It's an institution that in the last several years has done phenomenal work on behalf of the business community and our constituents. However, a few of our members, in their private lives, have committed acts which put the individuals in disrepute and collaterally, affects the [public's] impression of the House. What I would like to point out is, as far as I presently understand, the acts of the individuals we're referring to, one would be Ray Gallison in Bristol, his violations are ultimately going to be something that happened in his law practice – nothing that occurred in the General Assembly.
With John Carnevale, the question was where did he live, not the work he did at the General Assembly. The public has this perception these are problems with the General Assembly. None of these problems occurred within the Assembly. … Nobody in here had an inkling, or a perception, that there was anything going wrong in the private lives of two of the members.
In some cases, people seem to invest more confidence in public officials once they've been in office for a while. The office itself does make people treat them differently, don't you think?
To a certain extent. What I would say is an elected official should hold themselves up to a higher standard. You have a responsibility to serve your community and you should do so admirably, following every rule you could possibly follow. However, the crux of your question is, does it have an impact on the General Assembly? What I want to make sure I point out is you can't look at all of the representatives in the chamber with the same eye that you look on the two that commit wrongdoing in their private lives. Your law practice, in Bristol, or Massachusetts, is outside the purview of the chamber. These are not things the other members of the House were privy to, had any knowledge of, had any understanding about, including myself. The work of the chamber is to serve the public and there hasn't been a misstep in that work, or any work being done in the building.
Has your judgment been put into question because of your decision to put them in leadership positions?
First, we take the individuals that communities send us. Historically, once someone gets elected by a community, you work them into the workings of the business of the House … one way or another. Ray Gallison was the chairman at the time I'd been elected speaker. He'd had a lot of longevity in the House. He worked very hard. It was an easy decision at the time. He was elected by his community to be the grand marshal of the Fourth of July parade. Everybody that's commented, including Republicans, said they want to play poker with him. You would never know not everything was perfect with the guy. His work in the House … was good. There was no indication there was any semblance of a problem outside of the House. … I don't oversee his law practice.
John Carnevale was a good member of the Finance Committee. He was a good vice chairman. He ran the committee very well when the chairman wasn't there. From what I judged, their work in the chamber, my judgment was good. They were good. Beyond the chamber, everybody is responsible for their own private lives. I don't have knowledge of what they do. I don't have supervision of what they do. They're responsible for their own actions.
I will say, that following this year, for the first time in the history of the state I believe, we're going to have to start vetting our leadership folks like you would vet anybody else, for any other position. It's not enough to say, they were elected by a community, so they qualify for a leadership position. We're going to have to look into their backgrounds a little bit. I've said we're going to start doing that. I'm not exactly sure how to do it.
Is that something at your discretion as speaker?
That will be up to me, regarding decisions which are within my purview. If I make the decision, I will determine what the process is.
What might result, a criminal background check, a financial background check? What will you be looking at? Employers now look at things like credit scores.
We won't have the ability to look at credit scores. We will put a process in place to do some type of background review. I want to know if there are any ethics violations. I want to know where each and every conflict is. We'll look at their ethics filings. We'll look at their financial-disclosure forms. We'll look to see if there is something in the public domain. We haven't come up with the procedures yet. But there will be a vetting process for anyone that's going to be in a leadership position.
Do you have a timeline for when you might put that into effect?
Before January.
Did you come the conclusion you had to do that because you've had two high-profile cases in recent months?
Yeah. Events cause changes in circumstances. It's a direction we're going to have to go in. The public has a right to know their elected officials and those making decisions on their behalf are appropriate, don't have conflicts and are making decisions solely on behalf of the constituencies of the state. Historically, I believe all other speakers and myself have looked at the work folks do in the House. It's like any business. You rise up through the ranks. You do good work. You get promoted. If you're here long enough and work hard enough, longevity meant something. And if you did good work here, nobody looked outside the building. Now, I think you have to start to look at the situation holistically. And that's a change.
Individual members are responsible for filing a disclosure and other things by the deadline. Is it up to your office to remind them or educate them as to what is required?
We do remind them. We hold an ethics training each year. We welcomed Jason Gramitt of the Ethics Commission to do a training session. We remind our members of the deadlines. It's up to the individual members to fill out the material. We do not get involved in that. I would have no idea of how to even assist everybody. We each have different portfolios, different employment, family relationships and so forth. Everybody has to be thoughtful and list everything.
What will ethics reform – applying the General Assembly to Ethics Commission jurisdiction – change?
The important thing is that there is an independent body that is overseeing whether there are any conflicts of interest in the General Assembly. From my experience, being a member for 10 years, and speaker for the past 2.5, there are no conflicts of interest that I'm currently concerned with. However, it's helpful to have an independent body overseeing everybody, and making sure there are no conflicts, and that the public is made aware of any conflicts that may or may not exist.
Why this year? You had said it wasn't a result of these incidents with legislators, correct?
I'm methodical in everything I do. Particularly with constitutional changes, you have to be very thoughtful. You make those changes once. With all legislation, particularly constitutional changes, I'm very methodical, thoughtful and sometimes deliberatively slow. I want to weigh all aspects of an issue before moving forward. That's exactly what I did with the ethics bill.
That being said, with what happened to the members this year, did that add more fuel to your interest in getting this passed now?
We were working on the issue. I always had concerns regarding the politics, partisan politics and how sometimes the Ethics Commission is misused. Not by commission members, but by politicians playing games with one another right around election time. That's an issue I've always looked at. I believe we would have had a strong ethics bill whether or not those two high-profile cases had happened. What the two high-profile cases did, from my viewpoint, is strengthen the belief that we absolutely need the oversight. I think we would have gotten there anyway. It convinced me probably a little more positively that you need independent oversight, so that you have someone other than yourselves looking at a situation.
Voters who elect people aren't necessarily investigating them either.
In a two-party system, theoretically if there's an issue there, someone tends to bring it forth to the public. Whether or not the public is aware of it, it's there is an independent body to oversee the members of the General Assembly … and that any situation where there are conflicts, the public is made aware of it. Our members will have a place to go now, to get advisory opinions and make better determinations as to whether or not they can recuse themselves.
On the issue of legislative grants and community-service grants, why reform one and not the other?
They're different. Community-service grants are given to organizations that basically do the work of a state agency, without the oversight a state agency would have. The legislative grants are the small grants that go to the Little League, help the elderly have events.
Some people view those grants as unnecessary. Is it really necessary for the legislature to award $1,500 to the Narragansett Senior Center, for example? Did you give any consideration to just getting rid of them?
No, you've got a lot of youth organizations, a lot of elderly organizations that rely on them. Where there's a need, we have a responsibility to address it. The individual senators and representatives have the best idea of where those needs are in their communities. Most people believe that the elected legislators know where the needs are, and it's an efficient way to take care of those community needs in a small way. It's not charity, these are community needs.
Do you worry that there are businesses, or companies, that aren't even approaching Rhode Island or responding to the state's outreach because of perception that this state has had a problem with ethics?
No, I've never heard that. This year we were able to get General Electric [Digital] to come here. That's validation that our policies are moving in the right direction, that we're competitive with other states, that we have a good business environment and that they're very pleased with the government that is going to be serving them. I have never heard from any company that they're not considering Rhode Island because of a lack of Ethics Commission oversight of the General Assembly. I've heard that infrastructure is a big problem. They're interested in taxes. They're interested in our education system. They want to make sure we provide services that are competitive with others, where they can do business and thrive. They don't want to come and face problems in the future. They want a talented and educated workforce they can rely on. Those are the issues I've heard, predominantly education and infrastructure and business climate. Those are the things we've been trying to push in the right direction.
Of those tangible things, what are the things you're looking at in the future? What is still a sore point? What needs to happen next?
If you look at the last three budgets I oversaw, you get an idea of where we're going. I don't have specifics set forth as to what I'm planning for the next session. The more competitive you can be relative to taxes, the better off you are competitively with other states. We're investing heavily in our education system. Those are things we're going to continue to look at. We have to make sure that the results are filtering through to the children and we're producing more educated graduates that serve the complex needs of companies in the future. Our workforce is going to have to be well-educated to compete. As a state, to compete with other states, we're going to have to have that well-educated, well-trained workforce so companies are willing to come here.
Providence, in particular, still has a very high commercial tax rate. The I-195 land looks much the same as it did several years ago. What can the General Assembly do to help communities lower their commercial tax rates?
We're going to have to look at our municipalities comprehensively. No. 1, we have to make sure they're stable. No. 2, we have to make sure they're competitive. Providence is our capital city. It's run by local government, as it should be, but sometimes as Providence goes, so the state goes. It's difficult to build an economy when you have a very high residential and commercial rate in the capital city. It's a difficult issue. We've started talking about it more. It's an issue that's going to germinate in the future. It's something we have to deal with.
The commercial tax rate in Providence was reduced by 10 cents, but revaluations increased commercial property values dramatically in some cases.
What I'm hearing from those businesses is they recognize the lack of predictability in the taxes they have to pay, especially when there is a revaluation, they're at the mercy of the municipality. That lack of [tax] predictability creates instability and it scares investment off. Those are issues we have to look at. They're not within our direct jurisdiction, but because municipalities are so interlinked with the well-being of the state, it's something we have to look at in a different way.
Do you have any concerns in the election that the Democrats will lose seats?
I'm a firm believer that policy and results matter. I'm very proud of the work that we've done under my speakership, the pro-business work we've done, the pro-middle-class work we've done. All of the positive things that we've done are generating good will. The reception I'm getting at the doors is the best it's ever been and I've talked to a lot of other members and they're getting the same reception. All of the incumbents are going to win. I said last April or May that the Democrats are going to pick up a couple of seats. I strongly believe that's going to be the case. It's all based on policy. The voters pay attention.
This will be the first election since RhodeWorks, which many people opposed. Will there be repercussions from people who were not happy with it?
No, I think the folks who were not happy with it were not necessarily people who were going to vote for most of the incumbents anyway. I've been knocking on doors for about five weeks, working … four nights a week. I've had about three people bring RhodeWorks up. … I explained the infrastructure need, why that was the best way to move forward and they committed their vote to me.
On 38 Studios, is there a role for the General Assembly in that, beyond what has already happened?
There is so much public interest in this debacle. The public has a right to know exactly what happened. [Because the House has subpoena power, Mattiello said he may consider exercising it to produce documents for public review. The intention would not be to replicate the investigation already conducted by state police, or to prompt more testimony, but to focus on releasing the existing documents, he said.] •