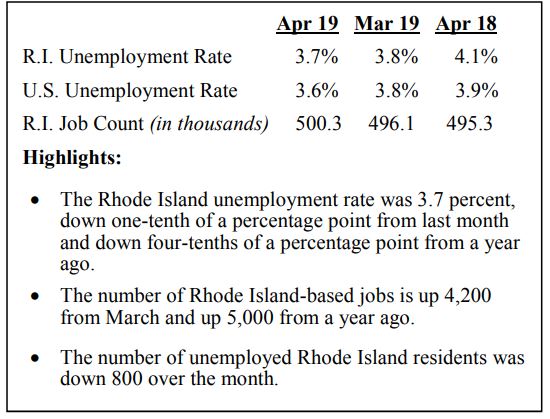 PROVIDENCE –  The state's seasonally adjusted unemployment rate fell slightly in April as 5,000 more jobs were added year over year, according to the R.I. Department of Labor and Training.
Last month's unemployment rate dropped to 3.7%, a 0.4 percentage-point decrease year over year, a report released Thursday by the department said.
The Ocean State lagged behind the national employment rate of 3.6%.
Rhode Island nonfarm payrolls jumped to 500,300 in April, an increase of 4,200 jobs year over year.
In April, unemployed Rhode Island residents numbered 20,400, a decline of 2,500 people from last year, DLT says. A total of 11,441 people filed for unemployment insurance benefits in April, an increase of 547 claims year over year.
Employed Rhode Islanders in April totaled 532,600, reflecting no change from last year, and the state's labor force of 553,000 reflects a decrease of 2,600 people year over year.
Rhode Island job activity by sector (in order of most employed to least employed):
The health care and social assistance sector employed 82,600 in April, a gain of 1,900 year over year, the largest increase of any sector in the state. Sector employment increased 800 workers month to month
The professional and business services sector employed 67,700 in April, a decrease of 400 year over year but increased 1,600 jobs month to month
Government employed 61,500 in April, an increase of 800 jobs year over year and 100 month to month
The accommodations and food services sector employed 49,000 in April, an increase of 100 year over year and 700 month to month
The retail trade employed 48,600 in April, an increase of 100 year over year and 300 month to month
The manufacturing sector, which employed 39,500 in April, showed the biggest decrease of any sector year over year, with a loss of 1,100 jobs. Employment in the manufacturing sector declined by 400 jobs month to month. Production workers in the sector earned $19.43 per hour, a 40 cent increase year over year. Manufacturing employees worked an average of 38.4 hours per week in April, a decline of 3.2 hours year over year
The financial activities sector employed 36,200 in April, an increase of 700 year over year and 400 month to month
Educational services employed 26,200 in April, an increase of 700 jobs year over year and 300 month to month
Other services employed 23,700 in April, an increase of 700 year over year and remained unchanged from March
Construction employed 19,800 in April, a year over year increase of 700 and 100 month to month
Wholesale trade employed 17,000 in March, an increase of 400 year over year and 200 more than March
The transportation and utilities sector employed 12,900 in April, growing by 800 year over year, remaining unchanged from March
The arts, entertainment and recreation sector employed 8,900 in April, declining 600 jobs year over year. Sector employment increased 100 jobs from March
The information sector employed 6,000 in April, an increase of 200 year over year and level with March figures
Mining and logging's 200 employees remained consistent year over year and month to month