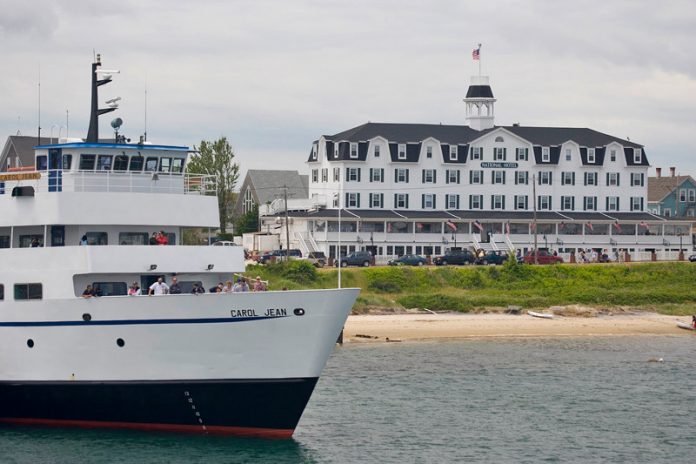 WARWICK – Significant questions about timing and inconsistencies in Interstate Navigation Co.'s arguments over the needs of additional fast-ferry service to Block Island prompted the R.I. Division of Public Utilities and Carriers on Friday to deny Interstate Navigation's request for approval to finance a new 500-passenger fast ferry.
Interstate Navigation, which operates Block Island Ferry's traditional and fast-ferry service to the island from Narragansett, Newport and Fall River, was seeking approval from the DPUC to borrow $8.5 million from The Washington Trust Co. to build a $10.5 million fast ferry. David G. Bebyn, president of Providence-based B&E Consulting LLC, said in pre-filed testimony that he estimates the new ferry would carry an additional 21,885 passengers annually and stated the current fast-ferry service from Narragansett constantly sold out.
The new ferry would sail from Narragansett to Old Harbor and replace the 250-passenger Athena vessel, which would be re-purposed for ferry runs out of Newport.
The 22-page decision from DPUC hearing officer John Spirito Jr. comes a little more than a week after a public hearing was held on the matter at the DPUC's offices, a hearing that was more than two hours long, and while Interstate Navigation is in a five-year legal battle with North Kingstown-based Rhode Island Fast Ferry – owned by Charles A. Donadio Jr. – over Donadio's proposed seasonal fast-ferry service from Quonset Point to Old Harbor.
Donadio's proposed service received approval from the DPUC in 2016, and that decision is currently being jointly appealed by Interstate Navigation and the town of New Shoreham in R.I. Superior Court on several fronts.
Among those fronts being argued by Interstate Navigation are the company could lose fast-ferry passengers and the fast-ferry capacity serving the island is already "saturated," according to the order, therefore additional capacity was not necessary.
Spirito wrote in his order that Interstate Navigation's current ferry-construction proposal "stands in stark contrast" to the company's "contemporaneous claims" that the market is saturated. These inconsistencies, Spirito wrote, raise the specter that Interstate Navigation's proposal to build a ferry that doubles in capacity "may more likely be designed to thwart [Rhode Island Fast Ferry's] successful entry into the market."
Spirito, as part of his denial, ordered a new docket to be opened for DPUC to investigate the "need and appropriateness" of Interstate Navigation's new ferry plans, evaluate whether those plans were designed to thwart Rhode Island Fast Ferry's entry into the market and whether the DPUC should impose a moratorium on these plans "to protect the public interest."
Spirito also wrote that Interstate Navigation is inconsistent with DPUC's prior regulatory objectives in seeking approval for the 500-passenger ferry. In the order, Interstate Navigation, in 2004, sought authority to operate a 350-passenger fast ferry to the island from both Narragansett and Newport. The ferry, the company proposed, would also carry "freight and up to six cars," and the DPUC approved this application on that merit in 2006 after lengthy discussion.
That same year, Interstate Navigation purchased the assets of Island Hi-Speed Ferry and operated fast ferries to Block Island from Narragansett. The DPUC granted the merger on the grounds that the "originally planned larger car/freight/passenger fast ferry" would go into service.
In 2008, according to the order, the DPUC temporarily suspended the requirement for Interstate Navigation to build its originally planned ferry due to the company's "inability, in the short term, to provide all the fast-ferry services as required in DPUC's certificate approval."
In Interstate Navigation's latest ferry proposal, which does not include plans to carry vehicles or freight, Spirito wrote that Interstate Navigation declared during the public hearing that it "makes poor economic sense" to have a fast ferry carry cars and freight and there wasn't a need for it.
"This was not Interstate's position when it was before the division in 2006," Spirito wrote. "Looking back, it appears that Interstate may have only promised use of such a vessel to maximize the company's chances of acquiring a [certificate of public convenience and necessity] – for the exclusive purpose of driving [Island Hi-Speed Ferry] from the market."
James Bessette is a PBN staff writer. Email him at Research@PBN.com.