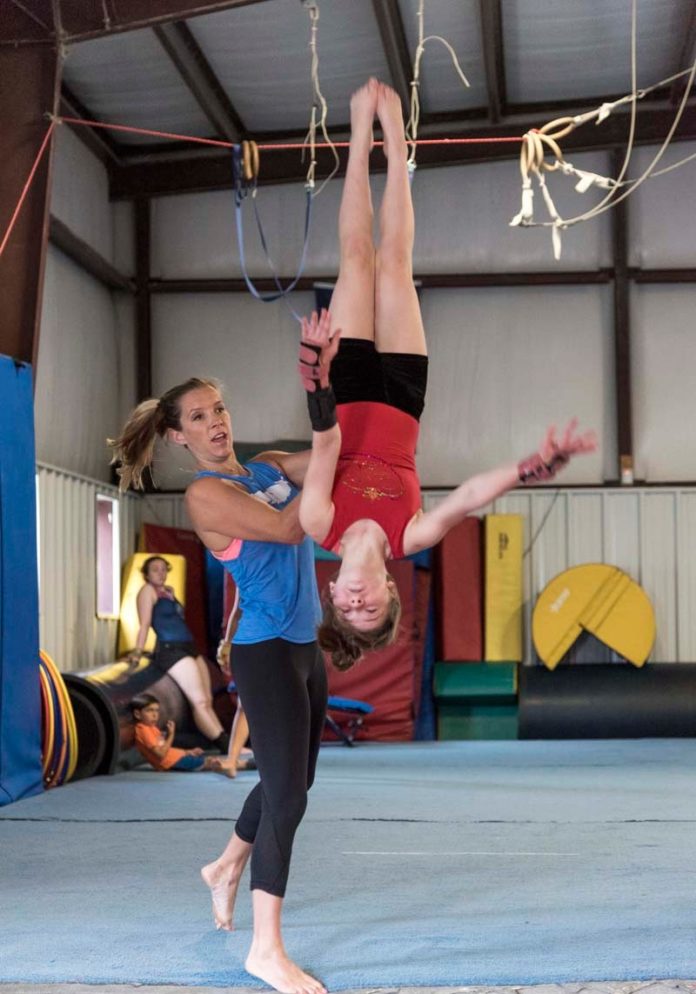 Shannon Hughey Cornicelli first thought about owning a gymnastics training facility when she was 4 years old, watching Mary Lou Retton win a gold medal at the 1984 Olympics.
When she graduated from Rhode Island College in 2003 with a double major in biology and chemistry, the four-time Rhode Island Interscholastic League champion's dream was still a far cry from reality. She sold medical equipment and coached gymnastics for RIC on the side, until one day when she realized how unhappy she was.
"It hit me that I needed to change something in my life to find happiness, and fulfilling my dream of opening my own gym was the answer. It was speaking so loudly to me I couldn't ignore it anymore," she said.
Cornicelli quit her day job, placed an advertisement in a newspaper and with $600 worth of gymnastics equipment began freelance coaching at the North Providence Recreation Center.
While building the foundations of her business, Cornicelli said she used the same drive and willpower she drew on as a high school- and college-level gymnast.
"As my level of difficulty increased and the competition got greater I always wanted to win, so I needed to make sure I was pushing myself harder to learn new skills," she said of the experience. Two dislocated elbows ended Cornicelli's gymnastics competing career in college, but that led her to revive the dream of starting her business career.
Her freelance lessons became so popular that after just a few months in 2008 she purchased the former M&M Gymnastics in Cranston. The gym was in an old mill, but hit everything on Cornicelli's short checklist.
"It was great. Rent was cheap, equipment was already there and it had a little bit of a following," she said.
In August 2009 Cornicelli closed that gym and moved across town to Comstock Parkway. There she expanded into the 10,000-square-foot Dream Big Academy Comstock Parkway. The location was much easier to access and in time Cornicelli renovated the facility's footprint, allowing for the addition of a preschool.
The inspiration for the company's name, Cornicelli said, came from the dedication she put into hours of training that would often leave her hands bleeding and wrists raw. In 2009 she further developed the business' identity, landing on the name Dream Big Academy, in order to reach a larger demographic.
When the company was relatively young, Cornicelli invested her time in developing a website for the gym and marketing herself in the wider community. Her efforts paid off as classes began to fill with both girls and boys, more competing gymnasts joined and she hired additional coaches.
A mother to two boys, Cornicelli said parents should consider enrolling their sons in gymnastics programs as a way to build strength and release energy.
She now employs more than 15 coaches and had to learn how to manage a staff.
"You want to manage people appropriately but also have them like working for you. That's a fun mix to figure out," she added.
In January 2015 she opened a second Dream Big Academy, in Cumberland. And in August, Cornicelli opened the Cranston-based, 7,000-square-foot Dream Big Elite Training Center. Cornicelli said the decision to open another Cranston location was a financial one.
The newest Cranston space was "financially advantageous" and "had everything to take us to the next level competitively," she explained.
Inspired by her sons, she diversified her offerings to include ninja obstacle courses and wrestling classes.
Cornicelli said she believes teaching her students about the impact of sports beyond competition is what sets Dream Big Academy apart from other gymnastics-training facilities.
"The sport has so much to give, not just athletically but in the way of life lessons," she said.
Through competition and practice, she said her students learn the rewards of hard work and tackling obstacles to reach goals.
The emphasis is put on team effort at Dream Big Academy, Cornicelli said, which is different from her experience.
"Here they truly are part of a team at a young age, [instead of] learning that lesson in college [when competition moves from individuals to teams] they learn it at a much younger age," she said.
Cornicelli said the industry standard during a summer Olympics year is for enrollment to increase by 50 percent at gymnastics gyms.
"Our goal in the next six months is to take in these athletes that want to be the next Simone Biles and … get them into our team programs," she said. •