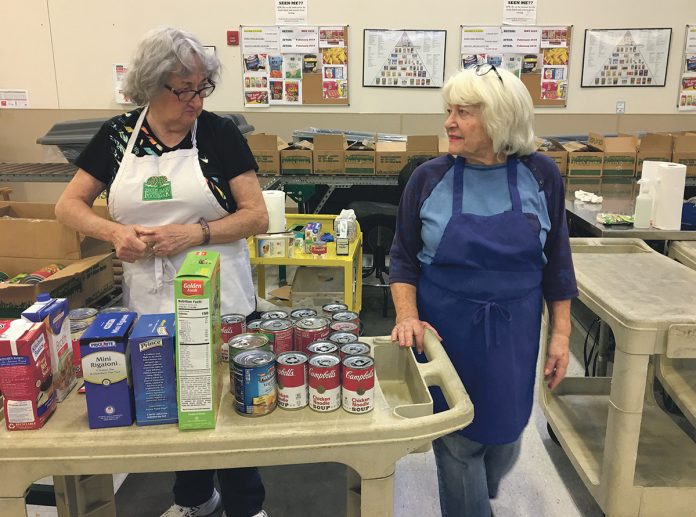 On a rainy, mid-November morning, five longtime volunteers sorted donations at the Rhode Island Community Food Bank headquarters in Providence.
Aged 68 to 84 and all retired, they were happy to help but say even more volunteers – and donations – than usual are needed during the holiday season.
Dorothy Villani, of Cranston, has been volunteering at the food bank for two decades.
"We've lost a lot of volunteers [over time]," she said.
Chiming in, Ruth Balzano, a nine-year volunteer from Bristol, added, "People don't realize how many [Rhode Islanders] are hungry."
Balzano lauded Roger Williams University for a 2,400-pound donation to her local agency, the East Bay Food Pantry, the day prior but emphasized how quickly that quantity would be distributed and more would be needed.
"Massive," is how food bank CEO Andrew Schiff described the demand for food assistance in Rhode Island. In fact, a September U.S. Department of Agriculture report found 12.4 percent of households in Rhode Island had low or very low food security (compared with a national figure of 12.3 percent; Massachusetts reported 10.2 percent of households with low or very low food security).
(According to the USDA, low food security indicates the household reported reduced quality, variety or desirability of diet, but there was little or no indication of reduced food intake. Very low food security means there were multiple indications of disrupted eating patterns and reduced food intake.)
It is a need, Schiff feels, the nonprofit community "cannot be expected to meet … alone."
While the food bank counts 158 community-based member organizations that distribute food to those in need throughout the state year-round, during the holiday season more volunteers are always needed.
Be it processing increased donations, meeting with those who count on nutrition-assistance programs or handing out packages, members are "reliant on volunteers to get it all done" said Schiff.
And food is only part of the needs the state's 8,511 nonprofits and their supporters are challenged with meeting, especially during the holiday season.
Through a broad spectrum of fundraising campaigns as varied as the plate of cookies at an office holiday party, nonprofits are annually counted on to help feed, clothe and provide gifts to families in need as the weather turns colder.
"Historically and traditionally," said Rhode Island Foundation President and CEO Neil D. Steinberg, "the season of giving" marks an important period in nonprofits' fundraising calendars.
Successful philanthropy, he said, "is the connection between the needs of the community and the passions of the donors."
While there is no one source tracking people who rely on the services provided by the nonprofit community nor their various needs, a picture can be sketched from federal and local data.
Eleven of every 10,000 Rhode Islanders experienced homelessness last year, according to the 2017 U.S. Department of Housing and Urban Development Annual Homelessness Assessment report. The 1,180 total for last year, the most recent data, marked a 1.7 percent increase from 2016 (but an 8 percent decrease from 2010).
The 2017 report praised Rhode Island as one of five states with the fewest unsheltered homeless people (69 out of 1,180) and unsheltered homeless veterans (3 of 95).
Nationwide, on the January 2017 night in which the federal department counted, there were 553,742 homeless people, with two-thirds housed in ­shelters.
'People don't realize how many [Rhode Islanders] are hungry.'
RUTH BALZANO, R.I. Community Food Bank volunteer
The latest R.I. Department of Labor and Training report shows 21,300 Rhode Island residents were unemployed in October, another potential pool of people in need of assistance.
There is no question nonprofits of all sizes benefit from holiday-timed donations. But, the roughly 12-week period sees the state's nonprofits all vying for the same dollars.
When it comes to competition, "Organizations need to differentiate and be able to succinctly demonstrate what they're able to do and their impact," said Steinberg.
He says groups with similar missions can also use that to their advantage.
"We look for nonprofits to coordinate, collaborate and consolidate if it makes sense," he said.
Schiff concurred, saying donors are "inundated" with holiday requests and advises nonprofits share their clients' stories with donors to stand out.
It's "very difficult" to solicit people's stories when they're in need of basic necessities and don't want to admit it, he acknowledged. However, he added, connecting donors to those individuals who benefit from their dollars "[speaks] volumes."
And, Steinberg pointed out, people will always want to give at the holidays.
"Part of it is tradition, part of it is thinking about others … and a little bit is about year-end financial planning," he explained.
That financial planning is often driven by taxes, and 2018 marks the first full holiday season in which the $1.5 trillion tax overhaul will be in effect. Acknowledging it is a "factor" this year, but not one that can be measured yet, Steinberg said the foundation will be curious to see if it impacts local philanthropy.
A half-dozen nonprofits included in this report from across Rhode Island face challenges this holiday season that mirror those of thousands of similar groups across the state each year.
---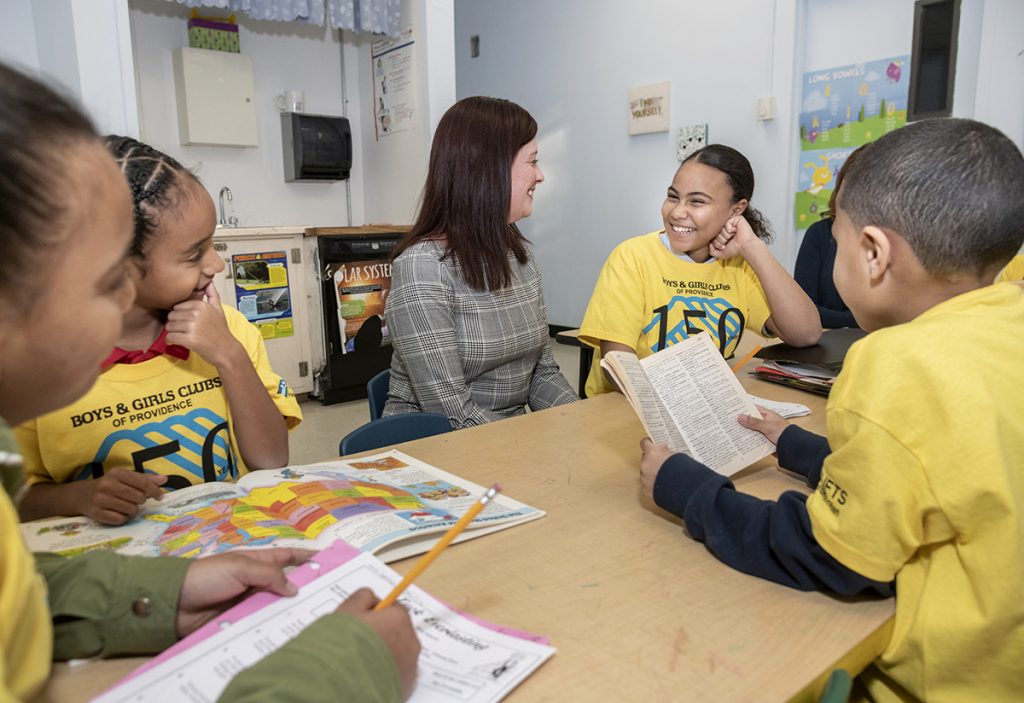 'Teenagers are still kids'
The Boys and Girls Clubs of Providence, which enrolls children and youths aged 6 to 18 in after-school educational and career-preparation programming, wants the public to remember the magic of the season isn't lost on adolescents and teenagers.
Throughout November and December, the organization collects donations of toys and money (which it uses to buy more toys) from donors, before allowing members to choose a gift at the annual holiday party. This year's celebration will take place Dec. 21.
A perennial challenge for the club is reminding donors a wide range of age-appropriate toys and gifts is needed.
"People often forget teenagers are still kids and believe in the magic of giving," said Nicole Dufresne, Boys and Girls Clubs of Providence CEO. "It's a conundrum, because we're helping kids get jobs and stand on their own two feet, but at 15 they're still a child."
While toys are the focus at this time of year, the organization also helps fill bellies year-round. Dufresne estimated 100,000 meals are served each year. As a result, fundraising is a "constant," year-round activity.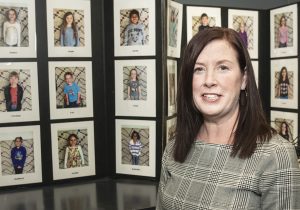 What's helping the organization meet demand this year, and hopefully bypass previous giving records, is the celebration of its 150th anniversary. The oldest continually operating Boys and Girls Club in the nation, the Providence organization was started in 1868 with a mission to develop the character of young boys.
Given its longevity, said Mary Anne Stchur, the club's director of philanthropy, "People believe in our mission."
While the Nov. 29 celebration is coming fast, by late October Stchur found the additional banners, commercials, mailings and even a billboard had paid off.
Because of the event, she said, "A lot of our day-to-day donors have given already and increased their giving [year-over-year]."
Calling fundraising "an uphill battle," Dufresne said the key is a shared understanding between donor and administrator to "achieve [their joint] ­mission."
---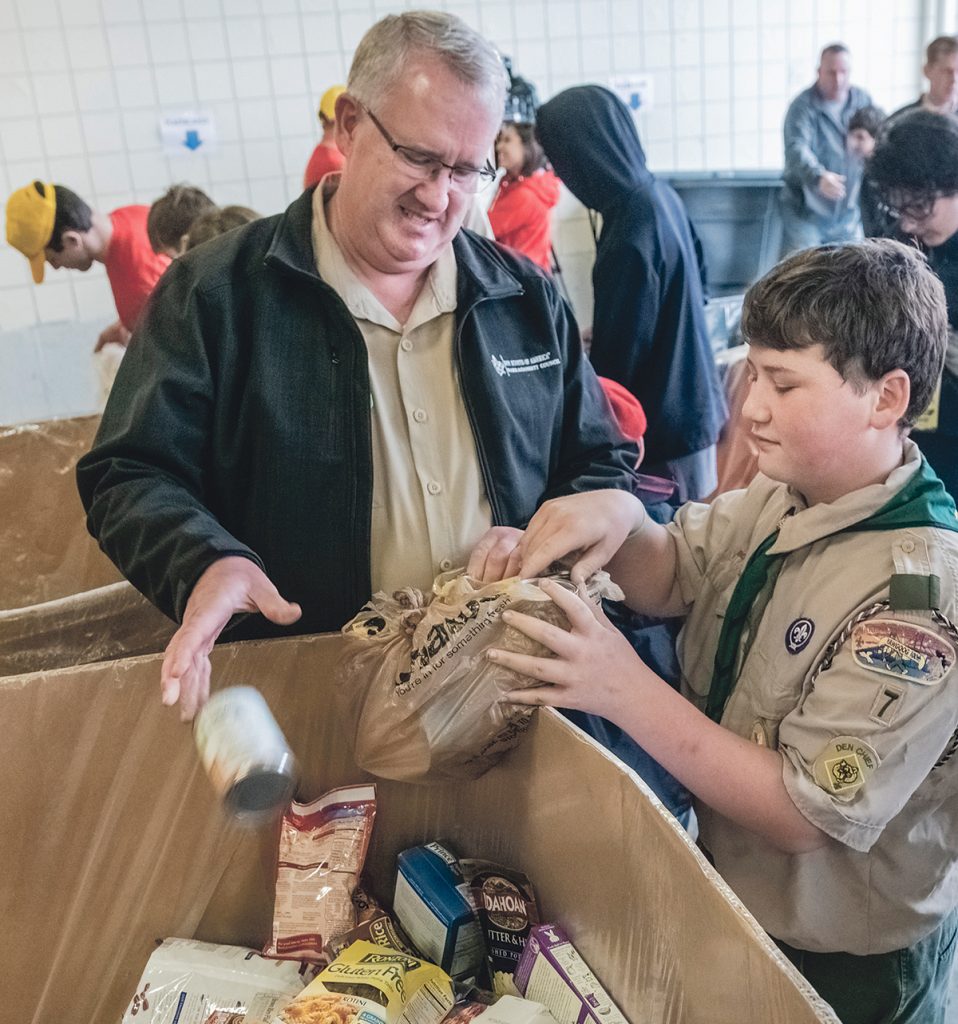 Scouts partner to boost impact
Following their "Always Be Prepared" motto, less than a month before Thanksgiving, the Narragansett Council of Boy Scouts of America helped the Rhode Island Community Food Bank stock its coffers in the runup to the holiday season.
In its 31st iteration, the annual Scouting for Food Drive saw more than 200 regional troops collect 170,827 pounds of canned goods from friends, family and neighbors for donation.
CEO Tim McCandless had hoped for closer to 300,000 pounds – one pound for each flyer distributed by the youths.
In 31 years, the event has seen more than 9.2 million pounds of food collected for residents in need.
One way in which the organization has been able to maintain such a high volume of donations generated from door-knocking is by partnering with local corporations willing to match what the Boy Scouts collect.
For 2018, Ocean State Job Lot pledged to match, pound-for-pound, the first 100,000 pounds collected by local troops – bringing the total to 270,827.
Additionally, a private donor has pledged to match any contribution – up to $25,000 – received in November and December.
While gifts come in every size, the average amount, said McCandless, is $160, and the "driving factor" is based on "how well we communicate their [money's] impact."
To increase end-of-year giving, last year the organization held its first in-person holiday celebration at Blithewold Mansion in Bristol, drawing roughly 50 people.
This year – after multiple first-time donors came forward in October and returning donors have "significantly" increased their support year-over-year – McCandless is optimistic for turnout and donations.
---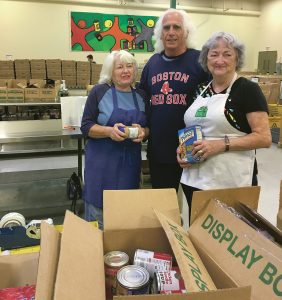 'These gifts have to carry us through the year'
Every year, half of the donations received by the Rhode Island Community Food Bank arrive in the final quarter – October, November and December.
"Holidays inspire people [to give], that's the great part," said CEO Andrew Schiff. "The worry is these gifts have to carry us through the year."
While Schiff would prefer the public spread its donations among the other nine months of the year, the timing does help around Thanksgiving.
On average, 53,000 Rhode Islanders visit food pantries and soup kitchens every month, according to the food bank. During the holiday season, the demand grows. With the addition of winter heating bills to families' household costs, Schiff said the monthly average increased to a high of 64,000 individuals last year.
Increased demand, he explained, stretches to the new year when, "It's noticeable … how things quiet down."
But "people tend to be very generous to [groups] that are providing food assistance," he acknowledged. While "there are struggles [to do so] every year," he said, the food bank is on track to meet its donation goals. It doesn't expect to see a negative impact from the change in tax regulations.
Given the economy's rebound, he said, "People may have resources to be able to give more this year."
And the food bank's mission is a perennial attraction for donors, he says.
But Schiff wishes more Rhode Islanders would understand the need is "not just at Thanksgiving … it's all year long."
---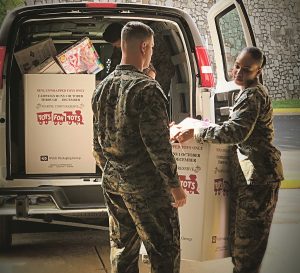 'Never have enough' bikes to meet demand
Sadly, some Rhode Island families cannot afford gifts for their children during the holidays, and that's where Providence Toys for Tots shines.
Last year, the organization, which is managed by local U.S. Marine Corps reservists, helped more than 2,000 families (with 4,000-5,000 children) have a merrier holiday season.
New, unwrapped toys are collected by the charity between October and December. This year, explained Sgt. Jake Lindsay, the 2018 local coordinating officer, Dec. 12 is the cutoff for donations, and so far there are 25 donation sites listed on the nonprofit's website.
The most frequent requests are for bikes, said Lindsay, and "I never have enough."
When it comes to donating, he added, it's important to diversify. Like Dufresne at the Boys and Girls Clubs of Providence, Lindsay would like the pubic to remember older kids can still benefit from their generosity.
There's usually an abundance of donations for 3- to 5-year-olds and 5- to 8-year-olds. It's gifts for the 13-, 14- and 15-year-olds where he "really struggle[s]."
On Dec. 19 and Dec. 20, Lindsay will travel across the state, a little ahead of Santa's much-anticipated sleigh ride, passing out gifts to participating families.
"I try to give kids as many toys" as possible, said Lindsay, "but the situation is dictated by how many donations we get."
And the local Toys for Tots chapter has a lot of ground to cover. The nonprofit is responsible for working with families from all 39 Rhode Island cities and towns.
---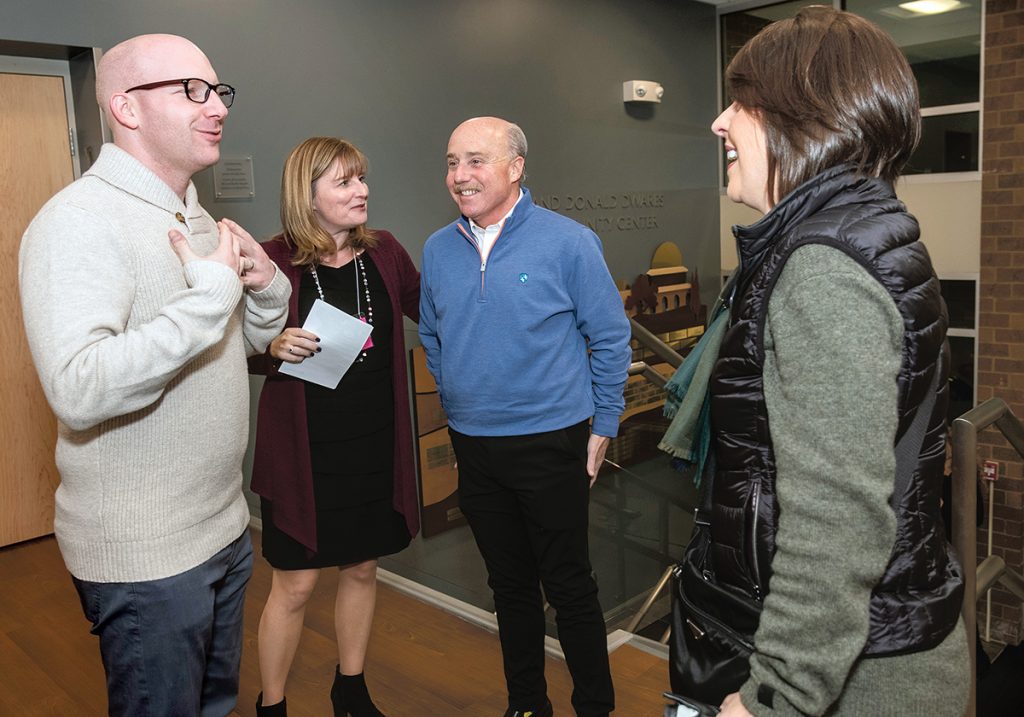 Banner fundraising in Jewish new year
Three months into the Jewish new year and less than two weeks to Hanukkah, 2018 has already been a banner fundraising year for the Jewish Alliance of Greater Rhode Island.
By late October, the Providence-based alliance had raised $1 million – one-third of the total $3.1 million raised in the 2017 annual campaign. Funds raised go to programming at the organization's Dwares Jewish Community Center in Providence and to enriching Jewish lives in Rhode Island and across the world.
Trine Lustig, the organization's vice president of philanthropy, said holiday-related campaigning kicks off immediately following Labor Day and hits a high with Rosh Hashanah, which took place this year Sept. 9 to Sept. 11.
"That's the big one," said Lustig of the Jewish civil New Year, "because it's all about giving and being charitable."
She explained the vast majority, 80-90 percent, of the nonprofit's need is met between Rosh Hashanah and the end of December, including an emphasis on Hanukkah – this year Dec. 2 to Dec. 10. However, fundraising does not officially close until the end of the fiscal year in June.
Lustig said the organization is "excited" by the volume of donations so early in the season. She feels it reflects successful results from a recent shift in targeted demographics.
Grateful for continued, large-scale fiscal support from older generations, Lustig said there's little engagement with younger generations – a demographic she hopes will become philanthropically active.
Stressing the importance of "[staying] relevant," Lustig explained the center has turned to social media – Instagram and Facebook in particular.
Admitting use of the new platforms has only taken "baby steps," she said an immediate return on investment among millennials is not expected.
Millennials, she added, "Don't have the ability to [donate at the level of their elders] right now … but maybe 20 years down the line" they will.
---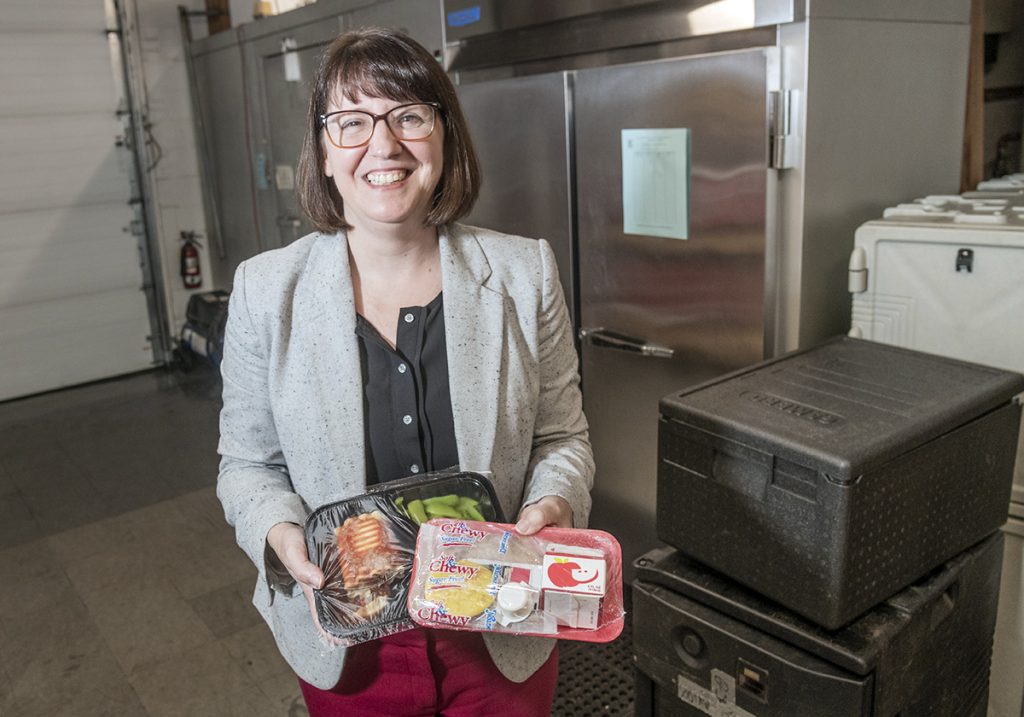 'We have to rely more … [on] donors'
Be it Thanksgiving, Christmas, or Hanukkah, much of the focus of the holiday season is centered on gathering with family and friends to enjoy a meal.
Yet, many senior Rhode Islanders either cannot afford or do not have the mobility to do so.
Enter Meals on Wheels of Rhode Island. The year-round service provides nutritious, ready-to-eat meals to seniors and the homebound. During the holiday season, the Providence-based organization allows those unable to share a warm meal elsewhere the opportunity to enjoy one in the comfort of their own home.
According to the organization, 345,262 meals were delivered to homes throughout Rhode Island in 2016 and 340,701 the following year.
But the need is not consistent throughout the year, according to Executive Director Heather Amaral.
"When cold and flu season starts [and] it gets icy, people tend to stay at home," she explained, and become more reliant on the service, which often employs volunteers to cover all areas of the state.
The holiday season takes on added significance for the nonprofit's financial health.
Amaral said the local chapter is dependent on the holiday season of giving, "specifically after Thanksgiving and before the end of the year," to meet its bottom line.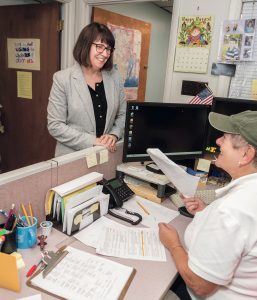 Each year, Meals on Wheels receives roughly $950,000 from the federal government and $530,000 from the state.
Federal funding is calculated by the number of seniors in each state, said Amaral, which makes Rhode Island's size a drawback.
"Being so small, we get … a minimum [the federal government] can't go below," said Amaral, "and … it's been 11 years since that's changed."
Given the stagnation, said Amaral, "We have to rely more and more on the generosity of donors," who mostly choose to give during the holiday season.
While Amaral and her team are thankful for the many "individual gifts" sent during this period, they've found it necessary to schedule their signature campaign in March.
While Amaral hopes the holiday campaigning to come does not drown out the group's needs, she said 2018 fundraising is "fairly on track" compared with previous years.
Emily Gowdey-Backus is a staff writer for PBN. You can follow her on Twitter @FlashGowdey or contact her via email, Gowdey-backus@PBN.com.