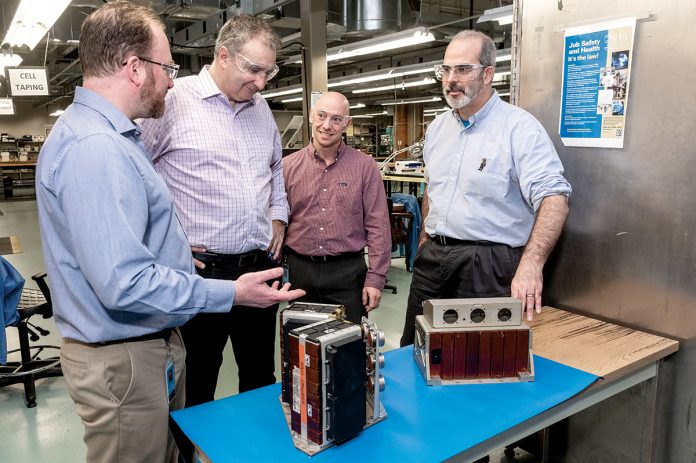 In November, NASA's Insight lander touched down on Mars. Then, in December, NASA's OSIRIS-REx spacecraft reached its destination, the asteroid Bennu.
Both space vehicles have something in common with Rhode Island. They're equipped with high-powered batteries that were designed and made at EaglePicher Technologies LLC in East Greenwich.
EaglePicher's Yardney division developed the lithium-ion and thermal batteries helping to power the Insight mission to Mars. The 8-cell, 28-volt, 30-amp-hour batteries are mounted to the lander's baseplate and are being used to store solar power that the lander collects. The lander also uses an EaglePicher single-use, nonrechargeable thermal battery to support its main batteries during entry, descent and landing. And the company is doing more to aid space exploration.
"We are already set up to provide batteries for a 2020 Mars rover mission, continuing the EaglePicher legacy of involvement in space and Mars exploration," said EaglerPicher CEO Gordon Walker.
EaglePicher batteries also helped power the OSIRIS-REx into outer space. The spacecraft was launched in 2016 from Cape Canaveral in Florida on an Atlas V rocket. Now, more than two years and 1.2 billion miles later, the spacecraft has reached Bennu. The company's silver-zinc batteries developed in East Greenwich have been at work throughout the trip powering on electronics.
The mission to Bennu, categorized as a near-Earth asteroid, involves studying the object and returning an uncontaminated sample to Earth. NASA thinks such asteroids could have been a source of water and organic molecules in the planet's early development.
By analyzing the sample, NASA hopes to better understand how planets form and learn more about asteroids that may present threats to Earth.
Yardney Technical Products in East Greenwich already had been a developer of special batteries for the aerospace and defense markets when Cleveland-based OM Group Inc., the owner of St. Louis-based EaglePicher, acquired Yardney for $24 million in 2014 and made it part of EaglePicher. In 2015, OM Group was acquired by Apollo Global, which then sold EaglePicher to Chicago-based GTCR Private Equity last year.
Today, EaglePicher uses the former Yardney plant as one of its three research and development centers. The other two centers are in Joplin, Mo., and Burlingame, Calif.
Today, about 90 employees work at the East Greenwich facility. About 30 of them are scientists and engineers, while the rest are production technicians and support personnel, said George Cintra, EaglePicher's vice president of research and development. In addition to research and development, the local facility handles some manufacturing, according to Cintra, a University of Rhode Island graduate with a background in chemical engineering.
In addition to its work for NASA, the local plant is developing batteries to help power onboard systems for U.S. and foreign military aircraft, as well as to power support systems for laser weapons systems being produced by the U.S. military.
Currently, EaglePicher is in "growth mode," Cintra added, and is expected to add staff this year.
Owner: GTCR Private Equity
Type of business: Designer and developer of batteries for high-tech applications
Location: 2000 South County Trail, East Greenwich
Employees: 90 in Rhode Island (900 companywide)
Year established: 2014
Annual sales: WND
Scott Blake is a PBN staff writer. Email him at Blake@PBN.com.