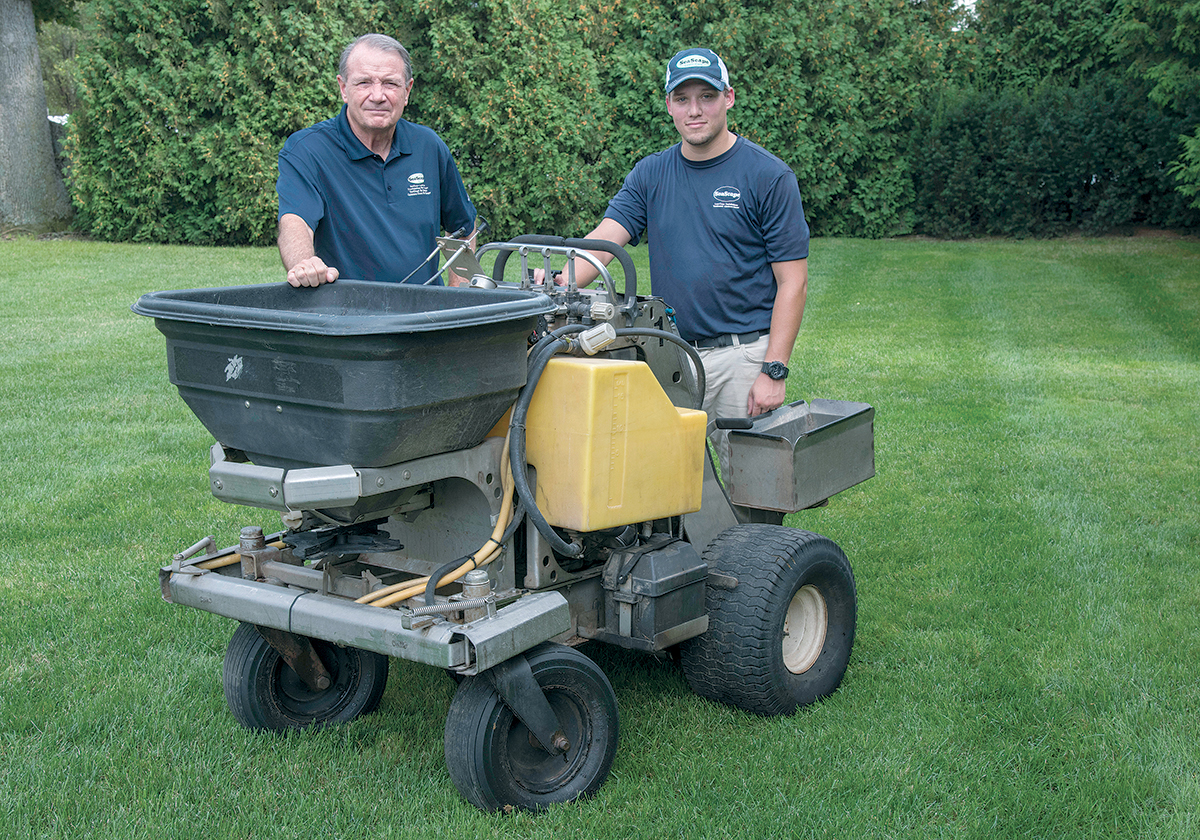 SeaScape Lawn Care Inc.'s owner and president, James Wilkinson, has always taken an interest in the education and skills of his workers.
"[I've] never been able to hire people with the skills I'm looking for," and created "a comprehensive training program" to fill in the gaps, he said.
It takes a new employee "a minimum of a year" to learn everything they need to know "for me to send them out and have confidence they're going to do what's right on a lawn," he added.
He opened the lawn-fertilization business with his wife nearly 30 years ago, after receiving a Ph.D. in agronomy, or turf-grass management, from Michigan State University, as well as his master's and bachelor's degrees from the University of Rhode Island. Today, the company has roughly 7,800 residential clients in Rhode Island, Massachusetts and Connecticut and has diversified its services to include outdoor, holiday light installation and removal.
With the help of the R.I. Nursery and Landscape Association and the R.I. Department of Labor and Training, in September the state's first-ever landscape technician apprenticeship was launched at SeaScape.
"This apprenticeship program will hopefully bring some people to us who wouldn't otherwise find us or consider a position within the industry," he said.
Hosting the pilot program, he said, will hopefully set the business apart "by having the best trained and qualified lawn care technicians in the industry."
Wilkinson prides himself on the lawn-care skills and customer service of his employees but said this opportunity would be like a rising tide – a boost to him, his employees and the state's "green-collar" industry.
Shannon Brawley, RINLA executive director, said she chose Wilkinson as the pilot-program host because "he's always been ahead of the curve and values education."
She, like Wilkinson, hopes the apprenticeship program will interest people who might not otherwise have considered a green-collar career. To her, the opportunity is mutually attractive as "a tool to build loyalty" between employees and their employer.
Concerned with the lack of "young people" entering careers in the growing industry – which encompasses not only lawn care but climate change and food security – she said in time "the state is going to be in desperate need" of people interested in pursuing these fields professionally.
The program will teach participants about soil, weed and grass variations, different types of fertilizers, insects, water reservation, plant diseases and certify them in pest-control application.
"For someone who doesn't want to sit behind a desk or do the same thing 795 times a day at a manufacturing plant, it's a pretty good job," Wilkinson said.
As of mid-September, five students – all current SeaScape employees of varying tenure and skill – were enrolled in the two-year program.
Wilkinson plans to hire future apprenticeship graduates. "I have no intention of giving them away once I've trained them," he said.
OWNER: James Wilkinson, president
TYPE OF BUSINESS: Lawn care and landscaping
LOCATION: 1610 Flat River Road, ­Coventry
EMPLOYEES: 60
YEAR ESTABLISHED: 1989
ANNUAL SALES: WND

Want to share this story? Click Here to purchase a link that allows anyone to read it on any device whether or not they are a subscriber.