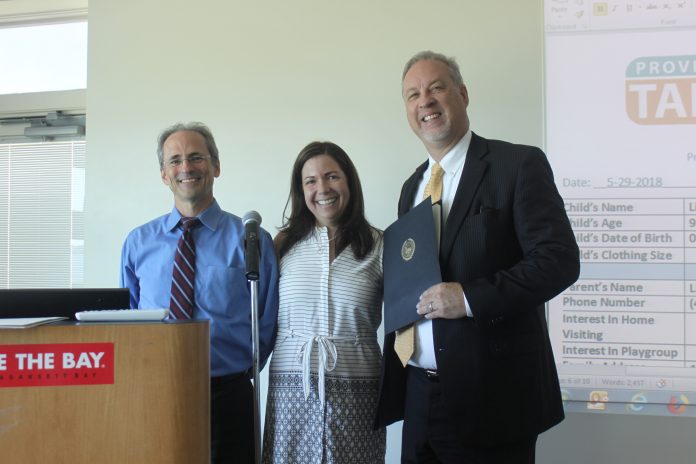 PROVIDENCE – Mayor Jorge O. Elorza recently presented Providence Community Health Centers CEO Merrill Thomas with a Citizen Citation for the organization's ongoing efforts to improve childhood literacy through collaboration with the Providence Talks program.
Providence Talks is an early-childhood initiative designed to improve the language development of children in their first three years of life. Parents and children 2 months to 2 years old participate in a six-week program that is run by highly trained staff.
Participating families receive free access to a "word pedometer" and biweekly coaching from trained home visitors. The "word pedometer," developed by the Colorado-based LENA Research Foundation, filters out television and background noise and develops a comprehensive picture of a child's daily auditory environment, including adult word count and the number of conversational interactions the child engages in during the course of the day.
Participating families review the data during a biweekly coaching visit with the trained visitors. Families also receive targeted coaching and information on existing community resources such as read-aloud programs at neighborhood libraries or special events at local children's museums. Each session focuses on introducing one strategy parents can implement in their daily routine to enhance the quality of talk at home.
PCHC has offered Providence Talks the opportunity to have recruitment displays at several health centers for more than a year. PCHC also recently hosted the Providence Talks Childs Play program at the PCHC Chafee clinic on Thursday mornings.
Melissa Menders, executive director of Providence Talks, praised Michael Spoerri, health center director of the PCHC Chafee clinic, for his support of the partnership.
Rob Borkowski is a PBN staff writer. Email him at Borkowski@PBN.com.