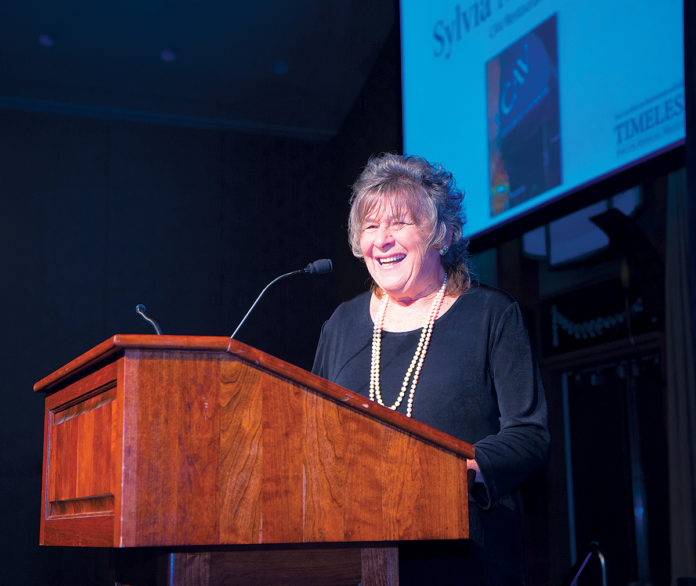 "I am grateful every day."
To those who knew the late Sylvia ­Moubayed, the feeling was mutual. She had a spirit that embodied true hospitality in the greatest sense. One of the sayings she was fondest of in describing her much-loved CAV ­Restaurant was that everyone who came to CAV "should be as happy as a child on their birthday!" Those who are regulars at the eclectic restaurant in Providence's Jewelry District know exactly what Moubayed meant. Each visit was magical, with new discoveries to see.
Originally, Moubayed envisioned CAV as an emporium where antiques could be shown and offered for sale, but in a unique way. Her desire of offering hospitality first came to the forefront. She was inspired to offer coffee or cocktails, antiques and victuals – food. The first three letters in each word became the name of her venture – CAV.
On my radio show, where she would appear weekly, she often would remind us about the word "restaurant" and how its original meaning refers to the restorative benefit you and I receive with good food, comfortable surroundings and attentive service. Her staff – as much her family as her children, grandchildren and spouse – knew instinctively what she meant. In 2014, two of CAV's servers spoke about their experience there. It turned into a tribute to Moubayed, who died unexpectedly last month.
Jennifer Madden and Jason Andrade both started work at CAV in 2001. Andrade said he "fell in love with the restaurant, the food, Sylvia and the guests." Madden has a Ph.D., which she earned during her tenure at CAV, crediting Moubayed for supporting her in her studies. Both at the time described how the ambience at CAV made it almost second nature for them and their fellow servers to get in touch with their guests' mood, to chat when the guests want to engage in conversation but to be nonintrusive when the situation calls as well. At the time, I wrote: "Both servers articulated the concept that Sylvia has been faithful to since she opened the eclectic restaurant over two decades ago. 'The idea is to treat the people you are serving as you would people you love most on their special day,' said Andrade."
Moubayed began appearing weekly on my radio show over a decade ago. Insisting that the last thing she wanted to be was, as she put it, "commercial," she and I would chat live, sometimes across the table at CAV, more often than not by phone to my broadcast location while she was carrying on simultaneous conversations in the restaurant's dining room. She would relate a story about a guest who came for lunch and stayed through dinner, or how she was at the seafood market and would only bring in fish that she had looked in the eye.
Her main focus each week was to bring what she called a "positive message."
Friends and fans will surely make an extra visit to CAV to raise a glass and remember a special ­moment.
As Sylvia Moubayed wished one and all: "We wish you all joy, love, light, health and abundance. May your wishes and dreams all come true."
Bruce Newbury's Dining Out radio talk show is heard Saturdays at 11 a.m. on 1540 AM WADK and through the TuneIn mobile app. Email Bruce at Bruce@brucenewbury.com.