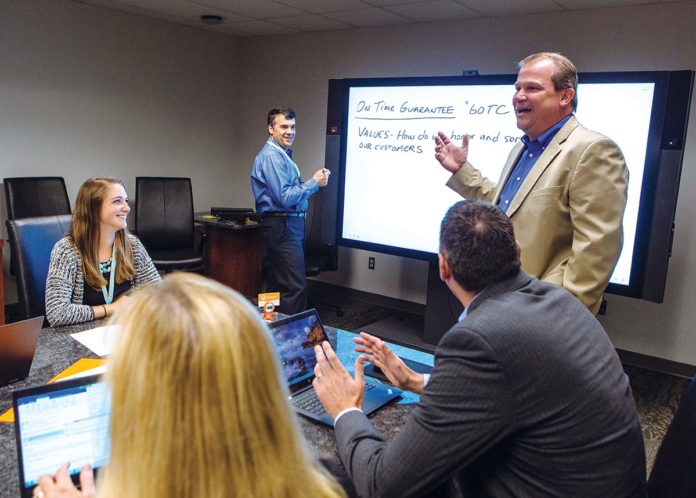 FASTEST GROWING COMPANIES | $75M AND ABOVE  |  1ST PLACE
Kurt Noyce has been with Embrace Home Loans for 27 years, 18 as president. In that time, he has watched Embrace grow from a small team of fewer than 50 employees to more than 800 today, with more than 80 offices.
Embrace has continued to adapt and flourish during its 35 years in business due in great part, Noyce says, to the company's vision and versatility.
"Innovation has consisted of major investments in digital marketing and customer-enabled technologies, but it has also been [in the form of] more subtle but meaningful adjustments to our approach," Noyce said. "How we support the employee needs of today, how we serve the customer expectations of today. By regularly asking, listening and responding, we are continually tweaking, and at times, overhauling. This is how a 35-year-old company can still be amongst those noted for its growth. And that is exciting, and something I am very proud of."
Embrace opened its doors in 1983 as a second-mortgage broker, helping Rhode Islanders finance home improvements. Utilizing mailing, media and digital-marketing techniques, Embrace grew into a full-service mortgage lender, expanding throughout New England and eventually nationwide. Today, the company operates in 47 states, providing mortgage financing for homeowners and homebuyers. In addition, Embrace provides full private-labeled mortgage operational services for financial institutions across the United States.
Recently, a large regional bank approached Embrace for help improving its mortgage operations.
"What they found in the space were companies that approached the tasks as an 'outsourcer,' not a community lender," Noyce said. "Given that Embrace has always competed against well-known brands, outperforming them by the care extended, this bank asked us to build the same for them."

Noyce said the innovative approach required significant input from several areas, including legal; technology; compliance; human resources; training; licensing; and capital markets.
The project, which went from conception to rollout in less than six months, has been hugely successful – so successful that other banks have asked Embrace to do the same for them. The end result is a brand-new business channel generating more than $15 million of revenue.
Over the past two years, Embrace also has placed great emphasis on turning its leaders into coaches. More than 40 of the company's management team are recognized as associate certified coaches by the International Coach Federation, carrying out their jobs as professional coaches with the goal of creating greater self-awareness and action in all business relationships.
Finding the motivation to go to work each day is definitely not a problem for Noyce.
"People's houses are more than just shelter. They are homes, homes where memories are made," Noyce said. The company allows for clients to enjoy the experience of buying and refinancing those homes.
"My work is mostly focused on our leaders and employees and the banks we serve – helping them to see the true meaning behind the work they do and achieve fulfilment in the impacts they make to be a good steward of the responsibility given to lead others and to provide an example of how we can prove that a strategy that is good for people is good for business," he said.
Mike Manley, a closing-department manager, says the culture at Embrace is the real deal, with knowledgeable and ethical executives who are quick to recognize good work. In addition to a monthly awards ceremony and luncheon, the company also offers personal-enrichment workshops.
"My late wife once told me, 'You can only be passionate about that which you love,' " Manley said. "I love the family culture at Embrace."
CEO (or equivalent): Dennis Hardiman, CEO; Kurt Noyce, president
2016 Revenue: $159,406,217
2014 Revenue: $94,456,562
Revenue growth: 69%