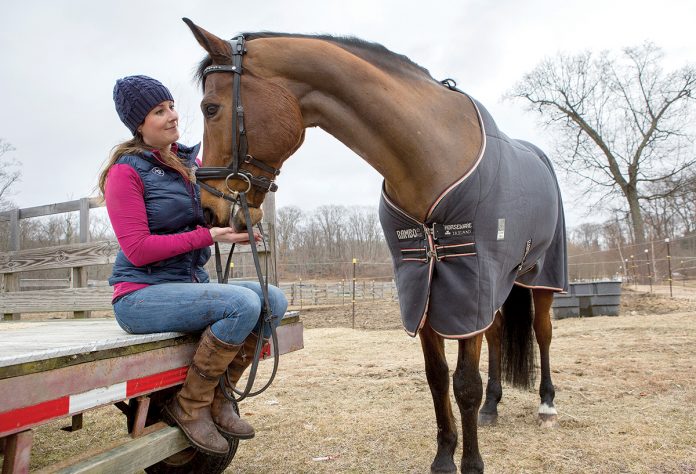 About the only time most people hear about equine insurance, or insurance for horses, is when something strange ­happens.
Such was the case recently when Randall Levesque, a Middletown insurance agent specializing in equine insurance, was sentenced to three years in federal prison after admitting to defrauding customers, insurance companies and financial companies out of about $1.3 million. The case made news in Rhode Island and other states.
"I do not believe the wrongdoings of one individual have the ability to tarnish the reputation of the industry as a whole," said Kaitlyn Naughton, an equine insurance specialist at Naughton Insurance Inc., her longtime family-owned insurance agency in the Riverside section of East Providence. "It is certainly an unfortunate case at its core – the trust of many has been violated. … It is important to look for transparency and accountability when selecting an agent or carrier."
From simpler beginnings, equine insurance has grown and become more complex. Today, it can resemble health care or auto insurance for people – protecting against injury, illness, theft, accidents and death.
Apart from high-priced race horses and thoroughbreds, equine insurance used to be limited mainly to mortality coverage, providing a horse owner with a payment after an insured animal's death. Since then, more types of equine insurance have become common, including comprehensive policies covering veterinarian costs, dwellings, equipment and a host of other liabilities.
According to insurance agents, the costs of equine policies generally have increased as well, driven by major medical losses in the industry over the past decade and an expanding array of high-tech treatments that are effective but expensive. It's now common for a policy to cover diagnostic procedures, surgery, medication and veterinary visits. Regenerative medicine, including stem-cell therapy and platelet-rich plasma, is now being used sometimes. And more vets are using nuclear scintigraphy and MRIs to diagnose ailments.
'A horse owner … [can] purchase a mortality and liability policy or a bundle of both.'
KAITLYN NAUGHTON, Naughton Insurance Inc. equine insurance specialist
Most policies have a deductible, and all have a limit on the amount they cover per incident or per horse. Horse mortality policies became more structured in the 1970s. With the advent of the internet in the 1990s, the equine insurance business entered a growth phase, with more owners opting not just to insure their horses for racing and other performance sports and shows but as farm livestock and pets.
Naughton, who is licensed to sell equine insurance in Rhode Island and nine other states, said some policyholders are "very wealthy," but most are middle-class people who are horse enthusiasts and recreational riders. Typically, they keep their horses far from their homes in stables available for rent to the public. She's one of them. She keeps her horse, Baron, at Stony Creek Farm in Swansea.
Naughton said prices for equine insurance can vary greatly, as can policies.
"For example," she said, "a horse owner has the ability to purchase a mortality and liability policy or a bundle of both. If you are conducting an equine-related business as a trainer, instructor, boarding facility, breeder, or farrier, a commercial equine liability policy would be necessary. For those who own their own farms, a farm package would best suit their needs. … Horse clubs and associations can also purchase tailored coverage for their specific operations."
In 2005, the American Horse Council estimated there were 9.2 million horses in the United States. An accurate census of the horse population has not been done, but many horses are unwanted and go uninsured. In 2007, for example, the Unwanted Horse Coalition estimated there were 170,000 unwanted horses nationwide.
People with horses ranging in value from $10,000 to $50,000 each usually are the purchasers of major medical equine policies, New Hampshire-based Foy Insurance told IA Magazine, a publication for independent insurance agents.
Keeping a horse can be expensive. Their average lifespan is 30 years. In 2005, the American Association of Equine Practitioners estimated the cost of caring for a horse to be about $1,825 a year, excluding veterinary care. Factoring in the rising costs of feed and hay, that number is likely higher now.
A decade ago, $10,000 worth of major medical equine insurance may have cost about $300 a year. Today, according to Foy, that price can be more than double.
As a result, more insurers are offering equine policies with higher co-payments. Insurers also can be more critical in excluding pre-existing conditions. Some still are keeping their rates low, but they are more selective in choosing horses to insure in hopes of keeping their claims down, according to Jade Stanbrook, a broker with Foy's Equine Division who spoke to IA Magazine.
"Major medical [equine] losses have been outrageous for insurance companies," Stanbrook said. "For the most part … [insurers] never make any money off major medical – they make their money off mortality."
Scott Blake is a PBN staff writer. Email him at Blake@PBN.com.