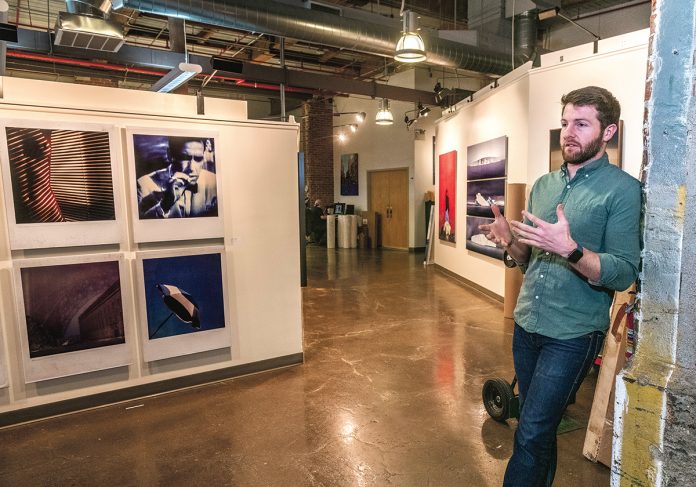 On a late December afternoon, the 30,000 square feet of wall space at YJ Contemporary Fine Art displayed a spectrum of works by local and regional artists.
There were geographic nature scenes by Josef Kote, 1950s-era intimate portraits by Milton Greene and folk-art animal sculptures by Mark A. Perry at the East Greenwich gallery.
The gallery was opened last May adjacent to Blazing Editions, a family art-reproduction business, to represent artists at shows around the world, but co-owner Josef Blazar has found success selling locally as well.
Noting that the gallery sold its first big-ticket item – at $21,000 – in December, Blazar is optimistic.
"For the ones that do know [we exist], we've been pretty successful turning [visitors] into collectors," he said.
While the state doesn't actively track art galleries, owners and industry insiders estimate more than 100 galleries of varying size operate in the state. They say that number has grown since the Great Recession, despite the competition from online art dealers. Warren, New Shoreham, Cranston, Tiverton and Pawtucket, among others, are all highlighted by local owners and related groups as areas of growth for galleries that sell everything from valuable antique works, limited-edition prints and photographs to works by Rhode Island-based art professors and independent artists.
Operators credit local growth to the state's historical support for the arts, a strong gallery presence and reputation in Providence, which has dubbed itself the "Creative Capital," and Newport, as well as a cooperative, strength-in-numbers approach to luring customers. That includes nonprofits hosting weekly events guiding visitors from one gallery to the next, introducing potential patrons to the sector and local artists.
But for many gallery operators, worry about a downturn in the economy never really goes away.
Emphasizing the use of "discretionary income" most consumers use to buy art, Blazar, 32, who owns the gallery with his photographer father, said: "If there were another recession in the near future, the art market is the first thing to go."
Mark Fernandez, who owns 300-square-foot Art on Spring in Newport with his wife, Laura, selling jewelry, stained glass and en plein air paintings, has similar concerns.
"If someone is in financial straits, the last thing they're going to buy is artwork," he said.
"There is a lot of apprehension and anxiety" about the future, acknowledged Tiverton's Gallery at Four Fine Art owner Chas Hickey, citing online competition.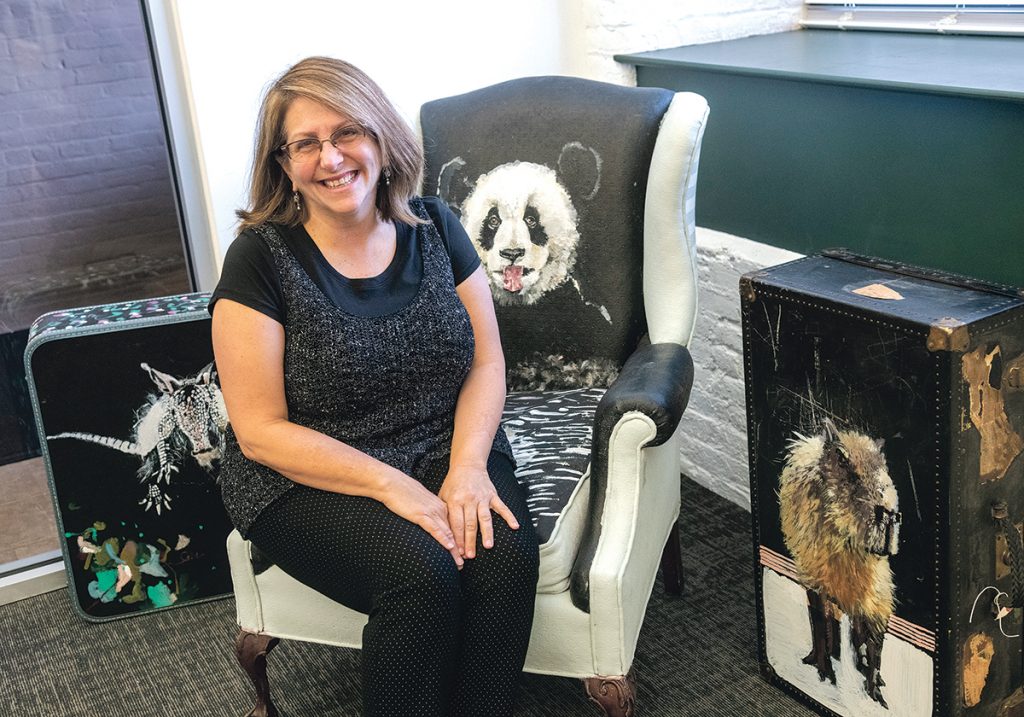 STRONG SUPPORT
From the state's history as a textile and jewelry producer, to the Gilded Age artists who found solace on Newport beaches and modern higher education institutions such as Rhode Island School of Design, Rhode Island College and Johnson & Wales University, the Ocean State long has been supportive of the arts.
And it more than holds its own as an employer too, despite its small size.
According to a 2014 National Endowment for the Arts study, the state's concentration of arts employees is 13 times higher than the national average. A March 2018 NEA study reported Rhode Island's arts industry employed 17,902 people (fourth highest in New England) in 2015 and generated $1.8 billion in gross output (also fourth highest in New England).
Providence-based AS220 is one of the leading economic engines in that broad, statewide arts community. In its mission statement the nonprofit arts and community organization outlines its role as "a local forum and home for the arts." It operates a restaurant, black box theater, after-school program, live-work studios and exhibition gallery.
Actual in-state art sales, however, account for just a fraction of the local industry's overall economic output.
Randall Rosenbaum, executive director of the Rhode Island State Council on the Arts, estimated annual art sales at $16 million to $18 million.
That total accounts for sales that take place in Rhode Island that are subject to what Rosenbaum believes is an undermarketed state sales tax exemption. Online sales by galleries and artists to out-of-state buyers are not subject to the exemption, he said, but are factored in to estimates for overall arts and culture production.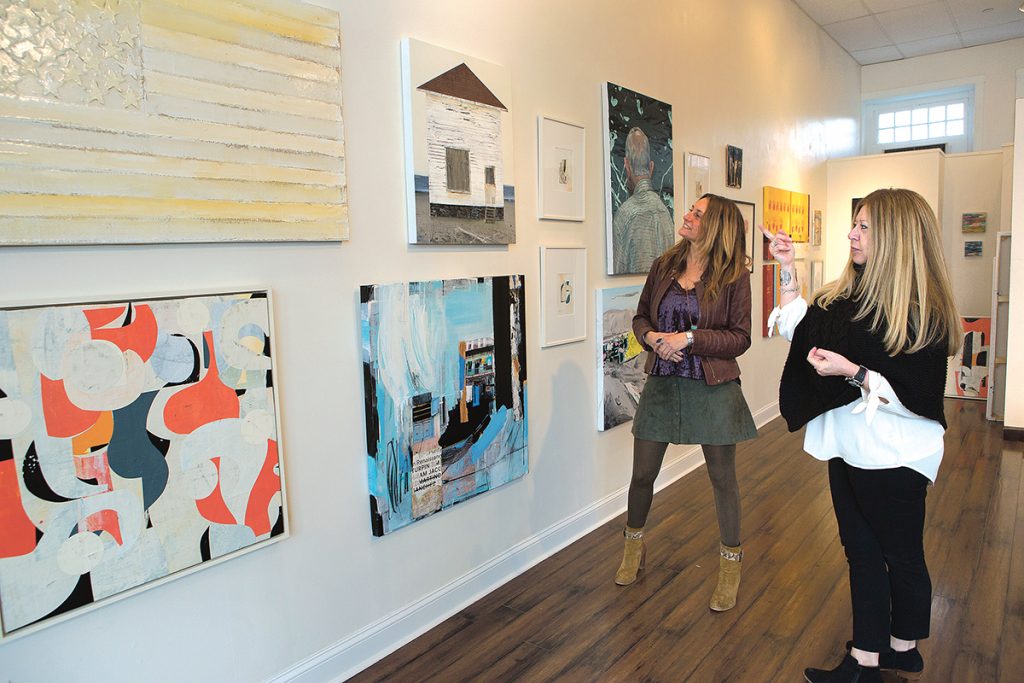 CREATING A COMMUNITY
Three groups, located in Providence, Newport and the Bristol/Warren area, host weekly tours of neighborhood galleries and represent member businesses from across the state.
Citing a "strong traditional heritage" dating back to the mid-19th century, Katie Dyer, facilitator of the annual Newport Gallery Night series, said the City by the Sea's gallery sector represents a broad range of businesses. They range from multifloor galleries with international recognition to husband-and-wife teams.
"Fine art, fine craft, contemporary art all have a place and are commercially viable in Rhode Island – especially in Newport," she said.
Now in its 19th year, the seasonal weekly event boasts 28 members. In that time, the group has managed to maintain 25 or more members, 16 or 17 of which are original members.
Local scrimshaw carvers and pen-and-ink artists who represent themselves in smaller galleries operate small ventures. The bigger names in Newport include William Vareika Fine Arts Ltd. and Roger King Fine Arts LLC – both of which have national followings per Dyer – as well as Arnold Art Store, The Gallery and a working studio, Thames Glass Inc.
In South County, maritime-related works long have been the main draw, but contemporary art is beginning to take a foothold.
In Providence, metal transfer work done by Blazing Editions and others, as well as resin pours, are "very hot right now, " said Shari Weinberger, Gallery Night Providence president.
"We are a very diverse community, and as such we have a very diverse collection of artists and artwork" being sold at galleries, she said.
There are three types of galleries in the city, according to Weinberger. They are: education-related galleries, such as those at RIC and the Wheeler School, nonprofit galleries that only exhibit and do not sell art, such as Bank Rhode Island, and commercial galleries such as Dryden Galleries Ltd. and Gallery Z.
Entering its 23rd season, annual gallery membership of the Providence weekly event ranges between the low and high 20s, according to Weinberger, including this year.
The third group, Bristol/Warren Art Night, is entering its eighth season. While weekly participation is limited to roughly nine locations, Susan Rotblat-Walker, event co-chair, estimated historic membership at 24 and holding steady.
She described the local sector as small businesses and artist co-ops that have seen success of late selling everything from jewelry to cards, small prints and functional items, such as mirrors and furniture.
Customers who frequent Bristol- and Warren-based galleries, she says, are New England residents, most of whom are retirees.
The largest local player, per both Rotblat-Walker and Weinberger, is Imago Foundation for the Arts – a 12-year-old nonprofit in Warren hosting artist residents and supporting local endeavors.
All three women believe the state is a welcoming environment for artistic businesses.
Weinberger, who stepped up to lead Gallery Night Providence in January, hasn't been involved in leadership long enough to track growth but feels there is an appetite for the arts among Rhode Islanders.
"For every gallery that closes, there is one that opens," she said.
Rotblat-Walker said existence of artist cooperatives in Warren and Bristol, the Barrington Arts Festival, and growing support from town leaders in Warren mean "the trend is positive … there is more interest in the arts." She added that Imago, where she is vice president, is experiencing increased visitors and sales.
Dyer, who has nearly two decades in local arts, believes the volume of local galleries has been increasing.
"It's not that 2008 wasn't a challenge," said Dyer of the Great Recession, "but the art industry has been one of the most resilient in Rhode Island."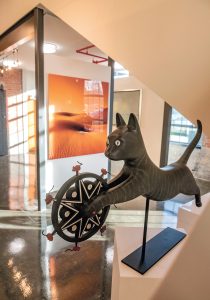 ATTRACTING OUTSIDERS
For newcomer Bobbie Lemmons, former New York City gallery operator and current owner of 3-year-old Atelier Newport on Bellevue Avenue, it has "taken time" to build a ­following.
"In a town of 25,000 people, and in a small state, you don't have as large a community of collectors," she said. "You're dependent on pulling your base from elsewhere."
Lemmons boasts clients from Austria to Arizona and New York – many of whom were cultivated while working in Manhattan.
Weinberger and Dyer report art being sold in Rhode Island goes to international, national, regional and local buyers. The distance of the buyer from the Ocean State depends on the artist and the pull of the gallery itself.
While Rhode Islanders are represented among local sales, RISCA's Mollie Flanagan, individual artists program director, agrees many galleries need to attract nonresidents to survive in such a small market.
Unlike New York or Boston, she said, "Rhode Island is not an art destination. … We need more people to come here and buy."
What could help the Ocean State stand out, said Rosenbaum, is the statewide exemption of sales tax on art purchases. It's an incentive he says is not being leveraged as well as it could by the state.
Excepting New Hampshire, where there is no sales tax, Rhode Island is the only New England state to offer such an incentive.
After 16 years of using the art-related sales tax exemption as an urban-revitalization policy in targeted communities, explained Rosenbaum, the incentive was expanded statewide in December 2013.
Buyers saved $1.3 million in fiscal 2018 and $1.2 million in fiscal 2017, according to the R.I. Department of Revenue. Since 2013, according to the state, art consumers have saved more than $5.5 million thanks to the exemption.
A RISCA survey shows the exemption has a "[positive] impact" on gallery sales, according to Rosenbaum. "Even though it's not a lot of money, it's the thought of getting a bargain" that motivates many buyers, he said.
Yet Rosenbaum thinks sales could do better if the incentive was aggressively promoted.
"We should have billboards in Connecticut and Massachusetts that say 'Come to Rhode Island to buy art without sales tax,' " he said.
RISCA currently offers images businesses can use to advertise the exemption, but in order to launch a more regional campaign, "that requires integration with a statewide tourism agency."
RISCA, he recalled, has "tried to build relationships with state tourism" but has yet to convince them to make the investment.
R.I. Commerce Corp. spokesman Matt Sheaff insists, however, that inclusion of the sales tax exemption has been a focus in recent marketing campaigns.
The sales tax exemption "remains an important message for us marketing Rhode Island domestically and internationally," he said.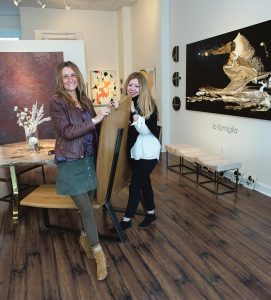 INTERNET CHALLENGES
Another challenge for local galleries is competing with the internet.
"Retail as a whole is rapidly changing as people move online," said YJ's Blazar, and "Galleries need to redefine themselves in terms of how they use the internet."
The nightmare, said Blazar, is when a buyer tours a gallery, falls in love with an artist then goes home to "research a bunch of galleries that represent the artist and tries to find a better price."
Galleries are also challenged by artists selling their own work online.
That eliminates the commission paid to galleries, which for Hickey can be as much as 50 percent.
"The gallery industry is in a slump" because of the impact of online sales by warehouses and the artists themselves, added Hickey.
Advocating for galleries' role in art sales, Uriah Donnelly, executive director of The Collaborative in Warren, said building the artist-consumer relationship is imperative for the local sector.
"If we can continue that connection, or harness it, more people will be buying art locally than they have [been]," he said.
A nonprofit gallery, studio and host of the now-3-year-old annual Warren Folks Festival, The Collaborative is run by a volunteer team and is reliant on outside funding for programming.
Selling $17,000 in art, Donnelly said 2018 was a positive year, though he could not estimate the number of works sold.
"It's keeping the lights on but it's not our primary source [of income]," said Donnelly.
He said the nonprofit is more reliant on grant funding and revenue spurred from the festival to make ends meet.
For a typical, self-supporting gallery to compete, having enough space to show artists' work and offer a range of styles and prices is crucial. The former was something Blazing Editions lacked until last May, when it launched YJ.
For 20 years, Blazing Editions operated as an artists' representation agency and reproduction manufacturer. However, in order to bring those artists' works to major shows across the United States, explained Blazar, the artists' representatives must, according to show entrance requirements, operate a gallery.
Nearly a year in, Blazar hopes to reflect a broad swath of the market by lining the walls of YJ with dye sublimation on recycled aluminum, original paintings, limited-edition prints and multimedia sculpture.
"Our goal is not to be a gallery that sells only originals with a price point of $20,000," he said. By offering an inventory that includes both $20,000 works, as well as limited-edition $2,000 prints, "You can hit different clienteles, different people who appreciate art," he added.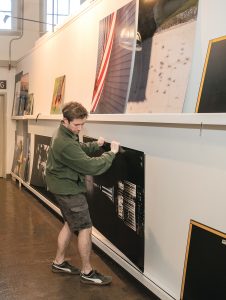 'EDGE OF INSECURITY'
Abutting the International Tennis Hall of Fame, Atelier Newport is an abstract-contemporary gallery featuring the works of painters who include Richard Nocera, Gayle Mandle and local artist David Barnes.
Lemmons' goal is "giving [those artists] a platform they might not have otherwise in this area."
She saw no need, nor was she creatively driven, to replicate the nautical- and coastal-themed galleries near her Bellevue Avenue space.
"I'm not a person who is going to live with the waves I see outside [on the walls] inside my house. I don't need pictures of sailboats and there are others like me," she said.
That being said, a gamble introducing a new type of art to a local scene doesn't always pay off. "In a community [of] nautical galleries that have been quite popular, I've watched other contemporary galleries come in and close," she said. "It's not an easy market."
Lemmons, who would not share her annual sales data, is proud to have recently signed a second three-year lease and be a creator of four jobs for the local economy.
"The challenge I saw in moving to a community like this was finding a job," she said. "It became very clear I needed to build something, and in that process I was able to find jobs for others."
But such jobs still depend on the broader economy and gallery owners' success in diversifying their business model.
"As rents keep going up in retail areas, you have to sell more" to stay afloat, said Blazar.
And when a longtime collector's "Roth IRA goes down $2 million in a flash," he added, that could mean a slower month.
On top of the sales tax exemption, Blazar said he will often throw in free local shipping and installation – within reason. Art, he added, "is a feel-good item, you want to have a good experience."
While Hickey and other gallery owners worry about the future, RISCA's Flanagan and Rosenbaum agree the state will continue to be a hospitable place for creative types – and those who profit from the sale of their work and development of their reputations.
"Artists and galleries always feel like they're on the edge of insecurity," said Flanagan, "but that's not something new, changing or getting worse. I've only been in Rhode Island for two years, but I've seen an increase for artists, gallerists and nonprofits working together."
Such collaboration, she said, "benefits the whole arts ecosystem."
Emily Gowdey-Backus is a staff writer for PBN. You can follow her on Twitter @FlashGowdey or contact her via email, Gowdey-backus@PBN.com.