2018 40 Under Forty
July 19 @ 5:30 pm

-

8:00 pm

$110.00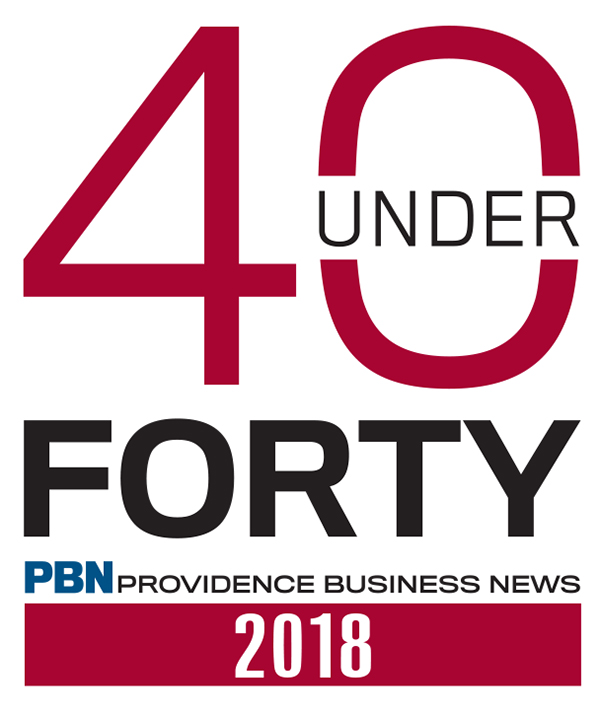 Sold Out!
When: July 19th
Place: Aldrich Mansion, Warwick Neck
Time: 5:30 – 8pm
Celebrate this special evening at Aldrich Mansion with food stations, open wine, beer and vodka bars and spectacular views overlooking Narragansett Bay.
The 2018 40 Under Forty honorees (listed alphabetically), along with their employer/business:
Nicholas Balzano, Gilbane Building Co., project manager
Greg Berard, Lighthouse Computer Services, president
Kathryn Botelho, The Preservation Society of Newport County, e-commerce manager
Michelle Carr, Leadership Rhode Island, deputy director
Elizabeth Catucci, Batchelor, Frechette, McCrory, Michael & Co., director of marketing & business development
Elizabeth Chwalk, International Game Technology PLC, manager, investor relations
Esther DeQuattro, Pane Vino and Massimo Restaurants, proprietor
Adam Dias, Custom Design, Inc., president
Andrew Galvin, CBRE/NE, First vice president/partner
Rafaelina Gomez, Fidelity Investments, Sr. compliance advisor
Eric P.W. Hall, Rhode Island Air National Guard – 143d Airlift Wing, captain/deputy staff judge advocate
Merve Iplikcioglu Kirtan, Steere Engineering Inc., project manager/structural engineer
Junior Jabbie, Banneker Industries Inc., president & CEO
Christian Jenner, Duffy & Sweeney LTD, partner
Darren Jodoin, PMC Media Group, CEO, president and co-founder
Matthew Malek, Tri-County Community Action Agency, medical director
Megan McGuinness, McGuinness Media & Marketing, owner & CMO
René Moniz, Partridge Snow & Hahn, associate litigation attorney
Steven Mooney, Jr., International Game Technology PLC, technology manager
Andrew Mudra, Amica Life Insurance Co., vice president
Bridget L. Mullaney, Cameron & Mittleman, partner
Edwin Pacheco, Rhode Island College, executive director/interim VP of college advancement
Tom Parrish, Trinity Repertory Company, executive director
Rebecca Plonsky, Prospect CharterCARE, national vice president of development, PIBH
Sakeena Raza, Brown Medicine, assistant professor
Rebecca Reece, Brown Medicine, infectious disease physician
Rachel Reichert, The Groden Network, director, home-based services
Joelle Rocha, Kelly, Souza, Rocha & Parmenter, P.C., partner
Christina Rouse, Sweeney Real Estate & Appraisal, director of marketing and operations
Jeffrey Roy, Collette Travel Services Inc., senior vice president, revenue management and pricing
Michael Schmitt, Tides Family Services, assistant vice president, risk management
Tracy Schorner, Amgen Rhode Island, senior manager, product lifecycle management
Benjamin T. Scungio, Mott & Chace Sotheby's International Realty, office manager and sales associate
Ethan Shorey, The Valley Breeze Newspapers, managing editor
Elizabeth A. Suever, Roberts, Carroll, Feldstein & Peirce Inc., partner
George Tager, Blue Cross Blue Shield Rhode Island, director of employer segment sales
Greg Velander, Neighborhood Health Plan of Rhode Island, director of technology innovation
Deborah Viveiros, Webster Bank, vice president/relationship manager
Jeff Wilhelm, Envision Technology Advisors LLC, chief technology officer
James Yaitanes, Citizens Bank, vice president/sales manager
Partner Sponsor:                       Gift Sponsor:                  Photo Booth Sponsor:
Add events@pbn.com to your address book to ensure you receive our confirmation emails.