Meeting Street Hosts Child Development Workshop to Introduce What to Expect in Infant and Toddler Years Workshop will be led by Casey Ferrara, Director of Early Childhood Programs at Meeting Street and Andrea Furtado, Manager of Meeting Street's Early Learning Center
January 17 @ 5:30 pm

-

8:00 pm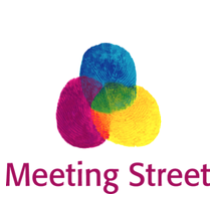 The Early Childhood Institute at Meeting Street will host a free workshop for child care professionals, caregivers and Meeting Street families; The cost is $20 for professionals and free for current Meeting Street families. The goal of the workshop is to help parents and caregivers understand what to expect in the infant and toddler years. Topics addressed include:
• Early childhood development milestones (up-to age 3)
• Toilet training, feeding, sleeping, and tantrums
• How to play with toys to help your child learn
• Resources available if you feel your child may not be developing on track
Light refreshments will be provided.
When:
Thursday, January 17th, 2018
5:30 p.m. -Registration
6:00 p.m. – 8:00 p.m. – Workshop
Where:
Meeting Street
1000 Eddy Street
Providence, RI
Cost:
Free for Meeting Street Families
$20 for professionals
Please RSVP by calling 401-533-9252 or emailing cferrara@meetingstreet.org. and leaving your name and contact information. For information on additional workshops please visit www.meetingstreet.org/events
About Meeting Street
Founded in 1946, Meeting Street compassionately and innovatively empowers children and their families to thrive by fostering the development of the whole child. Meeting Street's vision is to be a national leader in child development, education, research and training. Today, Meeting Street works with over 5,000 children and families annually through its core programs: Early Intervention, Early Head Start, Healthy Families America, Early Learning Center, Pediatric Outpatient Rehabilitation Services, The Grace School, The Carter School, and The Schwartz School. For more information about Meeting Street visit www.MeetingStreet.org.