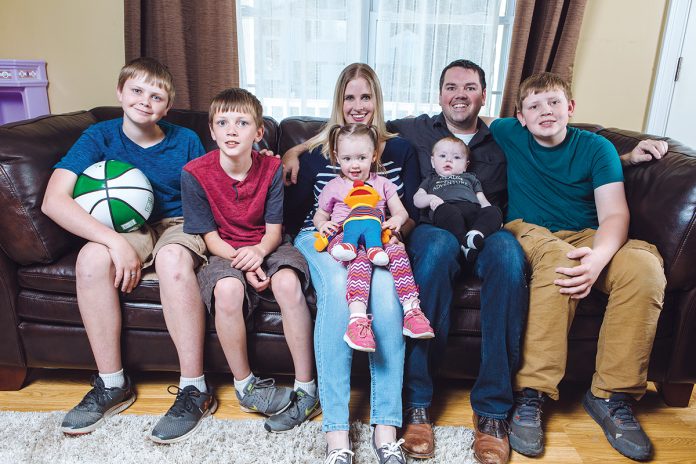 A working father of five – with children ranging from 4 months to 13 years – Chris Whitten knows the importance of quality child care.
For more than a decade, he has relied on Cumberland-based The Children's Workshop to look after his brood while pursuing a career as broker and owner of 6-year-old, Johnston-based Premeer Real Estate Inc. At its 19 locations across Rhode Island and Massachusetts, The Children's Workshop offers child care to youth aged 6 weeks to 12 years.
Their care is "incredible," said Whitten, who especially appreciates text updates from teachers – one of which showed his 2-year-old building a snowman.
Over time, as the two companies grew, they participated in the same local charity events and, Whitten said, formed a close professional relationship.
This bond was strengthened earlier in 2018 when The Children's Workshop announced a formal marketing campaign for its Family First program, for which Premeer Real Estate was the first corporation to sign on.
In early May, Woonsocket-based Summer Infant Inc. also signed on to Family First.
The program offers businesses the ability to craft customized child care benefits based on The Children's Workshop services for their employees, including discounted services, parenting classes and summer programming.
Partnering with local corporations to provide child care services, the essence of Family First, has been a part of The ­Children's Workshop business model since the company's inception in 1990, said CEO Margaret Teller. However, it has remained a less-formal offering because administrators have relied on current parents to make inroads with their employers rather than marketing the idea.
"We weren't actively out there … [appealing] to decision-makers without the parent introduction, which is what we're trying to do now," said Teller, who credited much of the recent attention garnered by Family First to the rising cost of child care.
After 10 years in the industry, four as CEO, Teller estimates child care costs average $20,000 per family, per year. She believes "it's hard for families to shoulder that burden alone" and that "businesses have a responsibility to help their employees."
Quality child care, to Teller, is a fundamental benefit companies' human resources departments should consider offering employees because it improves productivity. Herself a mother of two – girls aged 18 months and 5 years – Teller knows "nothing will distract you more than thinking about your child."
Work absences are often the result of sick children or the primary child care service falling through, said Teller, "[and] that gets in the way of the growth of the company."
As both a CEO and a mother, Teller is not concerned about a loss of revenue, given the possibility of discounted services. Currently, one week of full-time care at The Children's Workshop costs roughly $300 – tuition rates vary at each location – and can add up to $15,000 to $20,000 per family annually, said Teller.
"Offering a discount," said Teller, "is hard because margins are very slim," but she hopes increased enrollment will offset any loss.
Each Family First corporate partnership is different, with discounts ranging from 3-10 percent. Teller said they are often "more generous" if the employer provides a match or reimbursement.
Teller was hesitant to say The Children's Workshop's Family First program is unique in the area but has found child care as a corporate benefit – be it subsidized or even an on-site service – is more often supported by "national companies that have a presence in many markets.
"We're in Massachusetts and Rhode Island only," said Teller, and "don't want to ignore the [small corporations] – the backbone of the American economy – who still want to do right by their employees."
'Businesses have a responsibility to help their employees.'
MARGARET TELLER, The Children's Workshop CEO
Calls to multiple local firms – many of which are previous or perennial Providence Business News Best Places to Work nominees and winners, including Collette in Pawtucket and Blount Fine Foods in Fall River – found many local corporate-benefit packages do not include child care.
Amgen stands out regionally, but its local service pales in comparison to the West Coast. Employees at the West Greenwich facility can access "priority enrollment" at Bright Horizons centers – a nationwide child care company with one location in Providence. However, employees at Amgen's Thousand Oaks, Calif., headquarters can drop their children off at Camp Amgen – a facility providing full-time care for infants through kindergarten prep.
Teller has watched as momentum gained around paid family leave and expects programs such as Family First "might be the next frontier of benefits [through which] employers can set themselves apart."
Both Teller and Whitten agree Family First makes Rhode Island a more attractive place to work and the state should invest in child care services at the corporate level as a way to strengthen the workforce.
Teller even thinks further adoption of Family First, paired with a state policy, would "boost hiring and bring companies to the state" – a perennial goal of local legislators.
Whitten, who believes the influx of millennials into New England's corporate community is resulting in a more "family-friendly, relaxed" atmosphere, said: "If there were more [Family First-style programs] available … stay-at-home parents may easily make the transition [back] to the corporate world."

Want to share this story? Click Here to purchase a link that allows anyone to read it on any device whether or not they are a subscriber.