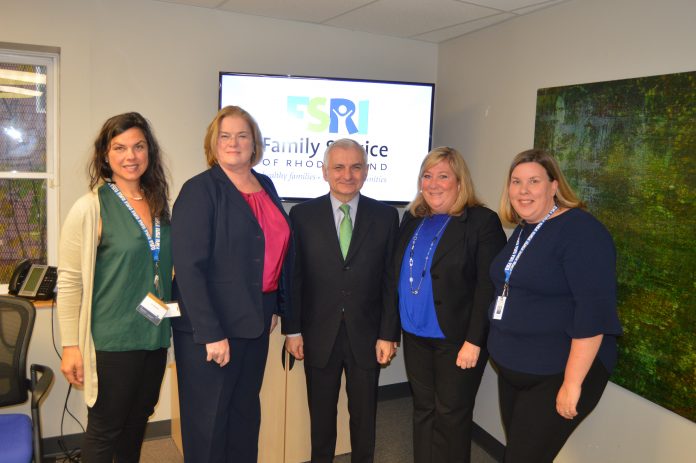 PROVIDENCE – CODAC Behavioral Healthcare and Family Service of Rhode Island are using a $750,000, three-year grant from the U.S. Office for Victims of Crime to counsel and mentor children and youths facing financial and emotional challenges from their parents' opioid addictions.
The Office for Victims of Crime, a federal office that provides aid to victims of crime using fees and fines collected from the criminal justice system. Using funding from the office, CODAC Behavioral Healthcare will work with FSRI to extend counseling, mentoring and other support services as part of the Project Support Ocean State initiative, which is in progress.
Kate Prendergast, vice president of quality improvement at CODAC, said FSRI reached out to her organization to invite CODAC to partner on expanding services for young people dealing with substance use disorder. The answer wasn't in doubt.
"We always say yes," Prendergast said.
Together, the organizations will offer more training in administering the overdose-treatment medication Naloxone, training in the different therapy methods, including behavioral, medication, or 12-step programs, and medicine-assisted treatment for families dealing with a member addicted to opioid drugs.
"Rhode Island has been the epicenter of the national opioid epidemic and our children are being traumatized," said Margaret Holland McDuff, CEO of FSRI, in a statement. "This could lead to domestic violence, separation through death or incarceration, sexual abuse, neglect, and more."
Prendergast said part of the funding will pay for an administrative staffer hire at CODAC who will become an integral member of Family Service of Rhode Island's team. Families working with FSRI will remain with the counselors they're familiar with, who will now have a trained CODAC team member to refer substance abuse disorder questions to in the course of their work, she said.
Counselors who encounter a young person or a parent suffering from substance abuse disorder will be able to put those people into treatment quickly with the funding support, Prendergast said.
Sarah Kelly-Palmer, Family Service of Rhode Island vice president for trauma, loss and victim services, said the funding will help increase clinical time at FSRI and CODAC for young people who are affected by the opioid epidemic either directly struggling with substance use disorder, or who are impacted because their caregivers are struggling with addiction.
Training will also be provided free of charge to agencies in the community to increase the awareness of the impact of the opioid epidemic on children and youth.
"Increasing this knowledge of professionals will help to connect children and youth to appropriate treatment and also assist providers in having the tools to best help their clients," Kelly-Palmer wrote.
In addition to direct service, the grant will also fund awareness education in the community and provide CODAC expertise at the Rhode Island State Victim Assistance Academy, which provides training for professionals in the field of victim services. The academy is conducted by Family Service of Rhode Island and hosted by the Roger Williams University Justice System Training & Research Institute. FSRI and RWU have a 10-year partnership implementing the Rhode Island State Victim Assistance Academy, Kelly-Palmer said.
FSRI and CODAC will assist in training community agencies at the RISVAA's Bay Point Campus in Portsmouth as well as assistance in marketing trainings, Kelly-Palmer said.
"It's about time that we did something like this together," Prendergast said.
Sen. Jack Reed, D-R.I., a member of the Appropriations Committee who worked with fellow congressional delegates to secure $12.5 million in federal funding to fight the opioid epidemic, praised both organizations for taking the initiative to help the "silent" victims who have been impacted by the ongoing crisis.
"If a parent suffers from addiction, children suffer also, even when they have no contact with any substance," he said. "This grant will enable CODAC and Family Service to deliver coordinated services for a child, and it will build off the ongoing work of these organizations."
Rob Borkowski is a PBN staff writer. Email him at Borkowski@PBN.com.