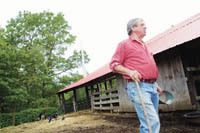 When Joe Bossom heard about the shortage of affordable housing for artists in Rhode Island, he decided he had the perfect place for an artist-friendly development: his 200-acre farm off Bulgarmarsh Road in Tiverton, which he'd been wanting to sell.
"I did not want a developer to come in and put houses all over the fields," said Bossom, who raises dairy goats and chickens. "I wanted to preserve the fields as best I could. I wanted to show people that there's an alternative to commercial development."
So instead of selling to the highest bidder, Bossom went to the Church Community Housing Corporation, a Newport nonprofit focused on affordable housing.
Now, two years later, the group has a plan for Sandywood Farm: a project in which affordable housing for artists will coexist with market-priced housing and a 50-acre working farm.
"We traditionally have not done a lot of new development," said Stephen Ostiguy, the group's executive director. "This presented an opportunity to preserve the agricultural element and the open space while still providing affordable housing."
To design the project, Church Community Housing chose Donald Powers Architects, a Providence firm with a special interest in affordable housing, compact development and community planning that has worked on projects across New England.
Principal Donald Powers said the Tiverton project's first goal is "to demonstrate stewardship of the land," respecting and maintaining the farm. "This is a holistic approach."
The second goal, he said, is to make the development a vital part of the local community.
"Conventional development would have divided [the land] into one- or two-acre lots," said Powers. "All that does is chew up open space. A project like this is creating real value across the spectrum because it's creating a place people will want to live in and visit. You create a walkable site that draws on the character of the place."
To achieve this, the developer is drawing on the principles of new urbanism and conservation development by clustering most of the houses so they take up less space.
"Typically, if a piece of property is being subdivided into lots, you think of how to maximize your lots, and you do it according to how many lots you can get with zoning," explained Sheila Brush, director of programs for Grow Smart Rhode Island, an advocacy group.
Conservation development, Brush added, "takes a different approach – to look at the site and make the best use of it by determining the features of the site you want to take advantage of. In Tiverton there are really beautiful views of the farmland from the road that would be preserved, and some woodlands to be protected."
Conservation development protects the land by clustering housing units, Brush explained. Rather than divide up the land evenly and put a house on each parcel, you can cluster the houses together and leave a large stretch of open space. "You wouldn't create more units," she said. "You would just be locating them differently."
On Sandywood Farm, the plan is to build 71 housing units in a range of styles, with 50 of those units grouped together and made available as affordable housing for artists.
In order to finance the project, the remaining 21 units (each on a two-acre lot) would be sold at market value. Two will be reserved for working farmers.
"We've had to compromise a little in that direction by building market-value homes," Bossom said. "It's a waste [of land], but hopefully they will be occupied by affluent artists."
As part of its commitment to make Sandywood a real part of the community, the developer has plans for a farm stand, a gallery and possibly a café and a bed-and-breakfast at the entrance to the farm.
"We're using the private realm to create the public realm," Powers said. "We're attempting to make a community that has a financial impact on the town."
Ken Ayars, chief of the R.I. Department of Environmental Management's Division of Agriculture, said that's a positive element of the plan.
"In some ways it enhances the value of the project and perhaps make it more likely that money may be spent on it," he said. "It's making a connection between farming and the public."
Barbara Fields, senior programming director of LISC Rhode Island, a nonprofit housing financing agency that has provided a pre-development grant for the project, said the concept is "new and it's exciting. I think everyone thinks this will be positive for the community."
Ostiguy said town officials' response so far has been positive, though no formal plan review has occurred yet. "They're aware of it, and they've included it in their affordable housing plan," he said. "Once we get approval we have a process to get federal and state funding."
To obtain state funding, Church Community Housing plans to ask the R.I. Agricultural Land Preservation Commission to forward bond money to the DEM so it can purchase the development rights to Bossom's farmland.
Since 1985, the DEM has purchased the development rights to 66 farms across the state – an effort Ayars described as a recognition of the value of agricultural land "not just for what comes off of it, but in terms of preventing sprawl, and protecting wildlife and groundwater."
As for Bossom, he's happy with what's in store for his land.
"I'm going to stay here," he said. "I'm going to be a farmer, and I will mentor a younger man."