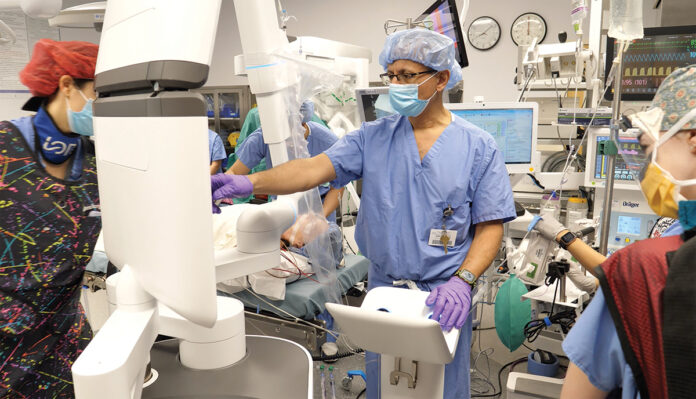 Dr. Andrew Foderaro has performed countless bronchoscopies over his career, but even he can find it tricky.
The procedure requires a doctor to maneuver a thin tube with a camera through a patient's airway and into the lungs. It's relatively simple, but sometimes reaching small passages is difficult. This makes it hard to detect and treat early-stage lung cancer, with growths sometimes as small as a quarter of an inch.
At Rhode Island Hospital, new revolutionary technology is helping solve this problem.
Foderaro, director of bronchoscopy for Rhode Island Hospital and The Miriam Hospital, was one of the first doctors in the hospital to use the newly acquired Ion machine, a robotic-assisted navigational bronchoscopy system that allows doctors to perform biopsies on small lung nodules.
"It was eye-opening," Foderaro said. "For many years we used cameras and bronchoscopes, but we were limited. We couldn't go very far out in the lung. This technology has allowed us to navigate the camera as far as you can go in the lung."
It is a noninvasive procedure in which doctors can get to nodules in patients' lungs they would otherwise be unable to reach. Because it provides an immediate diagnosis, the procedure can help detect cancer at its earliest stages. This is extremely important for patients, as survival rates usually drop significantly after stage one.
"We have learned over the last 15 years that the best way to combat cancer is to catch it early," said Dr. Abbas El-Sayed Abbas, chief of thoracic surgery at Lifespan Corp., which operates Rhode Island Hospital. "When we catch it early, we can offer most of the time a cure for the cancer."
Abbas specializes in minimally invasive surgeries and showed an early interest in the potential of robot-assisted machines. The machine is over 90% effective, Abbas says, proving to be more accurate compared with a standard bronchoscopy.
"Without this, I wouldn't be as confident of where that nodule really is in the lung," Abbas said. "So I may miss it or may have to remove a big part of the lung to find it. This really hones us in and targets the nodule."
Once the surgeon reaches the growth, he can biopsy it for diagnosis. The machine also allows the doctor to "mark" the nodule, using a combination of three dyes. Once the tumor is marked, it's easier to locate again.
"You have a beacon, like a lighthouse in the dark, that shows where that nodule is," Abbas said.
Rhode Island Hospital is the first and, so far, only hospital to acquire the Ion machine. Foderaro, Abbas and pulmonologist Douglas Martin worked together to bring Ion to the hospital. Since purchasing it for about $600,000 last September, the hospital has performed 29 surgeries with the machine.
The Ion equipment is manufactured by Intuitive Surgical Inc., which also makes the da Vinci system that has been used at several hospitals in the region to perform minimally invasive surgeries that require precise, fine movements made possible by robots.
While pulmonologists can use Ion's robotic assistance to biopsy early-stage cancer, surgeons are able to use it with the da Vinci robot to perform what the hospital calls a "singular anesthetic event": a surgery in which a tumor is diagnosed, biopsied and removed within one procedure.
After the biopsy is performed with the Ion machine, if the tumor is found to be malignant, doctors can bring in the da Vinci machine to remove the nodule. Combining the two separate procedures prevents patients from having to make multiple trips to the hospital for surgeries, each of which can take days to recover from. Instead, the robotic-assisted procedure can take just a few hours with a few nights of post-operation recovery.
The procedure is also safer: combining two separate procedures reduces the possibility of complications. And above all, this procedure saves vital time.
"When you deal with cancer, time is of the essence," Abbas said.
Lung cancer is the deadliest out of all types of cancers for both men and women, making up 23% of all cancer deaths in the U.S. in 2019, according to the American Lung Association. Streamlining lung cancer diagnosis and treatment is particularly useful in Rhode Island, which has high rates of new cases of lung cancer compared with most other U.S. states.
A 2022 report by the American Lung Association, the "State of Lung Cancer," ranked Rhode Island No. 43 in the U.S. for the rate of new lung cancer cases, which was 68.5 per 100,000 persons, compared with the national rate of 56.7 per 100,000 persons. But the state also ranks high in the nation for early diagnosis and survival rate.
The same study ranked Rhode Island No. 1 in the country for survival rate at 30.8%, compared with the 25% national rate, No. 2 for high-risk lung cancer screening at 13.4%, compared with the national rate of 5.8%, and No. 3 for early diagnosis at 30.4%, compared with 25.8% nationally.
Because of Rhode Island's high number of cases, using this technology that allows treating early-stage cancer is particularly impactful, the doctors say.
"I'm pleased and amazed at how effective technology has been," Foderaro said. "It's been great for a number of patients."

Want to share this story? Click Here to purchase a link that allows anyone to read it on any device whether or not they are a subscriber.