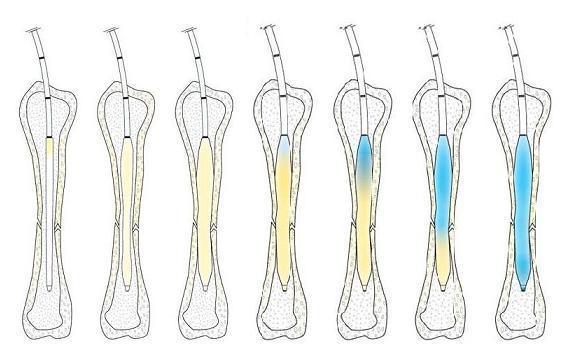 EAST PROVIDENCE —IlluminOss Medical has received U.S. Food and Drug Administration clearance to use its IlluminOss Bone Stabilization System using light-sensitive resin to treat osteoporosis and age-related fractures, the company announced today.
The East Providence-based, privately held, commercial-stage medical device company won FDA de novo clearance fractures of the humerus, radius and ulna from metastatic bone disease, a form of cancer, in January. It marked the first time the system was commercially available in the U.S.
IlluminOss has been commercially available in international markets and been in clinical use since 2010.
The IlluminOss System uses a thin-walled Polyethylene terephthalate, or PET, balloon infused with a liquid monomer delivered into the intramedullary canal of a patient's bone through a small incision.
Once the balloon is infused with monomer, it conforms to the shape of the patient's specific bone. The surgeon then activates a light source which delivers visible light to the PET balloon, polymerizing the monomer. The cured, hardened implant provides longitudinal strength and rotational stability over the length of the implant, stabilizing the fracture.
The new FDA approval will allow the company to market the procedure for use in skeletally mature patients to treat traumatic, fragility, pathological, and impending pathological fractures of the humerus, radius and ulna.
"IlluminOss' minimally invasive approach is ideal for treating patients suffering from fragility fractures. With a rapidly increasingly geriatric population, we are seeing a significant rise in these fracture patterns, which are often associated with osteoporosis and/or other pathologic indications affecting bone quality," said Jeff Bailey, CEO, IlluminOss Medical. "Osteoporotic bones can be difficult to treat with conventional hardware such as plates, nails and screws, as reduction and subsequent hardware fixation may be difficult."
"As people age they lose bone density and are more prone to osteoporosis, increasing their risk of incurring fragility fractures," said Dr. Marc Guijt, University of Amsterdam.  "Using the IlluminOss System, even patients with highly compromised bone quality may be treated in order to speed their return to daily activities and reduce complications. This has the potential to revolutionize the way fracture repair for the elderly may be approached."
Rob Borkowksi is a PBN staff writer. Email him at Borkowski@PBN.com