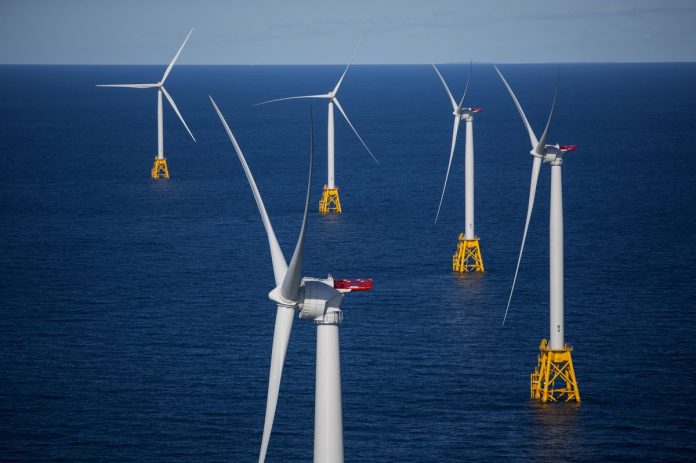 PROVIDENCE – When it comes to clean energy, the answer is increasingly blowing in the wind – and Rhode Island is playing its part in it, according to U.S. Department of Energy reports released Thursday.
The department's three annual Wind Market reports highlighted advancements in the United States' wind energy industry's utility-scale, distributed and offshore sectors.
As more wind energy turbines go up nationwide, and offshore wind projects in Rhode Island and elsewhere have moved beyond the planning stage, wind energy prices and related technology costs continue to fall. It found the average installed cost of a U.S. utility-scale wind plant on land was $1,611 per kilowatt in 2017, a 33 percent decline from peak costs in 2009 and 2010.
The reports also noted that the U.S. offshore wind energy industry has taken a leap forward with southern New England at the epicenter: commercial-scale offshore projects were selected in Rhode Island (Deepwater Wind's 400-megawatt Revolution Wind project), as well as an 800-megawatt project in Massachusetts by Vineyard Wind and a 200-megawatt project in Connecticut by Deepwater Wind.
The pipeline of offshore wind projects has grown to a total of 25,646 megawatts of capacity in 13 states, including Deepwater Wind's already operational $300 million, 30-megawatt Block Island Warm Farm off the Rhode Island coast – so far the only active offshore site in the country.
Of the U.S. capacity total, 1,891 megawatts of offshore wind power has been permitted in the U.S. so far.
Other notes:
Nationwide, wind turbines in distributed applications [used at or near where it is generated, typically used by homes, schools, farms, industrial facilities and municipalities] has grown to a capacity of 1,076 megawatts, coming from roughly 81,000 turbines.
Among those turbines, 35 percent were installed last year at homes, and 25 percent were agricultural installations.
U.S. manufacturers of small wind turbines and their supply-chain vendors are now located in 27 states.
Nationwide, the wind energy industry saw $11 billion invested in new utility-scale, land-based wind plants last year.
Scott Blake is a PBN staff writer. Email him at Blake@pbn.com.