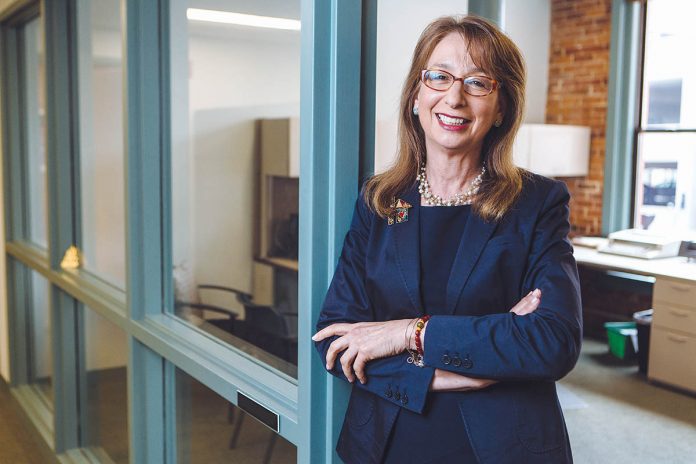 Industry Leader, Social Services | Barbara Fields, R.I. Housing
---
While Barbara Fields may not remember the exact moment she decided what she wanted to do for a living, she says she knows it happened while she was doing it.
Throughout her nearly 30-year career spanning roles with the Local Initiatives Support Corp., the U.S. Department of Housing and Urban Development and now as executive director at R.I. Housing and Mortgage Finance Corp., Fields has believed in herself and her ability to make an impact in others' lives – a big impact.
"I grew up at a time when there was enough exposure to the idea that women could be talented," Fields said. "That was something my girlfriends and I all believed: that women could run things. Could accomplish things. Women could be leaders. At MIT, where I earned my masters, I met innovative, creative, forward-thinking women who were going to change the world."
Fields joined R.I. Housing, a Providence-based, quasi-public corporation that provides mortgages and finances the construction of housing for Rhode Islanders, three years ago. The 45-year-old organization has helped more than 70,000 Rhode Islanders purchase homes and has financed the construction of more than 14,000 apartments.
"R.I. Housing invests in Rhode Islanders," Fields said. "Economic development, workforce, equity and housing issues are all interconnected. The truth is, you can't really have long-lasting success in one area without investment and success in the others. R.I. Housing is an integral part of moving Rhode Island forward. We create housing. We create jobs. And we create opportunity."
Over the past few years, Fields has focused on several areas in an effort to improve how R.I. Housing does business, the most pressing of which has been identifying and updating sorely outdated information technology systems.
'R.I. Housing is an integral part of moving Rhode Island forward. … We create opportunity.'
BARBARA FIELDS, R.I. Housing and Mortgage Finance Corp., executive director
"One of my favorite things about our staff is that we've got this great mix of people who have been here 10 years or longer and are mid-career and then we've got this great group of new people who are just starting out," Fields said. "The corporation benefits from having experience and institutional knowledge but all of that is balanced by new ideas, new approaches and new ways of seeing the world with our younger staff. I've made sure that we work really hard to recruit new employees from all kinds of backgrounds and experiences, that we work to make those people feel appreciated and valued, and that we listen to the ideas that they bring into the corporation."
Christine Hunsinger, assistant deputy director for policy and research at R.I. Housing, says her strong interest in the corporation developed from the passion that Fields displays in her work.
"I've known Barbara for about two years," Hunsinger said. "When I first met her, every conversation we had was about housing and community and neighborhoods. She would describe how the investments of R.I. Housing and their partners have really changed lives and provided real opportunities. She was so engaging on the subject that I finally asked her to take me on a tour of some neighborhoods and to physically show me what she had been describing. After that I was hooked, and when an opportunity to work full time at R.I. Housing opened up, I took it. … She's always driving us to do more and pushing us to think differently about how to solve problems or overcome obstacles."
For Fields, the perspective she has gained over the years is what makes all the difference.
"Going into the neighborhoods where I started working 25 years ago and seeing real progress" is gratifying, she said. "People who have grown their businesses. People who've become homeowners. Young people becoming engaged in their community. A park reclaimed from a contaminated site. Safe streets. A local school with a garden built by the kids. Bike paths. A community health center. All amazing pieces in the puzzle that makes community," she said.