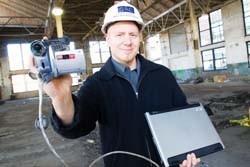 The Business Innovation Factory is asking the state to guarantee $28 million in private loans to finance the R.I. Wireless Innovation Networks (RI-WINs) project, an effort to make this the first state with border-to-border wireless broadband access.
BIF, an independent nonprofit created in 2004 to implement the R.I. Economic Development Corporation's "Innovation @ Scale" strategy, with support from business and academic partners, launched RI-WINs in 2005 to build a platform for innovation in the state.
Last year, during an eight-month pilot phase, users tested applications on a small-scale version of the network in Providence and Newport. The pilot is now being expanded to Foster.
On Jan. 16, BIF announced its plans for a statewide rollout of the wireless network, unveiled its $28 million price tag and requested the loan guarantee.
The $28 million would cover the initial build-out of the network, plus financing costs and expenses for the first three years of operations, after which RI-WINS is expected to turn a profit.
The projections are based on a market research study and financial analysis performed by Altman Vilandrie & Co., a Boston telecommunications consulting firm. The study forecasts RI-WINs will have more than 35,000 users and $11 million in revenue by the fifth year of operations.
"The more specific we've gotten, on both the revenue side and the cost-and-operations side, the more confident we've become that this is a viable enterprise – and with just a stake loan guarantee, we should be in a very solid position to achieve our objective," said Saul Kaplan, founder of BIF and executive director of the RIEDC.
The RIEDC is urging state lawmakers to provide the loan guarantee so the project can be financed entirely with private-sector money. BIF is already in discussions with potential lenders, Kaplan said.
Gov. Donald L. Carcieri is expected to include the loan guarantee in the budget plan he will submit to lawmakers this week. The final budget is typically not approved by the General Assembly until at least June, however.
Once financing is in place, it will take the RI-WINs team 12 to 18 months to build and go live with a fully border-to-border network, according to BIF.
Economic development officials hope that blanketing Rhode Island with uninterrupted wireless broadband coverage will help spur technological innovation and attract new companies to the state.
"We want to be the first state to do this," Kaplan said. "We want to be the place where a lot of technology companies are creating new solutions, new software, new devices to receive the wireless signal."