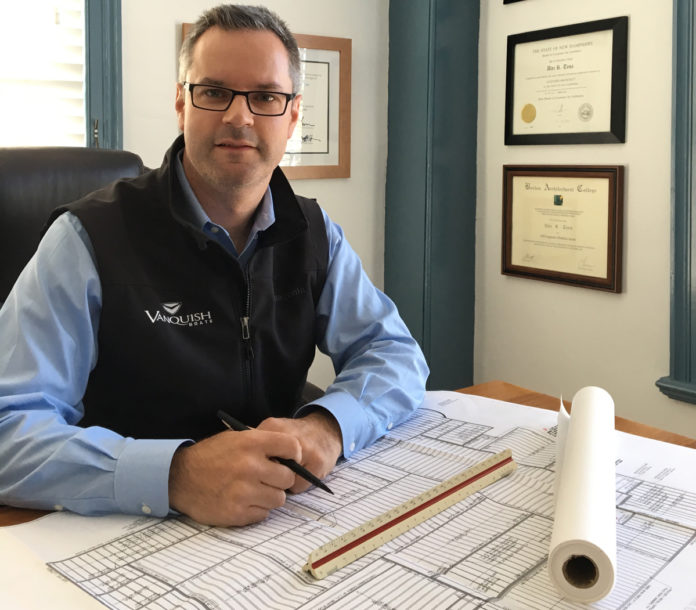 Alec Tesa, principal of A. Tesa Architecture in Newport, has designed the Middletown house that will be featured prominently in Time Inc.'s Coastal Living magazine and website as its 2017 Idea House. The house is intended to showcase the latest design and technology trends. The interiors are by designer Mark D. Sikes. The general contractor is Horan Building Co. of Newport, and the landscape is by Infinity Design Group of Warwick. Located at 316 Tuckerman Ave., the five-bedroom, 6.5-bath house is listed at $3.25 million.
In a recent interview, Tesa described the challenges of building the new home, which was restricted by deed to a height of 25 feet, so as not to block neighboring views of the ocean, including the Cliff Walk of Newport.
PBN: Describe your design for the Coastal Living house?
TESA: The design was borne by an atypical vernacular. Rather than the typical shingle-style nomenclature, which is often seen throughout Newport and the neighborhood, based on the site restrictions and the program given to us by the builder, number of bedrooms, bathrooms, square footage had to be massaged and integrated in a particular way that took advantage of views and light and symmetry and landscape.
PBN: Given the site, was it a challenging house to design?
TESA: It was challenging because I knew from the beginning we were going to have to stray away from our typical collection of details that we were well known for. It was a very rigid-style home. It was exciting to break away from the shingle-style trend. Shingle style has particular details; it has big broad gables.
PBN: What are some of the design trends contained within the house?
TESA: The site conditions really set the stage for not only the proportions but also the style of the house. From very early on I felt a blend between a coastal Carolina cottage and a sleek Floridian beach condo, if married properly, and appropriately, to shingle style, there would be a sense of appropriateness that would be welcomed with appreciation for thoughtful architectural design.
PBN: How does the house incorporate technology, or soften environmental impact?
TESA: It has all the latest technology. You can control the heating system from your phone. It monitors when you're there and when you're not. We've designed the house with the possibility of being LEED certified. We're not sure if the builder is going to move forward with that certification, but it can be obtained based on the requirements of that certification.
PBN: When will it be completed and what is its status? Is it listed?
TESA: It's on the market now. [It will be completed] at the end of June.
Mary MacDonald is a PBN staff writer.