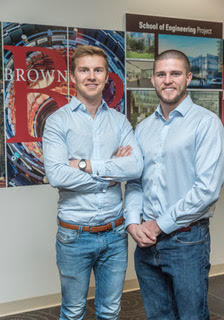 Clemens Grave is the co-founder and CEO of Finnest, a financial literacy and personal finance app designed to teach children and teens how to manage money. Grave and his partner, Richard McDonald, Finnest's co-founder and chief operating officer, are currently participants in the 2017 MassChallenge accelerator.
Grave and McDonald spoke with Providence Business News about the Finnest app and their goals for the company.
PBN: Why do you think so many young people grow up without learning how to manage money? What are the consequences of financial illiteracy?
GRAVE & MCDONALD: Children grow up financially illiterate for many reasons. One is that their parents are more likely to talk about drugs and sex than about finance. We have talked with many parents, and that theme is a recurrent one. Another reason is that with few exceptions, banks ignore school kids, focusing instead on groups whom they can monetize most effectively. Most teenagers start their banking experience with credit cards, a pattern that can lead to many problems because it is not easy to understand the back end of a card and what it means to borrow money. The prevailing models of financial literacy remain stuck in a 20th-century paradigm increasingly irrelevant to the financial habits of the rising generation.
The combination of these factors leads to a curbed financial experience for most children in America that has unhappy consequences among those in early adulthood (25-34 years old), notably the high delinquency rate on their revolving credit card debt and their low rate of aggregated savings. Today's technology and complex financial decision-making require that the bar be raised. With a smartphone we can carry a branch of a bank or credit union in our pocket and combine this with a daily learning experience.
PBN: What sets Finnest apart from more-traditional financial literacy programs?
GRAVE & MCDONALD: The real money experience. Finnest gives users early financial experience with real money, allowing them to learn but also to make mistakes at an age when those mistakes do not have negative, occasionally catastrophic consequences. Users manage their real money, while our app coaches them on financial responsibility. Our platform has a practical impact on the behavior of our users, encouraging and rewarding long-term financial thinking and good financial behavior.
PBN: How does the Finnest app take advantage of "gamification" to get children and teens actively involved in managing their finances?
GRAVE & MCDONALD: Finnest, with the help of the Councils for Economic Education in Rhode Island and Massachusetts, is developing a concept to not only give kids early relevant money experience but also influence their behavior and attitude in the long run. Our approach involves points and rewards that our users earn for specific actions they take with their accounts. This combination of gamification and real money has a powerful impact on users' financial skills.
PBN: What controls does Finnest give parents over how their children spend money?
GRAVE & MCDONALD: Control and security are essential for parents. We offer several features that allow them to rest easy knowing that their kids will be responsible with their Finnest card and account. Parents can set spending limits, lock and unlock the card through the app instantly and control the choice of venues in which the card can be used.
PBN: What are your goals as a MassChallenge startup? Where do you hope to be at the end of the program?
GRAVE & MCDONALD: Our goals are to change the way children grow up with money. In an age of digital money, children need a way to prepare for a rapidly evolving financial system. Because few banks offer products designed specifically for school kids, we plan to fill the gap by creating a product that prepares them for a digital financial future. By the end of the MassChallenge program, we intend to be beta-testing the full-scale app. We're excited to be a part of the MassChallenge accelerator and confident that with the help of MassChallenge, we will create a company that will contribute vitally to the financial capability of a rising generation.
Kaylen Auer is a PBN contributing writer.