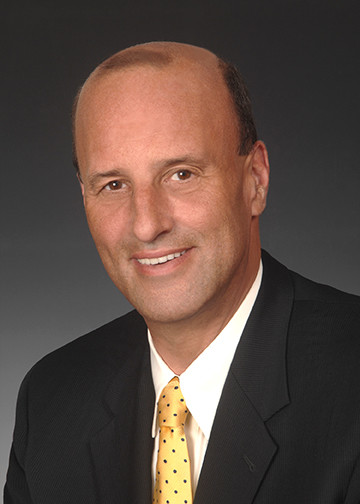 Michael J. Knipper is an executive vice president of property strategy at Citizens Bank. Knipper is heading the company's development project of a new, 420,000-square-foot corporate campus on 123 acres of land in Johnston. He talks with Providence Business News about the development, its progress and challenges.

PBN: Can you give our readers an update on how the Johnston campus development project is going?
KNIPPER: We are really pleased with the tremendous progress we are making on the project. Construction is moving along according to schedule and the campus is starting to take shape. Approximately 63 of the 123 acres have been cleared for building, the foundations have been poured and steel structures are being raised. We've hosted a number of colleague tours, as well as tours with elected officials to show them the progress. The best part of my job is seeing the excitement felt by not only our Rhode Island, but all Citizens colleagues when they see what we are building here in Johnston. We've seen this same excitement and support from public and elected officials in Rhode Island. It's really rewarding.
PBN: What builders, construction companies, etc., are you partnering with and how are those relationships going?
KNIPPER: This project is a true public-private partnership. There is a lot that we have to get done and that of course requires considerable planning and collaboration to ensure that everything gets done well and on time. We are working with several Rhode Island and New England-based companies to plan, design and build the campus, as well as the supporting infrastructure like the I-295 on- and off-ramp and sewer line. Dimeo [Construction Co.] is the general contractor on the project and Elkus Manfredi [Architects] is the architect. We have also partnered with Premier Development, DiGregorio [Corp.], DiPrete Engineering and of course state agencies including Narragansett Bay Commission, RIDOT [R.I. Department of Transportation], R.I. Commerce [Corp.] and DEM [Department of Environmental Management]. Gov. [Gina M.] Raimondo and Mayor [Joseph M.] Polisena are both very involved with the campus, making visits and checking in on the progress, which demonstrates what an important project this is to not just Citizens, but all of Rhode Island.
PBN: What are some of the unique features about this property?
KNIPPER: The beauty of building a campus from the ground up is that we are able to purposefully design all aspects of the project to meet our needs. Citizens is at an important time in our history as we embark on year two of being a private company. With that comes the ability to do things innovatively and in our own way. This campus in some ways is the embodiment of our journey. The technology and infrastructure we install will be new, and the way we design the space will help our colleagues work more collaboratively on behalf of our customers. The 420,000-square-foot campus will sit on 123 acres of mostly wooded land that has been developed to fit with the natural environment and with the environment in mind. The campus will include dining, fitness and wellness facilities for colleagues and fields and trails that will be available for use by the local community. This campus helps us to deliver on our brand promise of helping both our colleagues and our customers meet their potential.
PBN: What's been most challenging about developing at this location?
KNIPPER: Our general contractor Dimeo Construction will tell you that it's a very complicated site. To start with, there was a decades-old landfill on the site that we remediated and removed to make an environmentally sound location. It is very large – large enough to fit the entire footprint of Gillette Stadium seven times – with many unknowns. Construction of the new campus required the removal of 550,000 cubic yards of material (boulders/ledge). Enabling the utilities to the project site is also a challenge since over 2 miles of underground piping needs to be installed and almost that distance in overhead wiring. That is enough to run from Johnston to the Statehouse in Providence.
PBN: There was some initial pushback to the project from some residents, how are community relations these days?
KNIPPER: The Johnston community has been very welcoming. Many of our colleagues have embraced the community, committing numerous hours volunteering to clean up parks and historic cemeteries. Citizens has supported the town little league and other sports programs, and we look forward to welcoming residents to the campus to use the walking trails, ball fields and bocce-ball courts when it opens in 2018. It's also worth noting that a number of Citizens' colleagues and the construction workers building the campus live in Johnston, so we are really connected at all levels.