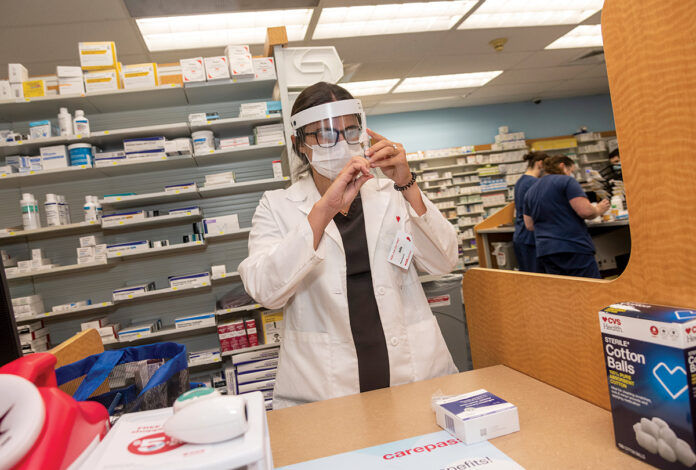 State health officials and health care providers are bracing for a flu season that may further test a Rhode Island health care system already stretched thin by the COVID-19 pandemic.
The R.I. Department of Health has ordered 650,000 flu vaccinations in the first round of purchasing, up from the 500,000 in a typical year, according to spokesman Joseph Wendelken. More doses will be ordered if demand calls for it.
"We don't have a COVID-19 vaccine yet, but we do have a flu vaccine that you can absolutely keep yourself healthy and keep the people around you healthy getting that flu shot," said Wendelken, who recommended that people receive a flu shot before the end of October.
Officials hope more people get immunized this year to prevent a large number of flu patients from seeking treatment at doctor offices and hospitals that are already dealing with COVID-19 cases.
Indications are that the state's larger vaccination order will be warranted.
According to a CVS Health Corp. survey of U.S. consumers, the coronavirus has significantly influenced their likelihood of receiving a flu vaccination. About 66% of respondents in July said they intended to get a flu shot this year, compared with 34% of those surveyed in January, a few months before the COVID-19 pandemic reached emergency levels.
"I can't remember a time when there was an event where we've been so focused on health in a very broad and meaningful way," said Angela Patterson, chief nurse practitioner officer of CVS' MinuteClinic LLC. "And now [we are thinking] of all the ways we can protect ourselves more, not only against the threat of COVID-19."
'I can't remember a time when … we've been so focused on health.'
ANGELA PATTERSON, MinuteClinic LLC chief nurse practitioner officer
Last year, CVS purchased and delivered 12 million flu shots nationwide. That number is expected to rise to 19 million this year, according to spokesman Joseph Goode.
From the first week of October to the third week of May, defined as "flu season" by health officials, there were 20 flu-associated adult deaths and 950 inpatient hospitalizations in Rhode Island, according to 2019-20 preliminary data. The year before, there were 39 deaths and 1,032 hospitalizations. This is compared with more than 1,000 deaths related to COVID-19 in Rhode Island in the last six months and more than 23,000 cases, as of mid-September .
Health care workers, pregnant women, those with underlying medical conditions, the elderly, the homeless and Rhode Islanders who live in high-density communities are going to be the target audience for the Department of Health's effort to communicate the importance of the flu vaccine, led by the department's Office of Immunization.
"We want to get our vaccination rate in all categories as high as possible," said Wendelken, adding that he hopes for a big push from hospital systems to get their employees vaccinated.
In 2017, 86% of health care workers employed at facilities required to report data to RIDOH received a flu vaccination, which was an improvement over previous years. During the 2018-19 flu season, South County Health had the highest percentage of employees who received a vaccination – 99% – where it's required for employment, while Our Lady of Fatima Hospital, owned by CharterCARE Health Partners, and Bradley Hospital, owned by Lifespan Corp., had the lowest percentage of employees receiving the flu shot at 84%, according to data collected by the Department of Health.
The state previously said it had a goal of having 92% of health care workers vaccinated by the 2020-21 flu season, which Wendelken said health officials are still working toward.
Attention is also being focused on people with lower-income backgrounds.
A recent study by Dr. Leonard A. Mermel, Rhode Island Hospital medical director of epidemiology and infection control, and Kori Otero, a recent graduate of Brown University's School of Public Health, found that there were a significantly greater number of confirmed influenza cases among populations with lower median household income and among those with a lower education level.
"Our hypothesis was that we would find health disparities related to risk of influenza. This may be due to a lower access to primary care, less time available to receive influenza vaccination, and crowding living conditions," said Mermel.
To help close the gap, community flu clinics will be set up at schools and potentially at COVID-19 testing sites that are within walking distance of many low-income families without access to transportation, Wendelken said.
Yale New Haven Health System spokeswoman Fiona Phelan said the system, which operates Westerly Hospital, is running social media campaigns to highlight the importance of getting the flu vaccine and help the public understand the differences between symptoms of seasonal allergies, the common cold, flu and COVID-19.
At CVS Health, which serves 10,000 communities nationwide, there have been awareness campaigns to show how easy it is to receive a flu shot and the various ways to do so.
"COVID-19 has really underscored for us that we've got communities that have been underserved and need our support now more than ever," said Patterson. "It's important to meet the immediate health care needs but also continue efforts to educate on overall health."
Alexa Gagosz is a PBN staff writer. Contact her at Gagosz@PBN.com.

Want to share this story? Click Here to purchase a link that allows anyone to read it on any device whether or not they are a subscriber.