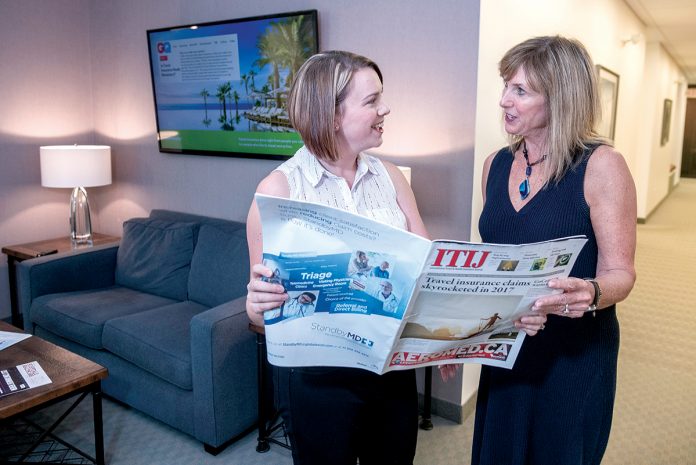 "Flyer Beware," an August report researched and published by the office of Sen. Edward J. Markey, D-Mass., calls into question the value of travel insurance as sold by nine airlines, flying both domestically and internationally, and seven online travel agencies, such as Expedia, Orbitz, Priceline and Travelocity.
While travelers' investment in the service has increased by 250 percent between 2004 and 2016, a year in which $2.8 billion was spent on travel insurance, as outlined by the report, Markey's office says the cost of travel insurance outweighs the benefit. Some airlines and OTA business models, reads the report, see consumers purchase "policies that offer minimal coverage and often erect hurdles to the payment of claims."
While she feels "travel insurance has a place in the travel industry," Ronni Kenoian, marketing manager at Warwick-based InsureMyTrip.com, emphasizes two key, pre-purchase criteria that often go overlooked.
Consumers need to understand what they purchase, she said, and "know they have options."
InsureMyTrip.com was named in the Markey report as a third-party provider "with more-robust and flexible coverage."
Kenoian feels travel insurance is worth the added cost and said IMT stands out in the industry because of its customer service.
"We work very hard to educate our travelers on how to ensure they find the right [policy to meet their travel needs]," said Kenoian.
'For IMT, it's about protecting the consumer.'
RONNI KENOIAN, InsureMyTrip.com marketing manager
She said if IMT consumers do not understand the unique aspects among the more than 1,000 policies available to them, they can call IMT's Anytime Advocate service and speak to a representative.
In the travel insurance industry, said Kenoian, that type of customer care "is really rare."
Additionally, IMT offers travel insurance that goes beyond policies sold by airlines and OTAs, including loss of property and delay coverage. Policies range in value from general luggage to ski and golf equipment.
However, Kenoian warned, given the complexity and number of policies available, "If you're thinking about traveling with invaluable luggage, call us because we'll find you the right plan."
With 18 years in operation, IMT, said Kenoian, has witnessed "growth year after year after year." Noting the company is private, she would not share numbers, but added it has seen "an increase in travelers coming to [IMT] to compare" what's available on the market.
Also released last month were figures from AAA Northeast, which reported sales of travel insurance across the country had increased by more than 20 percent.
Included in the AAA announcement were additional metrics that reflect growing awareness of and interest in purchasing such protections. From 2016-17, the nationwide automobile membership association reported a 13 percent jump in the number of members purchasing travel insurance through AAA.
The trips insured by AAA during that time were 18 percent more expensive than the previous year, per Allianz Global Assistance, a AAA travel insurance partner. Allianz is listed in Flyer Beware as one of two insurance carriers that 13 of the 15 airlines and OTAs contract for travel insurance sales, the other being AIG Travel Guard.
In addition, a survey by AAA found 38 percent of 1,003 adult U.S. residents queried from June 21-24 reported being likely to purchase travel insurance. According to those queried, trip cancellation protection is highest when it comes to purchasing travel insurance (88 percent) followed by personal or family health concerns (69 percent), how far in advance tickets are booked (61 percent) and recommendation to purchase from family and friends (57 percent).
Despite multiple calls over nearly a month, AAA Northeast would not make administrators available to comment on questions regarding the significance of the 38 percent of members who are likely to purchase travel insurance through the organization, on Markey's report or the travel insurance industry in general.
Neighboring Collette Travel Services Inc., the 100-year-old travel-planning company in Pawtucket, which offers its customers travel insurance through a third-party vendor, also reports an increase in the popularity of the service. Rising from approximately 70 percent in 2012, roughly 3 out of 4 Collette customers purchased travel insurance last year.
Collette began tracking travel insurance purchases in 2009, when roughly half of its customers purchased the added protection.
The Markey report suggested that travel insurance – through fees, minimal coverage through multiple loopholes and insincere marketing methods – is a way for airlines and OTAs to ensure they meet their bottom line.
For at least one local company, however, the ethos of travel insurance sales is a different story.
"For IMT, it's about protecting the consumer," said Kenoian, rather than ensuring profit.
While she could not speak for airlines and OTAs, she added, "Every [policy] we sell is about finding the right [insurance] for that traveler [and is] … most likely why Markey named us in the report."
Emily Gowdey-Backus is a staff writer for PBN. You can follow her on Twitter @FlashGowdey or contact her via email, Gowdey-backus@PBN.com.