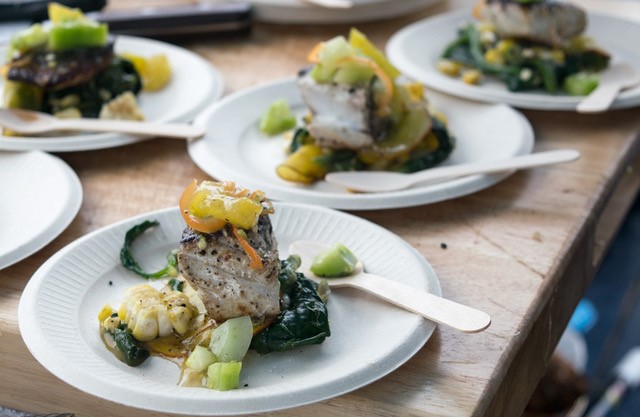 PROVIDENCE – Wrapping up an eight-lecture season, Eating with the Ecosystem's Food Boat will host its final educational lecture and demonstration this weekend.
Catch the nonprofit's 19-foot Food Boat from 9 a.m. to 12:30 p.m. at the Mount Hope Farm Farmers Market in Bristol on Saturday.
Throughout late summer and early fall, Eating with the Ecosystem partnered with local chefs to hold cooking demonstrations that also served as educational lectures about the importance of utilizing local resources when it comes to eating and preparing meals. The four tenants around which these demonstrations were focused:
"Underwater and Overlooked" – Focusing on the abundant local species that are often overlooked by consumers and how consumers can balance their seafood diets with local ecosystems.
"Fisheries of the Future" – Focusing on the species that are becoming more abundant due to climate change and how these environmental changes are impacting local fisheries.
"Salt Marsh and Sugar Kelp" – Focusing on the importance of protecting local seafood habitats to sustain healthy fisheries and ecosystems.
"Know Your Fisherman" – Meet a local fisherman and learn how consumers can help support local fishing communities.
On Saturday, chef Max Peterson of Hemenway's in Providence will be a part of the demonstration. Additionally, copies of the nonprofit's recently released cookbook, "Simmering the Sea: Diversifying cookery to sustain our fisheries," will be available for $20 each.
The Food Boat is part of Eating with the Ecosystem's Scales & Tales initiative, which is designed to blend food experiences with education to promote a place-based approach to sustaining New England's wild seafood.
Emily Gowdey-Backus is a staff writer for PBN. You can follow her on Twitter @FlashGowdey or contact her via email, gowdey-backus@pbn.com.