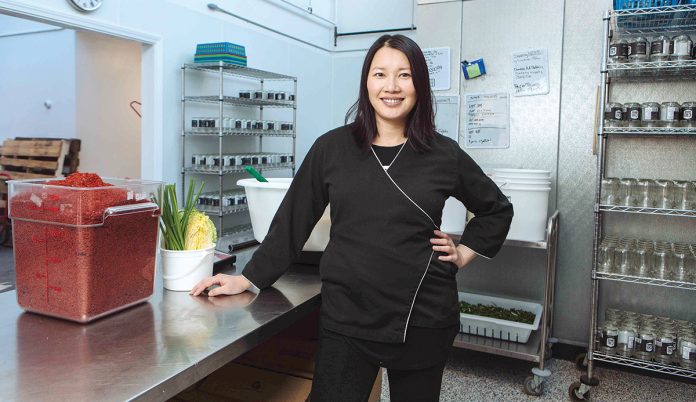 Business Women Awards 2019 | HONOREE
Minnie Luong, Chi Kitchen
---
Minnie Luong, head of Chi Kitchen in Pawtucket, came to the United States as a small child in dramatic fashion.
"I was born on a rice farm in Vietnam," she said. "My father and I left as boat people and lived in two different refugee camps before ending up in Boston."
While she doesn't remember any of that experience, she has since been passionately creating her own experiences.
It was while living in Cambridge, Mass., that she first tried making kimchi, a Korean side dish made from salted and seasoned, fermented vegetables.
"It came out disgusting," she said solemnly. "I didn't touch it again for six years."
After her dad, a widower, remarried and moved to Pawtucket, Luong tried to make kimchi again. She mastered it, then decided to create a kimchi business.
Chi Kitchen's small team began at Warren culinary incubator Hope & Main three years ago.
Kimchi is steeped in Asian tradition. It's high in sodium but is loaded with probiotics, is free of gluten, MSG and preservatives, and comes in a vegan version. With the metabolic changes involved in making fermented food, it's a complicated process.
"It's on its own timeline. Once you start making it, you can't stop. I was [regularly] running out to Warren to check on kimchi," said the mother of two.
Due to margins, costs and other factors, it was about six months in when Luong realized that she needed her own kitchen. Tim Greenwald, her husband and co-owner, was there for support.
Chi Kitchen moved to a former glass-blowing studio at Lorraine Mills in Pawtucket – amid brewers, artists and woodworkers.
Luong saw her scholarship to a Goldman Sachs program as the boost that helped her build her business – an important educational milestone.
She had applied for the 10,000 Small Businesses Program last summer, and then discovered that she was accepted – and also that she was pregnant.
"I was on the fence" on doing the Goldman Sachs program, said Luong. "But I was impressed with the improvement statistics based on conversations with them. I realized, 'I've got to do this now.' It was kind of like my thing to do for myself."
Luong had a baby boy, Rumi, who joined sister Lakshmi. And now with the program's knowledge under Luong's belt, and $125,000 in financing to fund expansion of manufacturing operations at Chi Kitchen's Pawtucket space, things are cooking.
Chi Kitchen kimchi is offered in more than 100 retail stores and restaurants in the region – such as Dave's Market and Whole Foods – the company is adding a research and development kitchen and licensed kitchen rental space to emerging food companies, said Luong.
Being self-taught, Luong feels it's her mission to talk and educate about kimchi. She wants it to be a tabletop staple.
"Statistics say that kimchi and fermented foods will be on menus in 2019," said Luong. "It's such a unique food. People have been making and eating it for thousands of years."