"To some people, small sounds like a limitation," said Travis Webster-Booth, owner of TWB Creative, a copywriting and business-services firm launched in October 2014 in Providence, "but when you're starting off it can be a blessing."
While he has since moved his business to Los Angeles, Webster-Booth looks back fondly on his Rhode Island roots.
Calling Providence "manageable," he said the city's relatively small size for a state capital plays to its advantage.
With multiple entrepreneurial resources readily available, including Providence-based Hatch Entrepreneurial Center and the Center for Women & Enterprise, as well as a 2013 state-sponsored Self-Employment Assistance program, he said the capital "was a great place to start a business, test a model [and] break it in."
Webster-Booth's business was first featured in Providence Business News in 2015, as part of a new weekly "Something New" feature focusing on businesses in operation for less than one year.
From the 19th-century Industrial Revolution to Providence's 20th-century heyday as a jewelry-making capital to the present day, Rhode Island has long been fertile ground for entrepreneurs.
And small businesses remain the backbone of the state's economy.
Between Feb. 2, 2015, and Feb. 1, 2016 – covering the first year of the weekly PBN feature – 4,085 for-profit and 368 nonprofit companies registered initially with the R.I. Department of State.
PBN spent two months reaching out to that ­initial cohort of Something New subjects to learn, firsthand, how they have fared. Some, such as Webster-Booth's business, left the state. As often happens with new businesses, others failed.
Many others, however, are still going, right where they started, including a few that have grown significantly.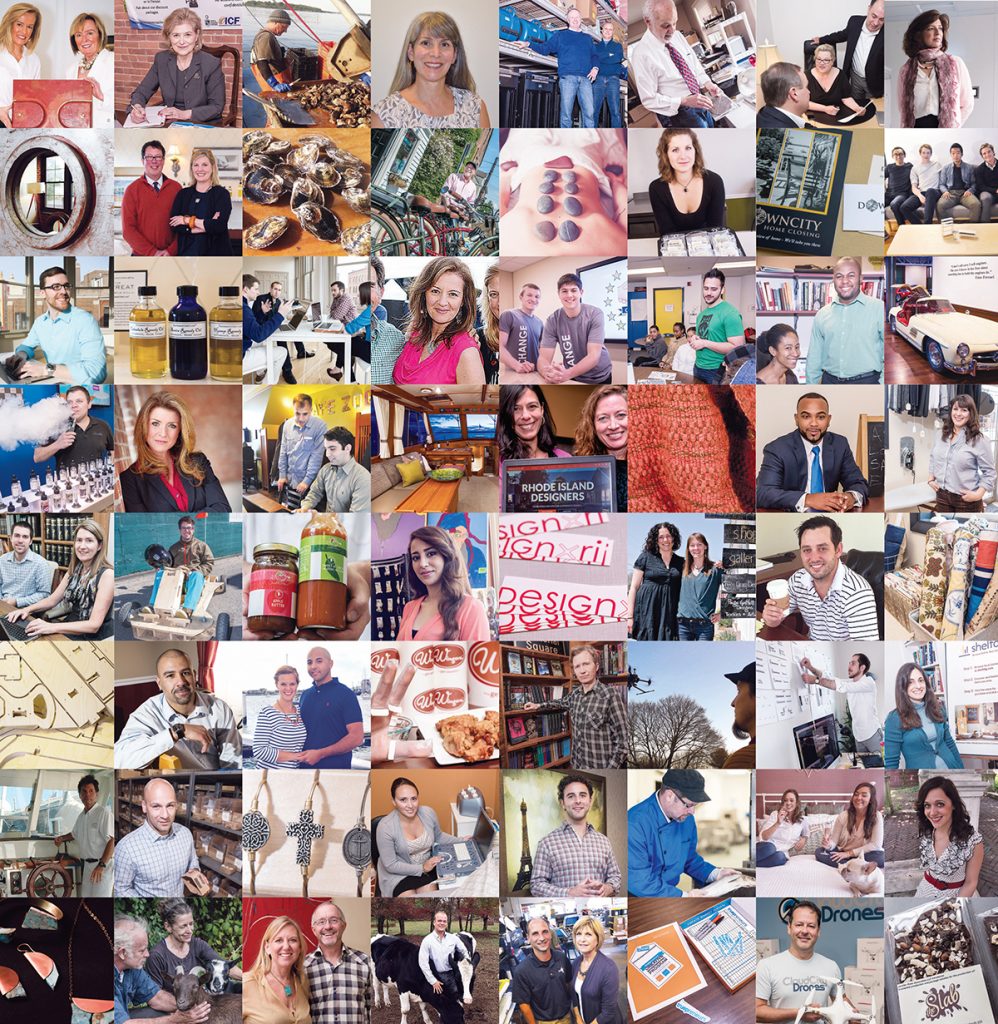 STRONG SURVIVE
In a survey of the first 51 Something New subjects – which covered operational status, employee count, profitability, physical address and business model, among other topics – PBN made contact with 37, including four featured in this story whose varying experiences mirror the thousands of new businesses that open in the Ocean State each year.
Twenty-nine of those 37 respondents, or 78 percent, are still in operation. It is also likely that many of the 14 that could not be reached closed, as PBN confirmed at least five are no longer located where the businesses started.
Still, Mark S. Hayward, U.S. Small Business Administration district director for Rhode Island, said 78 percent "is a fairly good representation of the number of businesses that would remain [open]" after nearly four years.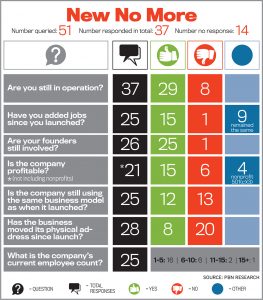 Consumer-research website ValuePenguin recently ranked Rhode Island as first in the nation, at 76 percent, in the percentage of businesses staying open for at least two years.
Hayward noted, however, survival rates do vary by industry.
For example, Hope & Main founder Lisa J. Raiola said "less than 50 percent" of food startups are still in operation after three years, based on her experience leading Hope & Main.
The Warren food-startup incubator is one of the success stories among that first year of Something New features, having worked with more than 350 businesses.
Raiola thinks Hope & Main's "incubation" process allows infant companies the environment in which to become financially stable and "build their brands." (Three of the 51 initial Something New subjects are either graduates or current Hope & Main members.)
Of the 26 operational firms that responded to a question about their founders' involvement, 25, or 96 percent, reported active founders.
Hayward said extended principal involvement is the norm across New England. Even after a sale, for example, he said, "founders stay involved as consultants" because of their industry-specific expertise.
Lisa Carnevale, DesignxRI executive director, concurs. Design firms' success, she said, "is usually based on the talent," and extended founder participation can increase chances for success.
Long-term founder involvement is particularly prevalent with food businesses, said Raiola, where "the founder is the brand." Often, she explained, the product is "so highly co-branded" with the founder and their back story there is no product without them.
Twenty-five of the surveyed operational businesses provided employment data – 15 of which (60 percent) have added jobs since their launch, nine firms (36 percent) remain the same and one (4 percent) downsized.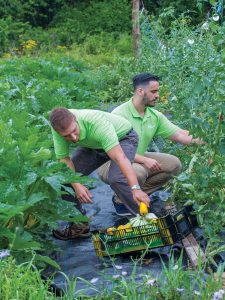 Those firms that stayed the same, said Hayward, partially reflect a nationwide challenge identifying workers with the necessary skills to fill open positions.
"Some of the industries are looking for highly technical individuals and … getting the right people to the jobs is a little difficult," he said.
As head of the nonprofit DesignxRI, one of the first Something New subjects, Carnevale knows there are jobs to be had in the creative sectors. (None of the surveyed companies has been involved in the economic-development group's programming.)
"[Design firms] can easily add jobs," she said, noting that between 2010 and 2014 local design jobs grew by 16 percent, partially the result of 50 new agencies launched between 2007 and 2012.
By July 2018, of the 25 operational businesses that provided employment data, 64 percent employed between one and five individuals, 24 percent employed between six and 10, and 8 percent between 11 and 15. Cranston-based jewelry manufacturer Luca + Danni Inc. – the company with the most employees in the survey – employs 48.
The 2018 SBA Rhode Island profile shows 99,821 small businesses (those with fewer than 50 employees) in operation in the state, roughly 97,000 of which employ fewer than 20 individuals, Hayward said.
Hayward thinks the local market remains primed for microbusinesses with unique ideas, but he does not expect such firms to grow beyond a handful of employees, "particularly if they're home-based."
Carnevale says that's certainly true for design firms, which often start out with a founder freelancing after graduation. Initially, she added, their goal is to stay "small and nimble." Rhode Island, home to "a good supply chain" and "affordable office [space]," provides just such an environment, she said.
Another reason design firms are often smaller, Carnevale added, is because managing a larger team detracts time and resources from creative endeavors.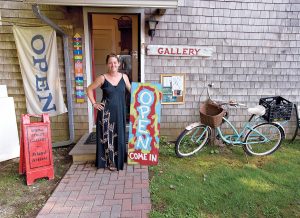 "To grow to a 10- or 15-person company is a big jump … you're no longer as deeply involved in the designs," she said.
As Carnevale noted, growth also depends largely on a firm's success.
Twenty-one operational, for-profit businesses responded to a question asking if the company is profitable. Nearly three-quarters, 15, or 71 percent, reported reaching profitability. Six, or 29 percent, did not.
Raiola estimated only "one-third" of food startups might be profitable after four years.
"Profitability does not start on day one," said Hayward. "It's more important to break even than be profitable." Hayward explained the SBA gives businesses two to four years to reach profitability before suggesting diversification or other measures.
In fact, of the 25 operational companies that responded to a question about whether they have made changes to their business model, the results were split. Fifty-two percent said they had, while 48 percent did not.
Carnevale believes design firms would fall into the "haven't changed" category, but she said some industrial and product designers are experiencing "blurred lines" in terms of their business plans.
With the digitization of products, designers are often required to be involved in development stages they would not have participated in before, such as app design and digital interfacing.
Conversely, Raiola – whose advice for Hope & Main members is "fail fast, fail often" – said food firms would typically be among the 52 percent that have refocused.
Raiola's mantra rings true for Kelly Ramirez, CEO of nonprofit, Providence-based Social Enterprise Greenhouse.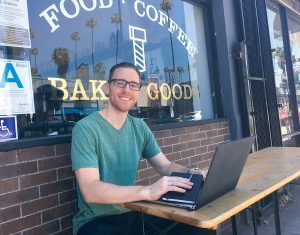 From "radical changes to tweaks," said Ramirez, "It's very rare for us to see a startup" using its initial business model after four years. (Eight of the initial 51 firms profiled, including Hope & Main and DesignxRI, have been involved in SEG programming.)
Lastly, of the 28 operational businesses that responded to a question about the physical location of their company, 20, or 71 percent, have not moved since their launch, while eight, or 29 percent, relocated.
Hayward says business owners often look to move or expand when sales grow. He noted the local SBA has seen increasing numbers of loan requests to purchase land currently being rented, which he attributes to the 2017 federal tax overhaul.
As providers of co-working space, Hope & Main and SEG play integral roles in the development of a startup community in Rhode Island.
Hope & Main members are provided working time in the communal kitchen, which accounts for one-third of the nonprofit's 18,000-square-foot ­building.
On a first-come, first-served basis, SEG members have access to co-working space, digital resources and rentable offices.
Ramirez said inviting in entrepreneurs "has been one of the best things we've ever done." Currently at 7,000 square feet, SEG plans to add another 4,000 square feet of co-working space before the end of the year.
Hayward says it's imperative for new businesses to be reflective.
"Every year," he advised, "look at the business plan and think about what you can do differently or better than the prior year."
---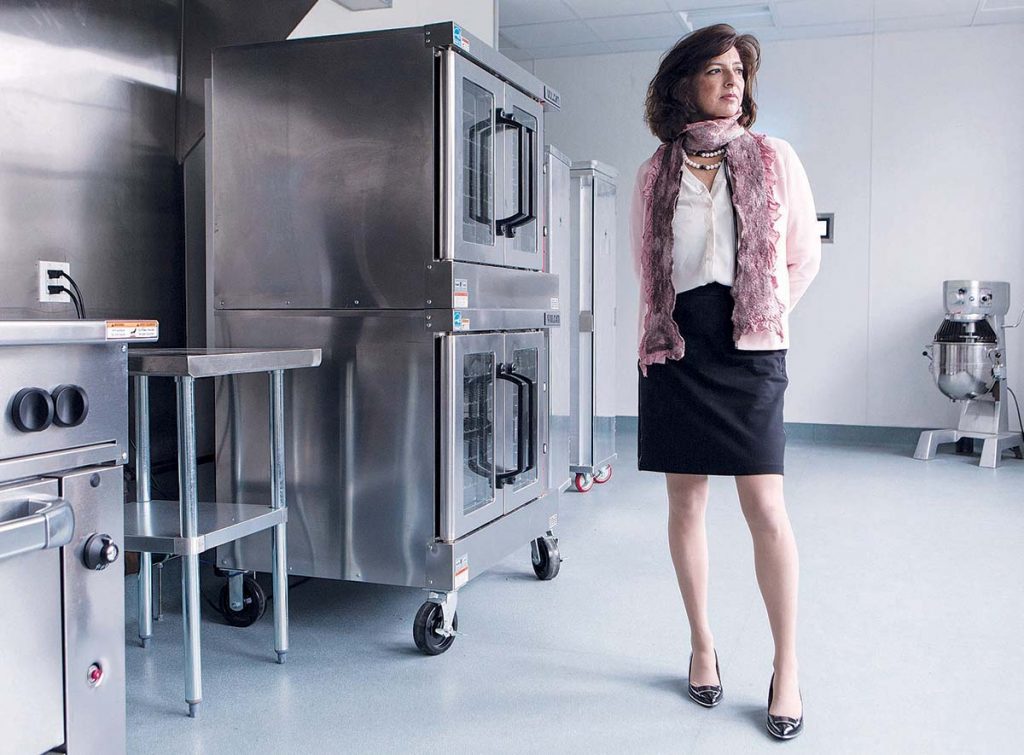 Hope & Main: Warren | Launched: October 2014
Since its founding in October 2014, Hope & Main, a food-startup incubator, has been at the forefront of Rhode Island entrepreneurship.
Lisa J. Raiola, the nonprofit's founder, sought to launch a food startup but found navigating the startup regulation and licensure process akin to "[crawling] through 10 miles of broken glass." She instead established Hope & Main, so current and future food startups did not encounter the same barriers she did.
And the proof is in the pudding, cake, pie, iced tea, etc. Today, said Raiola, "One of every three new food businesses established in Rhode Island was launched at Hope & Main."
To date, Hope & Main has counseled more than 350 businesses, licensed 160 and graduated 30, which have gone on to launch restaurants, join processing facilities or co-pack products elsewhere.
Yet Raiola said the idea was new and bewildering to many when she first sought support.
"Being small and a first is a challenge because you're trying to move quickly enough so the idea doesn't die," she said.
As it is for many new ventures, funding was the biggest challenge faced by Hope & Main. She started looking in 2009, which she noted was "the depth of the recession." While it took five years to get the funds, Raiola thinks Hope & Main would not have been such a success if its roots were not tied to the economic downturn.
"If it had been easier for small businesses to get money," she said, Hope & Main might not have been necessary.
Raiola believes Hope & Main's biggest impact has been strengthening the local food sector. While prospective business owners still come to her with age-old recipes they want to mass produce, for example, she noted a new trend in entrepreneurs seeking consultation prior to trying to develop their food niche.
While Raiola remains committed to Rhode Island, Hope & Main has received international recognition. It is consulting with the Livelihoods Innovation through Food Entrepreneurship project in Turkey that helps Syrian refugees form food-focused startups in Istanbul and ­Gaziantep.
---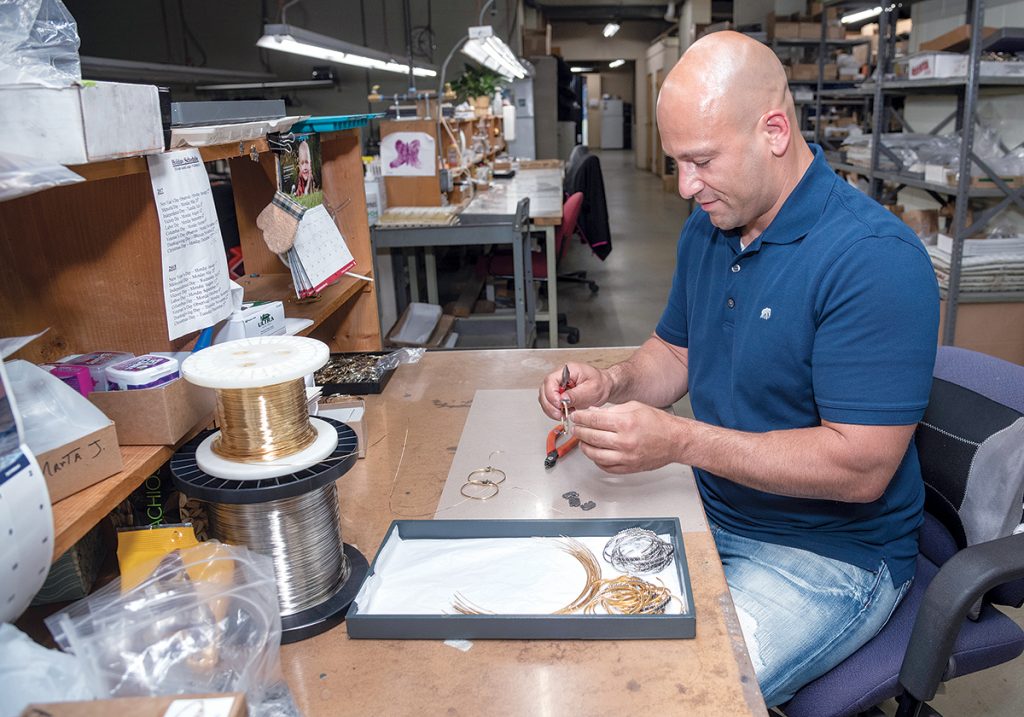 Luca + Danni Inc.: Cranston | Launched: August 2014
Born into a multigeneration Rhode Island jewelry-manufacturing family, Fred Magnanimi never thought he would follow in his father's and grandfather's footsteps.
Yet today, as the owner of Luca + Danni jewelry company, operating out of his late father's workshop, he wouldn't have it any other way.
"To be able to tap into that [generational knowledge] gives me, as a business owner, a competitive advantage," he said.
In the early days, Magnanimi hoped the company could make $200,000 in a year, but over the 2017 holiday period, he said, "Sometimes we were doing $200,000 per day." Much of the company's productivity is attributed to its growing workforce, he said.
As of July 2018, Luca + Danni employed 48 people – 16 times the number involved in late 2014. Magnanimi estimates it is "65-70 percent direct-to-consumer," with the remainder accounted for by roughly 630 wholesale accounts across the nation.
While employees are evenly split between production and operations, Magnanimi said "direct-to-consumer requires a lot of good marketing," including data analytics and e-commerce expertise. Hiring in sales, social media, customer service and marketing has also been prioritized.
Calling Rhode Island the "epicenter of jewelry production," Magnanimi believes his family knowledge, connections with local vendors and location mean the company has a bright future.
In addition to more pop-up events at local stores, Magnanimi hopes to build a Luca + Danni-branded, brick-and-mortar shop.
---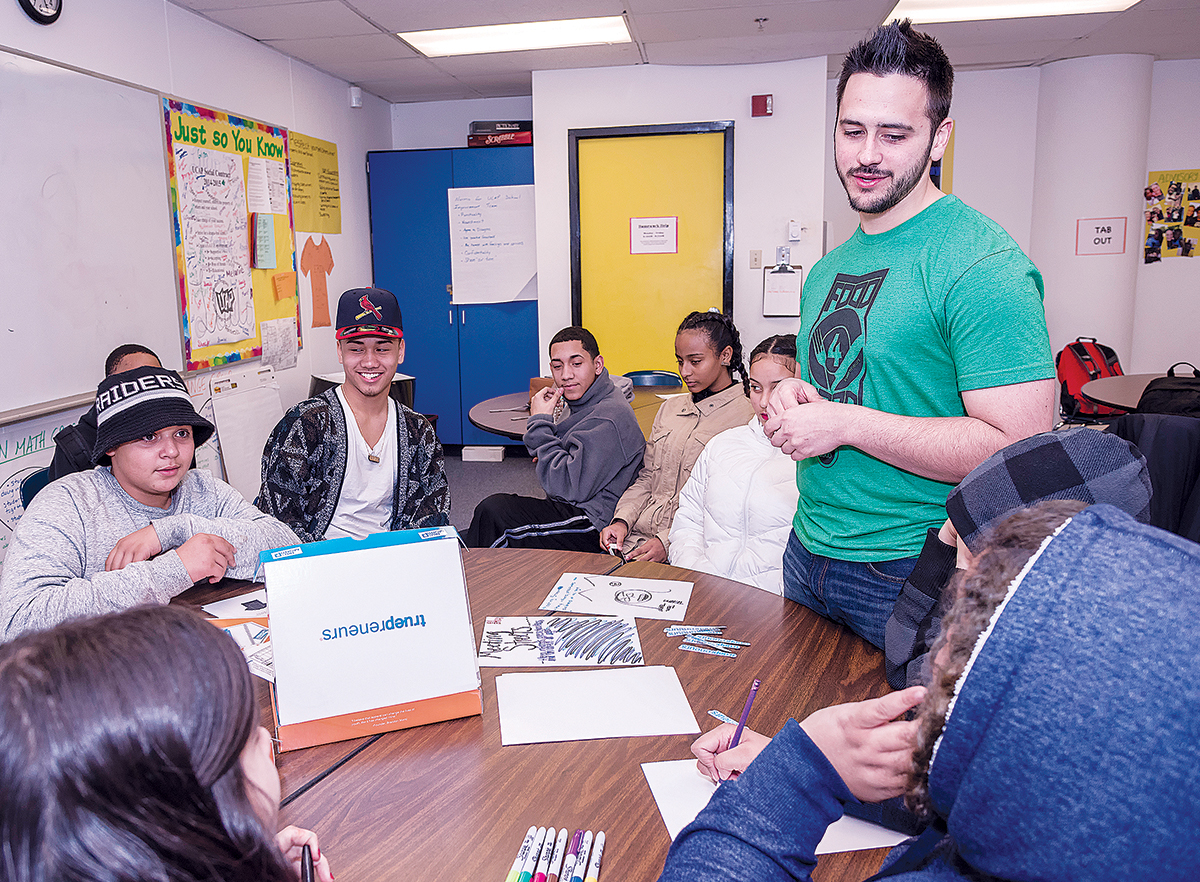 Truepreneurs: Providence | Launched: September 2013 (now closed)
Brandon Monti remembers walking "an hour and a half in dress shoes" to attend a meeting as founder of Truepreneurs, a now-shuttered Providence-based firm that introduced students aged 12 to 15 to the idea of entrepreneurship.
Launching Truepreneurs while studying as an undergraduate at Johnson & Wales University, Monti partnered with multiple local schools – including Urban Collaborative Accelerated Program, Metropolitan Regional Career and Technical Center and Highlander Charter School in Providence – to advocate business ownership among the next generation.
"[Truepreneurs] opened the door into entrepreneurship" for many students who might not have considered the vocation, said Monti. In the 10-week program, he said, students could "design, market and sell products" while learning team-building skills, practicing public speaking and understanding more about leadership techniques.
Citing a lack of venture capital, coupled with charter schools' loss of funding between 2013 and 2017, Monti was forced to shut down Truepreneurs in early 2017.
Yet Monti, an entrepreneur almost from the cradle, recently teamed with JWU classmate Patrick Straus to found FreshConn, with an expected launch date in mid-August.
A farmers market e-delivery service, FreshConn users can select produce – including dry goods, organic produce, grass-fed beef and heritage pigs – sold by local producers, within a 15-mile radius, he said. For a flat handling fee, 10 percent of the total purchase price, produce will be delivered to customers within two days of order.
Aiming to increase business for regional farmers and food producers, Straus added: "Local sustainability [and] food innovation in Rhode Island are hot topics. … We don't want to just voice the problem, we want to voice the solution."
Monti said the service will be available across New England, and FreshConn is in talks with the consortium of 12 farms represented by the Hillandale Food Hub in Westerly, Cloverbud Ranch in Portsmouth and Deep Roots Farm in Glocester.
Not letting Truepreneurs' closure steer him away from entrepreneurship, Monti, with a laugh, said: "I don't see blockades, I just see opportunities and Patrick is the same. … We're adventurous people."
---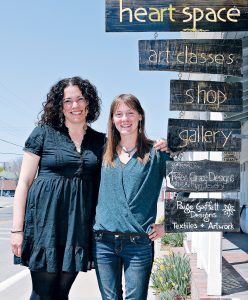 HeART Space Community Art Center: Block Island | Launched: February 2015 (now closed)
The HeART Space Community Art Center was co-founded by Paige Gaffett and Felicia Cinquegrana as a place for art classes, gallery shows and a retail outlet for local artisans.
Gaffett, who never saw herself as an entrepreneur, assumed complete responsibility for the studio when Cinquegrana moved but could not keep the store open. In the midst of filing for 501(c)(3) status, she made the decision to shutter HeART in January 2017.
Block Island businesses face a different set of challenges than those on the mainland, said Gaffett. Citing the island's high rent costs, she said the studio "didn't bring in enough money, and hiring help" was out of the question financially.
"Real estate, property, anything out here is significantly more expensive" and island businesses only have three months to generate enough money to sustain year-round operations, explained Gaffett.
"You have to find something that's viable," she said, and the gallery wasn't.
Today, Gaffett continues her work in the Block Island arts community as a coordinator at Spring Street Gallery, a nonprofit artist cooperative.
Asked if she would consider a second go at entrepreneurship, she said: "No, I'm still paying off the [first]."
---
PBN researcher James Bessette and intern Haley Hunt contributed to this report.