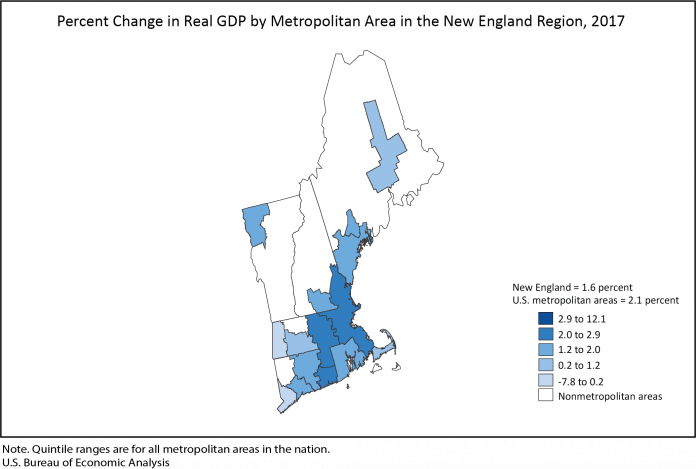 PROVIDENCE – Real gross domestic product (thus, adjusted for inflation) in the Providence-Warwick-Fall River metropolitan area increased 1.6 percent year over year in 2017. Using current-dollar values, the region's GDP for last year was $82.9 billion, according to new data from the Bureau of Economic Analysis released Tuesday.
The metro area GDP upswing could largely be attributed to an increase in the finance, insurance, rental and real estate sector.
In current dollars, the Providence metro GDP was the 43rd-largest metro GDP in the nation. The report also showed that the Providence metro GDP's 2017 inflation-adjusted growth rate ranked No. 196 among the nation's largest metropolitan areas.
The largest metro GDP in the country was the New York-Newark-Jersey City metro area, which produced $1.7 trillion in economic activity in 2017. The Odessa, Texas, metro area experienced the largest percent growth in 2017, increasing 12.1 percent year over year, after declining double digits in 2015 and 2016.
The Boston-Cambridge-Newton, Mass.-N.H., metro GDP increased 2.8 percent in 2017, ranking No. 89 among the largest metro areas for inflation-adjusted growth rate. It was also the ninth-largest metro area for GDP in 2017 at $438.7 billion.
Chris Bergenheim is the PBN web editor. He may be reached at Bergenheim@PBN.com.