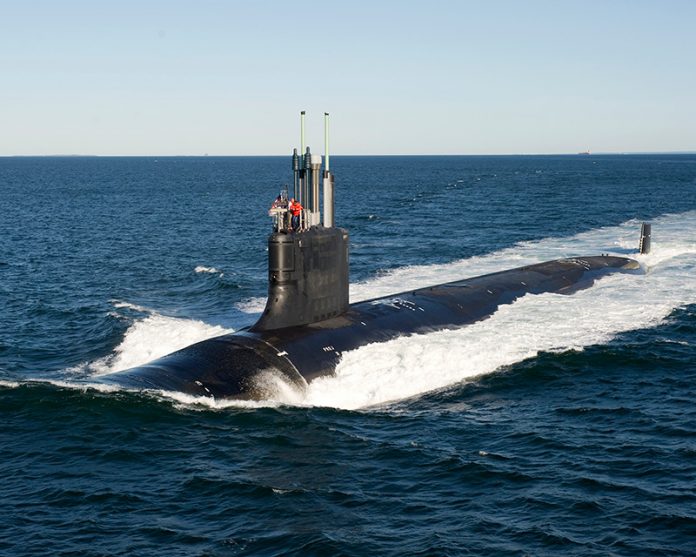 PROVIDENCE – General Dynamics Corp. reported a profit of $745 million in the first quarter of 2019, a 6.8% decline from $799 one year prior. Earnings per diluted share for the quarter were $2.56, compared with $2.65 one year prior.
The company, headquartered in Falls Church, Va., reported that revenue in the first quarter was $9.3 billion, a 22.9% increase from the first quarter of 2018.
"The solid sales gains and strong bookings reflect the market-leading performance we expect of our operating units," said Phebe Novakovic, General Dynamics chairman and CEO, in the earnings release. "We are pleased with our robust backlog and remain relentlessly focused on improving operating performance."
The company said that nuclear-powered submarines, which are built by the company's General Dynamics Electric Boat segment, accounted for $1.4 billion in quarterly revenue, an increase from $1.3 billion one year prior. The company reported that it received a $2 billion contract for the U.S. Navy for long-lead materials for Block V Virginia-class submarines in the first quarter. Electric Boat has substantial operations in North Kingstown.
The company's marine systems, which includes nuclear-powered submarines, surface ships, repair and other services, reported revenue of $2.1 billion for the quarter a 1.2% year-over-year increase. Marine systems segment operating profit fell 2.2% to $180 million in the first quarter.
The company paid dividends of $268 million and purchased common stock worth $133 million during the quarter, compared with $250 million and $267 million in the same 2018 period.
 Chris Bergenheim is the PBN web editor. You may reach him at Bergenheim@PBN.com.