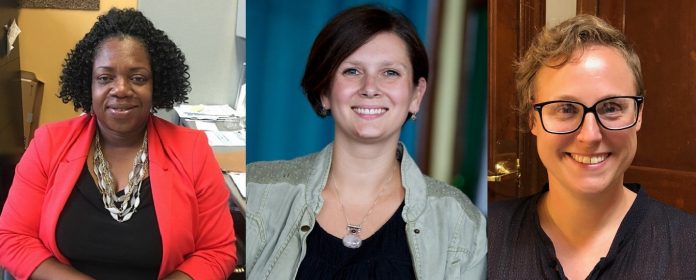 PROVIDENCE – Earlier this year, Genesis Center recognized the quality of its existing staff by promoting three individuals.
Cherilyn Dyer, a seven-year Genesis Center veteran who started in the role of enrollment and support services coordinator, was promoted to the position of student services director.
Tyla Pimentel began her work with the center as adult services director in 2013. Now, as vice president of programs, she looks forward to supporting the continued alignment of education and training pathways for adults in the Providence area.
Formerly the center's lead learning facilitator, Bonnie Taylor will now serve as education director for adult programming.
"We are so pleased to have experienced a period of growth that will allow us to promote from within … to create a stronger team that will better serve our community," said Shannon Carroll, Genesis Center president and CEO.
More than 800 individuals are currently served by the Genesis Center.
The 36-year-old Providence-based, community-focused, educational-services organization works with immigrants, refugees and low-income Rhode Islanders, providing adult education, job training, support services and early learning.
Emily Gowdey-Backus is a staff writer for PBN. You can follow her on Twitter @FlashGowdey or contact her via email, gowdey-backus@pbn.com.