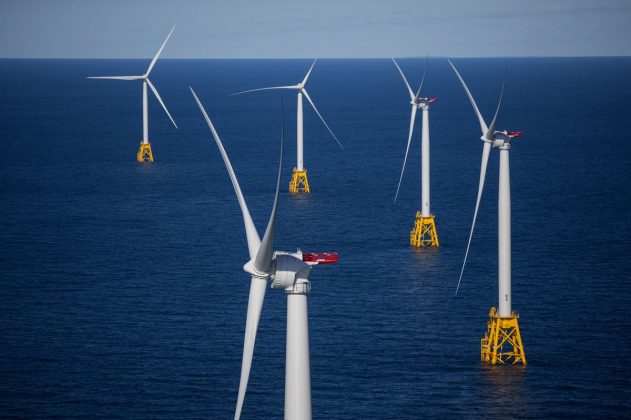 NORTH KINGSTOWN – As offshore wind farms begin to pop up along the Eastern Seaboard, Rhode Island – home to the first such alternative energy plant – is preparing to defend its position among the nation's top wind-friendly states.
Over the last 10 months, WindWinRI, a $100,000 Real Jobs Rhode Island grant program announced Thursday by Gov. Gina M. Raimondo at North Kingstown-based manufacturer Anvil International LLC, has developed a high school certification curriculum to prepare the next generation of local wind energy workers.
"For every one commercial offshore wind project, 1,000 supply chain jobs [are created]," Kristin Urbach, executive director of the North Kingstown Chamber of Commerce, told Providence Business News in an interview Thursday.
"Offshore wind is an excellent source of local, clean and reliable alternative energy," said Urbach, adding a pipeline is necessary to fill the jobs coming via Deepwater Wind projects secured in the past months.
In May, a bid from the Providence-based offshore wind energy company was selected by the state for a 400-megawatt farm southwest of Martha's Vineyard known as Revolution Wind.
Priority was given to planning, curriculum development and approval of the high school certificate program during the grant's first year, explained Urbach. Research partners during this stage included the North Kingstown School District and Rocky Hill School.
Elements of the certificate will include field trips to the University of Rhode Island's Coastal Resource Center and Block Island wind farm as well as courses on marine science, safety and transportation as well as hands-on experience interning in the industry.
The North Kingstown Class of 2020 will be the first cohort for which the certificate program is available.
While the first year of the grant runs out in September, Urbach, together with Laura Hastings, RJRI grant advisor for WindWinRI, are planning for a second year. The follow up grant will focused on aligning the high school certificate with higher education requirements – particularly at the Community College of Rhode Island, New England Institute of Technology and URI.
In addition, Urbach hopes to work with these higher education institutions to develop a student competition that would see local high schoolers develop miniature models of wind turbines and test them in the CCRI wind tunnel.
Today, 22 states host similar wind energy competitions for school-aged youth and Rhode Island would be the second in New England after Maine.
Urbach plans to begin pitching for the second-year grant in September.
Hastings explained, for this grant, Real Jobs RI's role was to measure the national industry and forecast its impact locally.
WindWinRI is designed to "get Rhode Islanders ready to be a part of this workforce when the time is right," she told PBN in an interview Thursday.
Emphasizing the need for such jobs has not yet hit the state's economy, Hastings said "how near or far that will be is based on [multiple yet-to-be-determined local factors]" including the number of turbines at each farm.
In the grant summary, RJRI cites U.S. Department of Energy data which estimates, on the low range, wind energy along the Northeast Corridor could create "160,000 baseline full-time equivalent job years" with a "peak" of 8,300 FTE jobs established in 2028. On the high end, the federal governmental body estimates generation of "320,000 baseline FTE job years" with a "peak" of 16,700 FTE jobs in 2028.
Hastings explained, in addition to Anvil International, Aladdin Electric Co. Inc. out of Johnston, VENSYS Energy Inc. and Martha's Vineyard Fast Ferry out of North Kingstown, as well as the Local 51 plumbers and pipe fitters union.
Thursday's announcement comes roughly two months after the North Kingstown chamber hosted a "Rhode Island Supply Chain Wind Energy Symposium" on June 8 introducing small manufacturing firms and trade businesses to existing career pathways and the wind energy industry.
Presentation of the WindWinRI program was followed by a roundtable discussion among employers and representatives of local higher and K-12 education.
In attendance were Phil Auger, superintendent of the North Kingstown School District; Joy McGuirl-Hadley, the lead on WindWinRI curriculum development; Rick Laviolette, Anvil International vice president; R.I. Department of Labor and Training Deputy Director Lisa D'Agostino; and Heather Hudson, executive director of the Governor's Workforce Board.
Emily Gowdey-Backus is a staff writer for PBN. You can follow her on Twitter @FlashGowdey or contact her via email, gowdey-backus@pbn.com.