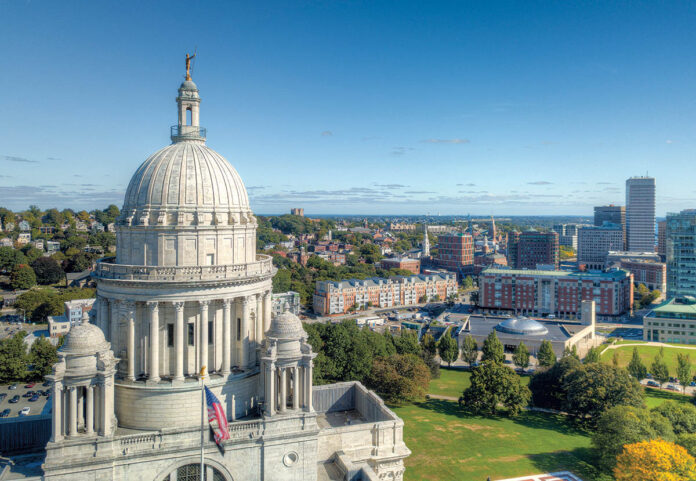 PROVIDENCE – Gov. Gina M. Raimondo on Tuesday filed a lawsuit in Superior Court that argues against a provision of the fiscal 2020 budget for Rhode Island that require legislative approval of marijuana and hemp regulations.
The governor argues the provision, located in article 15 of the budget, is a violation of the constitutional guarantee of separation of powers law by having the General Assembly grant itself the power to veto executive regulations governing marijuana and hemp. In her announcement, Raimondo's office said such a violation "opens the door for inside dealing."
Speaking later on Tuesday with reporters at the Wexford Innovation Center, Raimondo drew a comparison to the provision and events in Fall River, where Mayor Jasiel F. Correia II is accused of demanding bribes from marijuana vendors looking to set up shop within city limits.
"That is exactly what you worry about," she said. "The medical marijuana business is a new industry, it's a growing industry, it's an opportunity to create revenue and create jobs. But it's also an opportunity for corruption."
Correia denies wrongdoing. He recently took a leave of absence and suspended his reelection campaign, but retains the title of mayor and the $119,000 salary that goes with it. Raimondo said she was not trying to link R.I. legislative leaders and Correia, but rather highlight a provision she sees as  "reminiscent of the old way of doing things in Rhode Island, when legislators did special favors for their friends and special folks"
Her lawsuit names both House Speaker Nicholas A. Mattiello, D-Cranston, and Senate President Dominick J. Ruggerio, D-Providence, in their official capacities.
"Medical marijuana is a new and growing industry, and we have a responsibility to regulate it in a way that's open, transparent and fair for businesses and consumers," said Raimondo in a statement. "We can't go back to the old way of doing things, when business decisions were made through inside deals and behind-the-scenes influence. This is a clear violation of separation of powers, and we're asking the court to intervene."
As part of the lawsuit, the governor is seeking an immediate injunction.
The lawsuit claims that regulatory power of the hemp and marijuana industry belongs with the R.I. Department of Business Regulation and the R.I. Department of Health.
The governor said the Department of Business Regulation anticipates proposing regulations for public comment next month, adding that the regulations under consideration will propose a lottery system in which all serious, qualified businesses will have a chance to enter to expand in the state's medical-marijuana market.
The House and Senate claimed on Tuesday they had already planned to remove the provisions that gave them veto power over regulations after hearing from the governor's office that it strongly objected to additional General Assembly oversight. The GA also said it would seek to enforce oversight through committee.
"This is an unnecessary expense by the governor of state taxpayers' dollars and judicial resources because the General Assembly leadership has already indicated that legislation will be introduced in January to remove this provision in the law,"  House and Senate spokesmen Larry Berman and Greg Pare said in a joint statement.
Raimondo said Mattiello included the provision in the budget despite being aware of her administration's opposition to it. She said the speaker's plan to introduce legislation now to remove it contradicted earlier conversations she'd had with him.
"That is an abrupt and rapid change in his position after he got wind that we were going to file this lawsuit," she said. "If he's serious about [removing the provisions], then hopefully he will drop any opposition to this suit and let the court weigh in."
Berman, in a separate statement on Monday, said the House "intends to have discussions [on the budget provision] in the near future with the Senate. The House continues to believe this is an issue that needs significantly enhanced oversight and will fulfill this function through our Oversight Committee."
(Updates throughout with Raimondo comment.)
Chris Bergenheim is the PBN web editor. You may reach him at Bergenheim@PBN.com.

Want to share this story? Click Here to purchase a link that allows anyone to read it on any device whether or not they are a subscriber.