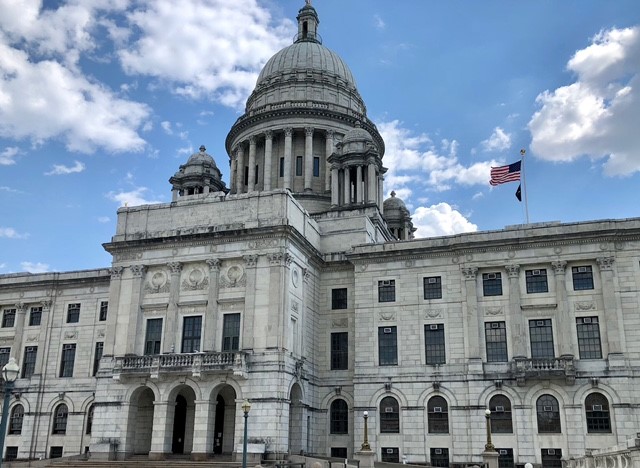 PROVIDENCE – A panel of business leaders discussed potential strategies aimed at aiding the state's small businesses on Facebook live on Thursday.
The discussion was part of Gov. Daniel J. McKee's weekly Rhode Island 2030: Community Conversations, which are public engagement meetings.
The governor's Community Conversations are designed to engage the public and help develop a vision and strategy for a more resilient, prosperous and equitable Rhode Island 10 years from now.
Keynote speaker Bulbul Gupta, CEO and president of Pacific Community Ventures and co-author of the study "Big Ideas for Small Business," talked about ways to remove hurdles to help the state's businesses thrive to increase wealth creation and economic activity. She said businesses need greater access to affordable capital since grants have been drying up.
Gupta said businesses are on the precipice of closing unless they have access to affordable capitol, whether through federal stimulus or private investment.
"How do we level the road to the American dream?" Gupta asked, noting that accessible capital is crucial to the health of small businesses.
Gupta floated some different ideas, such as aiding small businesses through public-private partnerships, creating tax incentives, forgiving student loan debt for entrepreneurs, and the creation of a loan fund.
Chris Parisi, founder and president of Trailblaze Marketing, asked Gupta how to make capital more accessible to small businesses.
"What does that mean?" he said. "How do you make it more accessible? And what do the federal and state government have to do? And what do small businesses have to do in order to forge that partnership so that we can keep these funds within our small businesses?"
Gupta said it does not fall on the small-business owner; it requires a systems change on the part of the state and federal government and corporations to change their procurement policies, procedures and standards to be much less onerous.
She said that for most small-business owners it is way too expensive, and there are too many hurdles, such as the licensing process, to access a lot of meaningful corporate contracts or supply chain contracts.
"So, it's much more about systems change on the demand side, and not on the small-business owner," she said. "The question is: How do we build the head space by bringing down the cost of capital for small businesses?"
Lisa Raiola, founder and president of Hope & Main, stressed that urgency is needed to support the state's businesses that have been struggling due to the impact from the pandemic.
"There are things that need to be done now," she said. "We don't just need funding – we need ideas. What gives businesses the piece of mind is having a plan."
Julia Broome, owner of Kin Southern Table, agrees. She said that she went from looking for a job to employing 14 other people.
"What we need are more opportunities and resources that people can find," she said. "I'm losing sleep over the fear that there could be another shutdown."
"Small businesses can't afford to be shutdown," said Parisi, noting that the state needs to start a tech and innovation hub.
Buck Harris, vice president of community lending for the Community Investment Corp., said he can diagnose in 10 minutes whether a business will be successful and qualify for a loan. His firm provides loans up to $250,000 for small businesses.
"Three to six months after applying, we provide dollars into the hands of a small-business owner," he said, noting that "getting the financing for a business is a part-time job."
Sanjiv Dhar, a Rhode Island restauranteur, said he was concerned about employee retention, the impact of inflation, hiring and training workers, and cash reserves to get through the next year. Dhar feels the state needs to offer health care incentives so that employers can retain their workers.
At the meeting's outset, McKee said his policy staff was crafting legislation aimed at "small-business friendliness" for the 2022 budget. He did not provide any details about the legislation, but called it a "major project."
Commerce Secretary Stefan Pryor said the state can cull the ideas from the meeting to help create its 2030 plan.
Pryor said the governor is crafting a legislative package to address small-business needs in the next legislative session. That could include use of federal stimulus funds to aid small businesses that are minority owned or were impacted by the pandemic, he said.
Pryor said the state was ranked No. 4 in the United States for the strength of its small-business community coming out of the pandemic. That data per the Brookings Institution is as of April, he said.
Pryor said Moody's Investor Service has ranked Rhode Island's business community No. 6 in the country and No. 1 in the Northeast region. He also said that the Thumb Tack online rating entity ranked Rhode Island's small businesses No. 2 in the nation during the heart of the pandemic last summer.
Cassius Shuman is a PBN staff writer. Contact him at Shuman@PBN.com. You may also follow him on Twitter @CassiusShuman.

Want to share this story? Click Here to purchase a link that allows anyone to read it on any device whether or not they are a subscriber.