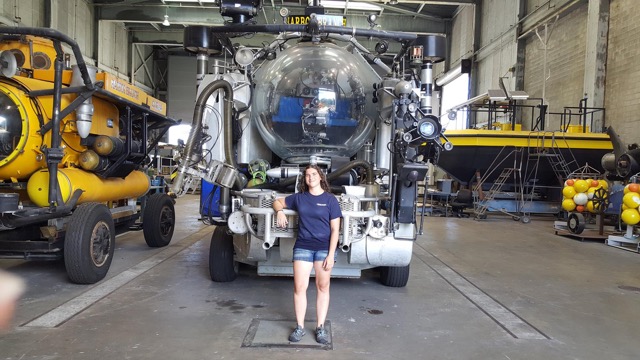 SOUTH KINGSTOWN – University of Rhode Island junior and marine biology major Karla Haiat has been awarded the opportunity to study at the Monterey Bay Aquarium Research Institute in California over the summer, where she plans to create a robot that mimics the behavior of a giant larvacean – a marine organism that makes a house from its own mucus.
"I'm pretty sure the reason I got this internship has a lot to do with the diversity of research experiences that I've already had," said Haiat, who has previously studied hammerhead sharks in Hawaii, tested oceanographic sensors in Florida, conducted laboratory studies of fish-sensory systems in Rhode Island and researched the carbon cycle in Georgia, in a statement.
She has focused her research on the giant larvacean because, as she explained, the organism uses its mucus home to filter the water for food particles and there are so many in the Monterey Bay, their behavior has had an impact on the carbon cycle in the area.
"It's not just that they can filter so much water, it's that their life strategies contribute to their evolutionary success and we can learn a lot from [that process]," she said in her prepared remarks. "Maybe someday we'll be able to reverse engineer how they pump so much water through their house and that could inspire engineering solutions for relevant societal challenges."
A Mexico City native, Haiat is the second URI undergraduate to be awarded a summer internship at the Monterey Bay Aquarium Research Institute.
Emily Gowdey-Backus is a staff writer for PBN. You can follow her on Twitter @FlashGowdey or contact her via email, gowdey-backus@pbn.com.