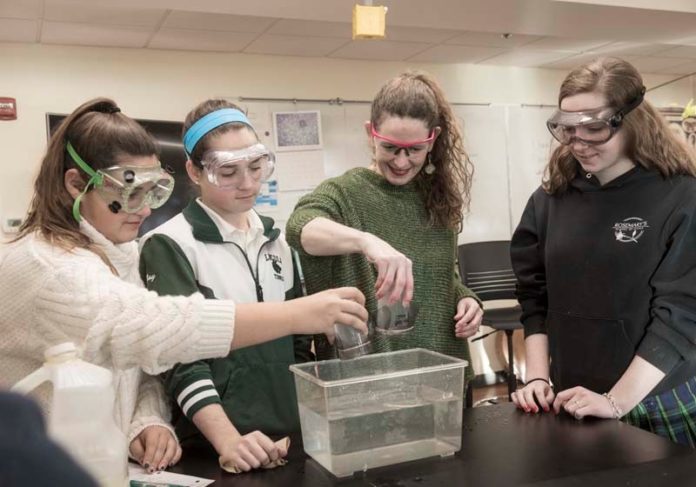 The underrepresentation of women in fields that require advanced math and science, including computer science and engineering, could have its start with their education as younger girls.
Education research has found self-confidence among many young women begins to wane in adolescence. By college, they may question their own abilities, or drop a class rather than challenge the effectiveness of the instruction.
One way to address this "self-selection" out of advanced classes is to make sure girls have plenty of opportunities in younger grades to dive deeply into hands-on science, say education leaders in Rhode Island.
At several private, girls-only schools in Rhode Island, curriculum and facilities have been updated to emphasize hands-on application and interdisciplinary approaches to science and technology.
The move joins a statewide effort in Rhode Island to encourage STEM careers.
Over the past year, Gov. Gina M. Raimondo and state leaders have made computer-science instruction and careers a priority. Raimondo is promoting a program, Computer Science For Rhode Island, or CS4RI, that will encourage all public schools to teach computer science by December 2017.
Nearly 30 schools are participating this school year, according to the program map.
Among independent schools, as well as public schools, there is a national conversation about new standards for teaching science and how to reach girls and young women and encourage them to explore a potentially rewarding career path.
At the 62-student, all-girl Sophia Academy in Providence, one of the advantages of a small, independent school is the ability to activate new strategies fairly quickly, said Alyssa Wood, the science teacher.
After taking a graduate class at Rhode Island College centered around new national science standards, she implemented them in her classroom. "You look at your curriculum and you think, how can I make this more hands-on?" Wood said. "The idea is to [get] away from this idea that science is just memorizing facts.
"Now, it's all about, if you're a scientist, you're good at questioning and following through on a process," she said. "When you start with a question, what comes of that? You get into predictions and designing actual experiments."
Lincoln School in Providence, a private school, will break ground next year on a $5 million addition, called the STEAM Hub, which will create dedicated space for interdisciplinary classes that combine science and mathematics with the liberal arts and other subjects, said Suzanne Fogarty, head of school.
The private school recently received an anonymous $2 million gift to help fast-track the expansion. As part of the work, existing art and science labs will be renovated. In its expanding facility, Lincoln School is emphasizing a multitude of disciplines that cross into the sciences, Fogarty said.
The acronym STEAM reflects its interest in science, technology, engineering, art and architecture, and mathematics, she said.
One of the offerings for its Upper School students will be science writing, for example, which will draw teachers and students together to combine lab work with reading and writing nonfiction science narratives.
"We live in a world that is driven by technology," Fogarty said. "There is a big gap of women in technology and that's across different industries, not just computer science."
To promote confidence and competence, the school integrates science and technology instruction into a variety of courses, beginning in the lower school grades where girls are learning to code and work with robots.
"They are learning how to code so it becomes just like learning how to read, how to do their math," Fogarty said.
At several schools, partnerships with universities, corporations and nonprofits are allowing the girls to challenge themselves with real-world applications of science.
Lincoln School has partnerships with the Brown University College of Engineering, with Rhode Island School of Design's architecture program, with Save The Bay and the Steel Yard, for various programs.
At Sophia Academy, a longstanding partnership with Ximedica has included an annual design challenge.
Gigi DiBello, the school head, said Sophia Academy has a mission focused on girls in middle grades from households with low incomes.
The girls-only setting can be academically advantageous, DiBello said. "The ages of 10 to 15 are a critical time for a girl. There is a fair amount of research that talks about self-esteem dropping at that time." •