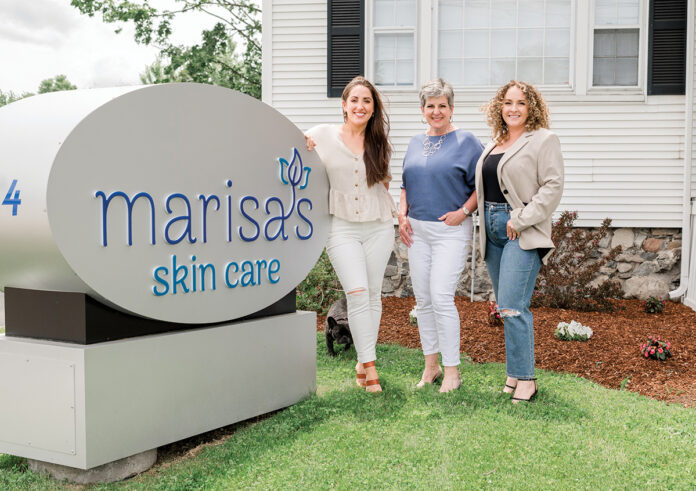 PBN 2023 Business Women Awards
ACHIEVEMENT HONOREE: Marisa Head | Marisa's Skin Care LLC owner and founder
---
ACNE, SUN SPOTS, scars and pockmarks, wrinkles. People find many reasons to feel bad about their skin. But often that bad feeling goes much deeper: I'm ugly; I'm unpopular; I'm old and unappealing.
Marisa Head, founder and owner of Marisa's Skin Care LLC in North Attleborough, has chosen a professional mission of healing and caring for skin and, in the process, helping her customers feel healthy, confident and soothed.
"We are all about inspiring and lifting each other up," Head said of her business, which also employs her two daughters, Stephanie and Rachel Howard.
Head says many women are struggling with problems and pressures of one kind or another. "People are vulnerable," Head said. "We are a safe place and a professional place. If someone comes in and says, 'I had a bad weekend,' we try to root them on and shift their mindset and help them feel comfortable."
She mentions a teenage girl with acne who first entered the salon with her head down, her hair throwing a curtain across almost her entire face. As her treatments continued over the weeks, she began to lift her head and emerge from behind the curtain.
The spa also treats some men, as well as teen boys.
She started in 2013 by renting a small space and marketing her fledgling business in every way she could think of – including by a lot of word of mouth. The business moved to another location and got a push when Head's oldest daughter, Stephanie Howard, joined her mother and started a contemporary marketing campaign.
Then, Head's second daughter, Rachel Howard, joined the group and became, like her older sister, a licensed esthetician. "That's when we exploded as a team," Head said, adding that each of her daughters brings a different dynamic into the business.
A few years ago, during the COVID-19 slump, Head and her daughters took a chance and bought a building on Washington Street in North Attleborough. They now employ six people and have about 2,000 clients, Head says. Services run the gamut from a 30-minute facial for $67 to a deep-cleaning and exfoliating using a HydraFacial device for $300.
They continued to reinforce the business's theme: that Marisa's Skin Care is run and staffed by caring women who want to help clients cultivate healthy skin and a happy attitude toward their appearance.
"When you are looking for advice on what to wear or what to do, you go to your girlfriends," Head said. The company began pushing out the message: "We are your trusted girlfriends."

Want to share this story? Click Here to purchase a link that allows anyone to read it on any device whether or not they are a subscriber.