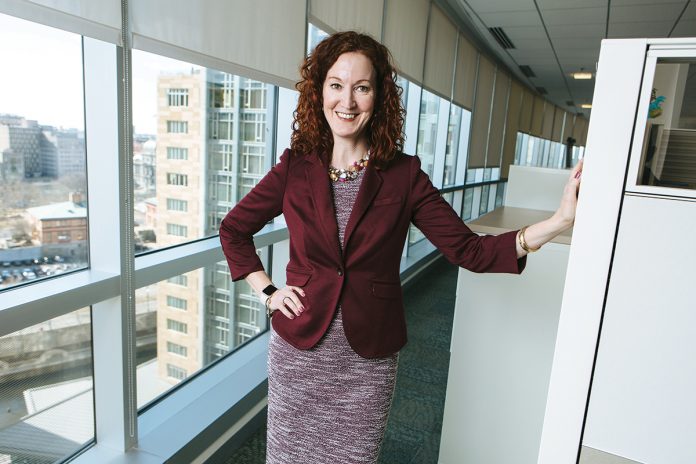 2019 C-Suite Awards | CHIEF CUSTOMER OFFICER, NONPROFIT: MELISSA CUMMINGS | BLUE CROSS & BLUE SHIELD OF RHODE ISLAND
---
WHEN MELISSA CUMMINGS walks into the office with an idea, Jeremy Duncan, Blue Cross & Blue Shield of Rhode Island vice president of marketing, says he's certain of two things:
One, the idea will benefit the customer; two, it will be backed by strong data.
As executive vice president and chief customer officer, Cummings' role is to combine the efficiency and convenience of technology with the personal touch of face-to-face interactions to benefit Blue Cross members and the company.
"She has a deep understanding of the health care system and the ability to link to the customers," Duncan said. "She puts herself in the role of the customer [and] is able to translate that into an opportunity for us to pursue."
Duncan said Cummings' job is different from traditional C-level positions in that she is plugged into the entire company.
"She is open [and] accessible," said Duncan. "She's energetic, thoughtful and customer-centric. She has a lot of energy and provides valuable feedback to the team. As a Rhode Island native, she had the opportunity to make the lives of the people in the community better."
Cummings' focus on helping others was developed early on, as was an entrepreneurial spirit. She was shaped by her mother's career helping patients as a nurse and psychotherapist in private practice, and her father's career as a sales executive and small-business owner.
"A super-appealing part of the job was the nature of the position," said Cummings. "My parents passed that on. They also showed me the value of hard work."
Cummings has worked in the health insurance industry for 22 years. Since joining Blue Cross in 2014, she has worked closely with her team and has become an ambassador in the community.
One of the projects she has implemented is the Your Blue Store, where members can visit a retail Blue Cross "store" for help with insurance plans and benefits. The stores – located in East Providence, Lincoln and Warwick – also offer free fitness classes, health screenings, and access to a nurse and a dietitian. In 2018, Blue Cross members visited the stores more than 51,000 times, and 15,426 people took 1,935 fitness classes.
"This went beyond expectations," Cummings said. "We are talking face-to-face with them and personalizing their health care."
In 2017, Cummings helped launch a partnership with corporate-wellness company Virgin Pulse, making Blue Cross the first health insurer to offer Virgin Pulse's customized health app to nearly 400,000 members.
Cummings also introduced a wellness rewards program to help small businesses lower their insurance premiums. Employers with fewer than 50 employees can earn as much as 8% back on their premiums, while employees who participate in the well-being program can earn as much as $200 annually.
With the 2018 BlueCHiP for Medicare Value plan, seniors receive a no-cost activity tracker to use with the Virgin Pulse app and a $100 annual wellness reimbursement to be used to participate in programs such as fitness classes, golf and sports lessons.
This year Blue Cross, in a partnership with Oak Street Health, a network of primary care centers serving Medicare patients, will open two new centers in Providence and one in Warwick to provide holistic and preventive health care. The program provides free transportation, one-on-one time with health care professionals, as well as social and educational events.
Cummings also introduced regional BlueCHiP products that provide lowest-cost, multistate network options for Rhode Island companies with employees in neighboring states.
Under her guidance, digital tools have been added to Blue Cross' offerings, including a mobile app and text messaging that can give members benefit updates, money-saving tips and crucial health reminders.
Customers can expect additional offerings in the future.
"We have to look at the increasing technology and find the exact blend of local and technology," Cummings said. "It can't be all one or the other."