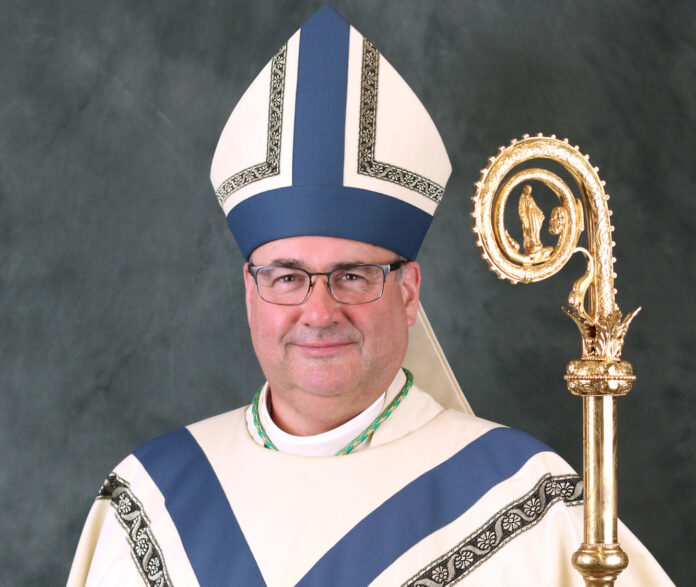 PROVIDENCE – The Rev. Richard G. Henning said Wednesday that he had in the past frequently visited Rhode Island from Long Island, N.Y., as a tourist, taking in the ambiance of the nation's smallest state.
Very soon, Henning will formally lead the state's Catholic church and related schools and organizations.
The Roman Catholic Diocese of Providence announced Wednesday in a press conference at the Cathedral of Saints Peter and Paul that Henning, who has been the auxiliary bishop for the Roman Catholic Diocese of Rockville Centre in Rockville Centre, N.Y., the last four years, has been appointed by Pope Francis as Rhode Island's new bishop. The move comes several months before the diocese's current bishop, The Rev. Thomas J. Tobin, reaches the mandatory retirement age of 75.
"On this day, I'm filled with gratitude," Henning said in his first formal public address. "I'm also filled with awareness of my own limits and my need for God's grace. I will certainly ask the good people of this state to pray for me and pray for our shared mission to live and to proclaim the grace and mercy of Jesus Christ."
Henning, when asked by reporters, said he learned about the news that he would succeed Tobin in Rhode Island about a week ago. Henning said he has "a lot of learning" to do to understand his new home and plans to be a "spiritual migrant" once he begins serving as the diocese's new leader. He also said he plans to take Pope Francis' advice to be a "listening church."
"I hope to learn more about this state and the stories of its people," Henning said. "I want to be able to walk with you and understand your faith, and really receive that witness of faith."
Tobin also said it "take some time" for a new bishop to get into the life of the local church, understanding the area's unique history, culture and the people within the area. But the work with the church is always the same and calls Henning a "quick study," who will "not have any trouble" learning about Rhode Island.
According to his bio from the Rockville Centre Diocese, Henning – a Rockville Centre native – has served as its bishop since 2018. He has also been active in the United States Conference of Catholic Bishops serving on the Doctrine Committee, the Subcommittee for the Church in Latin America. Henning was also recently appointed chairman of the Pontifical College Josephinum's board of trustees in Columbus, Ohio.
Tobin, who has led the Diocese of Providence since 2005, said Wednesday that Henning will first begin serving in a ceremony in January 2023 as the Diocese's coadjutor bishop. That means Henning will work with Tobin co-leading the state's Catholic church until Tobin formally retires as bishop, and Henning will subsequently succeed Tobin.
Tobin also said he has been working with world religious leaders since this past spring on a succession plan, and received Pope Francis' good graces to have a coadjutor bishop in place in Providence.
Tobin said on or around when he turns 75, which is slated to be this spring, he is required to send Pope Francis his formal retirement letter and needs the pope's approval before handing the reigns over to Henning. Tobin said he believes the approval will come this spring from Pope Francis, but it will be at his discretion as to when exactly Tobin's retirement will be.
However, Tobin said he hopes Pope Francis will approve his retirement request "in a timely manner" and the process will be easier with Henning working as a coadjutor bishop in the meantime. "I hope it doesn't take too long," Tobin said, "but that is purely up to the Holy Father."
"I don't want to be a lame duck forever; I rather be a dead duck," Tobin said jokingly.
Additionally, the diocese announced it has accepted the resignation of The Rev. Robert C. Evans as auxiliary bishop of Providence, which paves the way for Henning to succeed Tobin.
James Bessette is the PBN special projects editor, and also covers the nonprofit and education sectors. You may reach him at Bessette@PBN.com. You may also follow him on Twitter at @James_Bessette.

Want to share this story? Click Here to purchase a link that allows anyone to read it on any device whether or not they are a subscriber.