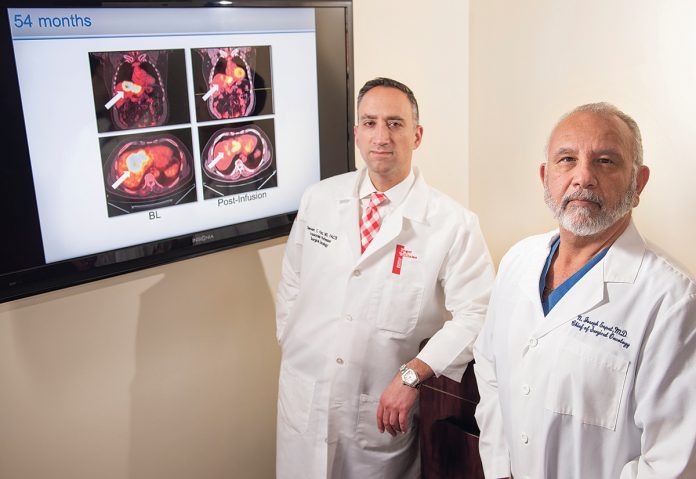 T-cells genetically altered to seek and kill cancer don't do much good if the tumor's density stops it from contacting the offending tissue, a challenge Roger Williams Medical Center researchers have evidence they've overcome in a recent clinical trial of TriSalus Life Sciences' pressure-enabled, drug-delivery ­catheter.
Dr. Steven Katz, director of the Office of Therapeutic Development at the center and principal investigator of the phase 1b clinical trial, said the treatment, though promising, requires more testing.
Katz's work focuses on an engineered type of T-cell – antibodies that seek and destroy invading viruses and bacteria – called Chimeric Antigen Receptor T-cells. The therapy harvests normal T-cells from a patient's blood, then genetically re-engineers them in a lab so they recognize an antigen on the patient's tumor cells. The new cells, now CAR-T cells, are then allowed to multiply in the lab before being infused into the patient, where, in most cases, they zero in on the cancer cells.
Such immunotherapy treatments are not usually applied with enough pressure to overcome the resistant tissue in pancreatic and other dense tumors, Katz said.
Two characteristics contribute to the difficulty delivering therapeutic treatments, including chemotherapy and immunotherapy drugs, into the tumors, he said. First, dense tumors have an unusually high number of blood vessels, which are particularly leaky. In tumors, the endothelial cells lining blood vessels allow fluid through, Katz said.
"That allows fluid to leak into the spaces in between cells, contributing to the pressure buildup" in pancreatic and colorectal tumors, Katz said.
The second characteristic contributing to dense tumors is the usual network of scar tissue lining their exteriors.
"Novel delivery strategies and devices capable of overcoming high pressures are … essential for solid tumor immunotherapy," Katz said.
To that end, Katz and his team entered an immunotherapy collaboration agreement with TriSalus to use its PEDD catheter in the trial to administer effective doses of anti-CEA CAR-T cells into dense tumors in five patients with stage IV adenocarcinoma that were not treatable with surgery and that had spread to the liver. The patients had each failed one or more lines of systemic chemotherapy, the medical center said.
"PEDD significantly increased CAR-T within liver metastases when compared with low-pressure microcatheters, and this was associated with encouraging clinical activity in two subjects," said Katz.
Two of the four pancreatic cancer patients showed no cancer in their liver when viewed by PET scan. One patient with stage IV pancreatic carcinoma showed no evidence the cancer had spread to their liver after 12 months. Another stage IV pancreatic cancer patient showed no cancer spread to his liver six weeks after CAR-T/PEDD infusions.
The median overall survival following the treatment for four stage IV pancreatic cancer patients was 8.3 months. One patient died of causes unrelated to the study. No patient suffered negative effects related to the CAR-T or device, the center said.
"These early results suggest we may be able to achieve a therapeutic dose in solid tumors and avoid severe side effects, such as neurotoxicity and cytokine release syndrome that are prevalent with conventional systemic CAR-T administration methods," Katz said.
Next, Katz said, his team is planning a bigger study that will start them on the process to winning Food and Drug Administration approval of the treatment.
Katz said the medical center has served as the site for three liver-tumor studies using Sorrento Therapeutics Inc. CAR-T cell treatments in addition to a study for multiple myeloma using a different CAR-T cell product.
Katz said medical center leadership is committed to growing the immunotherapy program by creating new therapeutic options for cancer patients, forming new partnerships and creating high-paying biotechnology jobs in Rhode Island.
Since immunotherapy is in its infancy with few people possessing training to care for immunotherapy patients or manufacturing immunotherapy products, the center is also developing a training certificate program for people to learn how to both prepare and perform the treatments, which will be taught at the University of Rhode Island and Community College of Rhode Island.
To accommodate demand from many patients across the U.S. and internationally, Katz said the center is exploring options for expanding manufacturing and clinical trial infrastructure. He said the goal is to help as many cancer patients as possible and make long-lasting contributions to multidisciplinary oncology care.
"We're trying to create an immunotherapy ecosystem," Katz said.
Rob Borkowski is a PBN staff writer. Email him at Borkowski@PBN.com.