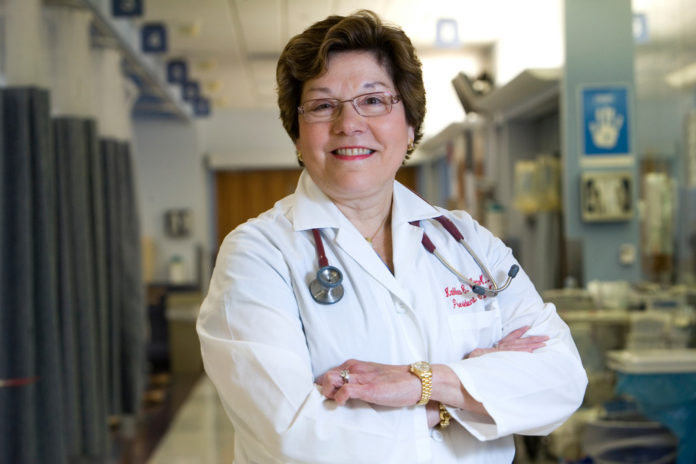 PROVIDENCE – As a result of reorganization of the senior management structure at Lifespan, Dr. Kathleen Hittner, senior vice president of community health and perioperative services and former president and CEO of The Miriam Hospital, will retire effective Oct. 17, according to hospital officials.
In addition, as part of the restructuring, the position of senior vice president and chief quality officer was eliminated, and Dr. Mary Reich Cooper, who currently holds that position, will also be leaving the organization, effective Oct. 17.
In a memo to Lifespan staff, Dr. Timothy J. Babineau, president and CEO of Lifespan, praised Hittner, saying that she was owed a debt of gratitude for her more than 30 years of dedication and commitment to the system.
Babineau said that "her crowning achievement was the construction of The Victor and Gussie Baxt Building, with state-of-the-art technology, designed to facilitate the high-quality care that The Miriam's patients expect." Hittner served as hospital president and CEO from April 2000 until September 2009.
Under the new reorganization, to go into effect on Oct. 1, Babineau is creating a new leadership structure for the senior management team that will operate under a new Office of the President, with the goal to drive system-wide strategy formulation.
The six members of the group include:
Kenneth Arnold, senior vice president and general counsel
Cathy Duquette, who has been appointed executive vice president for nursing affairs
Dr. John Murphy, who has been appointed executive vice president for physician affairs; Murphy will have responsibility for all physician alignment and network development activities, including primary care strategy and overseeing the Lifespan Physician Group
Fred Macri, who has been appointed executive vice president for system operations
Mark Montella, senior vice president for external affairs, who in addition to his current responsibilities will have oversight of community affairs and the Community Health Institute
Mamie Wakefield, who has been appointed executive vice president and chief financial officer. Wakefield will retain her current responsibilities and will additionally provide oversight of philanthropic development
In addition, Arthur Sampson has been appointed president of The Miriam Hospital, taking over that role from Babineau. Babineau will remain president of Rhode Island Hospital for the foreseeable future.
Explaining the reorganization, Babineau said: "We are operating in a time of unprecedented change, the pace of which is challenging every high-performing health system in this country to revisit its structure and market position. We must, however, not just respond to change, we must lead the transformation of our delivery system to better serve our patients."
In addition to building a comprehensive, fully integrated system, Babineau continued, the changes will enable Lifespan to become the provider of choice for individuals and businesses. "Stabilizing costs, enhancing quality and the patient experience and an unremitting commitment to excellence are key elements in achieving success," he said.