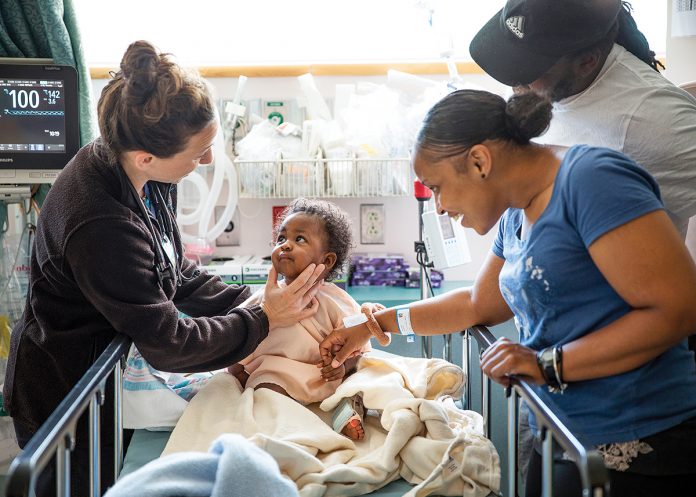 Last spring, a team of doctors at Hasbro Children's Hospital in Providence performed surgery on a fetus diagnosed with spina bifida.
Surgeons covered the unborn baby's exposed spine with layers of skin and grafts, then repositioned it and closed the mother's uterus.
The risky procedure, the first of its kind in the Northeast, was a success. The baby boy was born in July and is doing well, Hasbro says.
As one of the sole facilities in the country, and the only one in the region, to perform in-utero surgery and numerous other complicated fetal procedures, Lifespan Corp.'s Hasbro, and its Fetal Treatment Program of New England, often sees patients referred by other hospitals, including Boston Children's Hospital.
The two are bound by a recently announced alliance meant to streamline the process for patients in need of treatment or surgery performed at one hospital but not the other.
While not as financially significant to operations and services as full-blown health-system mergers, such as the proposed acquisition of Care New England Health System by Boston-based Partners HealthCare, lesser affiliations and collaborations boost both care and business, says Lifespan President and CEO Dr. Timothy J. Babineau.
That includes Lifespan's alliance with Boston-based Dana-Farber Cancer Institute. Babineau estimates that Lifespan has the capability to treat 95% of its cancer patients, and its agreement with Dana-Farber acts as a safety net for the rest.
"For those 5% of patients who have a very rare tumor or a very rare need, we'll coordinate your care up to the Dana-Farber and [they] will return you here to us," he said. "We've attracted more patients – good for business – the Dana-Farber is getting more referrals. [That's] good for their business, but really it's about much-better-coordinated care."
Hasbro patients are sent for heart surgery in Boston, and patients at Boston Children's receive treatment at East Providence's Bradley Hospital, a pediatric psychiatric hospital owned by Lifespan that works closely with Hasbro.
Pooling resources at times also allows doctors who work in specialized fields to see a steady flow of patients.
"You need a patient base in order to sustain these high-end programs. We're not going to duplicate them," said Tracey Wallace, Lifespan's vice president of pediatric services.
'You need a patient base in order to sustain … high-end programs.'
TRACEY WALLACE, Lifespan vice president of pediatric services
Discussions have taken place about a tele-consult service between Hasbro and Boston Children's to allow parents seeking a second opinion on a child's diagnosis to do so remotely, she added.
"Who doesn't want to seek the expert for their child in receiving care? In some cases, it will be us and, in some cases, it will be in Boston," she said.
An alliance between CNE's Kent County Memorial Hospital and Boston's Brigham and Women's Hospital has allowed Kent's cardiac program to offer emergency services that otherwise would require a trip to Providence.
Formed in 2009, the alliance was instrumental in the creation of a round-the-clock interventional cardiology program, said Dr. James E. Fanale, CNE's president and CEO.
"We could not have done that without the Brigham," Fanale said.
Brigham's reputation helped attract interventional specialists to Kent, which means that for cardiac patients living south of Warwick, where Kent is located, help is closer than it used to be.
The hospital sees about 150 people with heart problems a month, Fanale said, and about 20 treated each month for emergencies.
About 1% of those patients are transferred north to Brigham and Women's, Fanale said.
"If I can get you into a lab from South County half an hour to 40 minutes earlier than coming into town, I've saved heart muscle," Fanale said.
Relationships between hospitals also make sense from a recruitment and financial standpoint, said Patrick L. Green, president and CEO of Connecticut-based L+M Healthcare.
Westerly Hospital is part of L+M Healthcare, which became affiliated with the Yale New Haven Health network in 2016.
Specialists based in Connecticut visit ­Westerly on a rotating basis. The small local hospital benefits by being able to offer high-end services without having to try to attract and pay for specialists who usually prefer to work in larger cities.
"It allows for that further reach, it allows the hospital to focus on the needs of the community without duplicating resources," Green said, citing Westerly's access to oncology, neuroscience, minimally invasive robotics and other programs within its network.
While some surgeries and procedures still entail travel to Connecticut, time spent away from home is minimized by the availability of pre- and follow-up care at Westerly.
"It's really about the ability to have the expertise of a nationally recognized health system have a reach within smaller communities … and not having to recruit a neurosurgeon for Westerly, where there might be a limited amount of people to serve," he said.
At Hasbro, patients in need of bone-marrow transplants are referred to Boston, where physicians from Dana-Farber perform the surgery at Boston Children's Hospital.
Dana-Farber benefits from its link to Lifespan and its cancer research program as well, said Elizabeth Liebow, senior vice president of clinical planning and business development at Dana-Farber.
"It's really a very mutual relationship," she said.
Clinical trials conducted by Dana-Farber are now open at Lifespan hospitals, serving the dual purpose of potentially helping patients and furthering cancer research.
"We have enrolled many patients there who would otherwise have had to go to Boston," Liebow said.
Lifespan's alliance with Dana-Farber is one of many that the specialty hospital has within New England, but doctors from both organizations have made it a point to meet and form relationships, she added.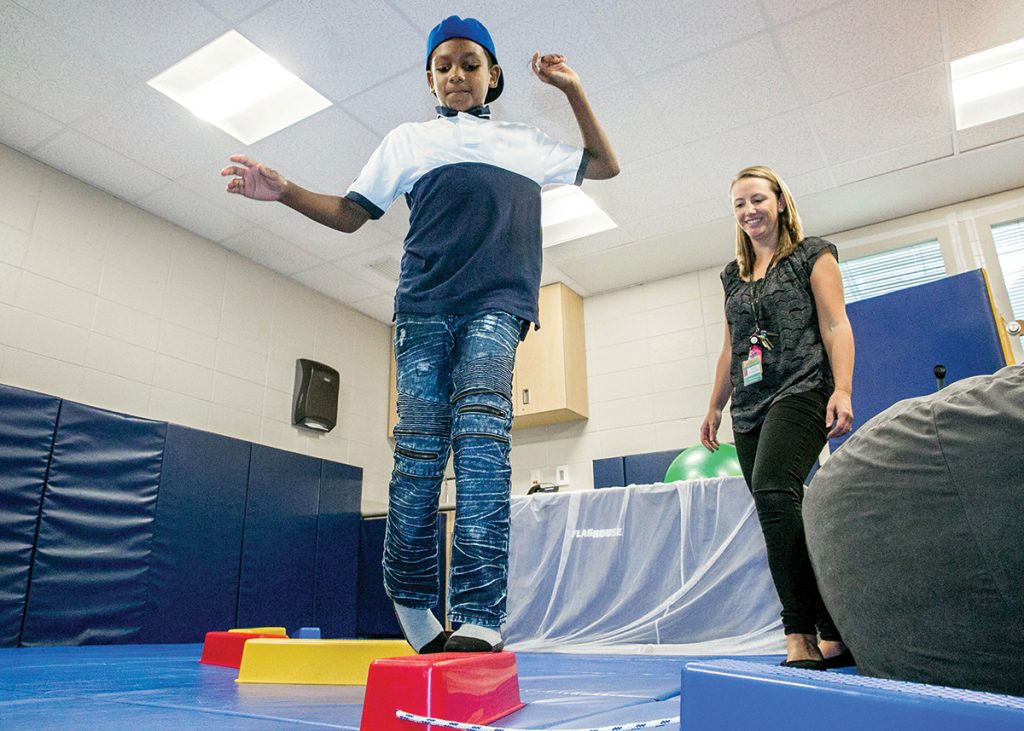 Bradley Hospital has had a long-standing relationship with Boston Children's Hospital, which often sends patients in need of specialty psychiatric care to Providence, according to Dr. Henry Sach, Lifespan's chief medical officer of psychiatry and medical director at Bradley.
Children with autism and developmental disabilities are among the most common referrals, along with those with intertwined psychiatric and medical needs.
"This is something we do that is not their area of expertise, they do some outpatient care and have some clinics, but when it comes to continuum of services, they really do rely on us," Sach said.
Southcoast Health has partnered closely with Boston Children's at all three of its hospitals since 2016. Neonatologists employed by Boston Children's work at Fall River's Charlton Memorial Hospital, St. Luke's Hospital in New Bedford, and Tobey Hospital in Wareham, Mass., and pediatric inpatient and emergency department care at St. Luke's is staffed by physicians from Boston as well.
The health care network also collaborates with Brown University's medical school on clinical trials at its oncology and cancer centers in Fairhaven and Fall River, and the wound care program at Charlton and St. Luke's partners with Healogics, said Maureen Boyle, Southcoast's spokeswoman.
Boston Children's presence across the network means that premature or ill newborns and their mothers are cared for from the moment of birth without immediate transfer, said Dr. Daphne Remy Gomes, a Boston Children's physician who serves as Southcoast's executive director of neonatology.
"I believe moms and babies benefit from having folks with specialty training right here in their local area," Gomes said. "A lot of moms who have high-risk pregnancies feel the need to go to Providence or Boston to deliver their babies … some of those instances are warranted, but we are able to take care of a lot of them right here."
Elizabeth Graham is a PBN staff writer. Contact her at Graham@PBN.com.