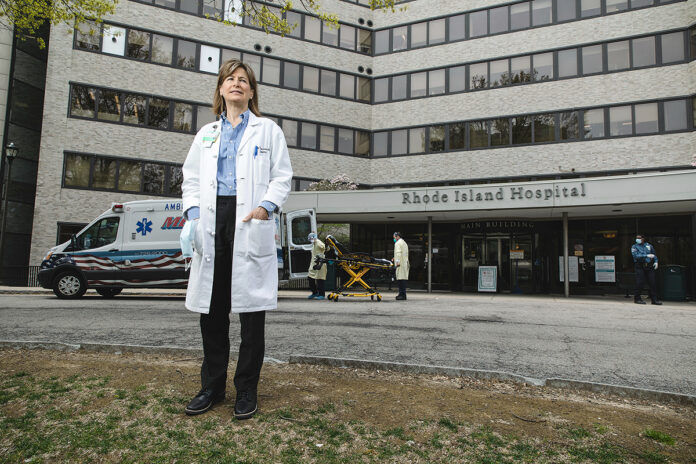 Music performed by the group Healing Through ­Harmony, made up of students from the Warren Alpert Medical School of Brown University, plays softly in small areas of Rhode Island Hospital and The Miriam Hospital.
Under normal circumstances, the musicians perform in person in Rhode Island Hospital's cancer center, but the COVID-19 crisis has temporarily put a stop to those visits.
Now, the group's music is heard in respite rooms, reserved for doctors and other providers who are caring for patients who are hospitalized with COVID-19.
Set up inside both hospitals about a month and a half after the virus appeared in Rhode Island, the rooms provide privacy for health care workers who are tending to the sickest victims of the virus.
Caring for the ill is a forgone conclusion during the pandemic, but seeing to the mental health needs of doctors, nurses and others who spend long hours in intensive care and critical care units is imperative too, according to mental health specialists from Rhode Island's largest hospital systems.
Both Lifespan Corp. and Care New England Health System have created programs to help employees through the pandemic, whether they are struggling with added stress or in need of immediate psychological support after dealing with a particularly difficult or heartbreaking case.
Lifespan, which owns Rhode Island Hospital, along with The Miriam and Newport Hospital, has treated about 80% of the state's COVID-19 patients, the system's CEO and president, Dr. Timothy J. Babineau, said in an interview in late April.
About 12% of the more than 1,120 COVID-19 patients hospitalized in the state have died from the virus, according to data supplied by the R.I. Department of Health.
In response to the stress that health care providers in intensive care, critical care and medical units may face, Lifespan launched an around-the-clock call service on April 20.
It's designed to offer doctors, nurses, respiratory therapists, surgeons and others specialized support should they need it while caring for ill COVID-19 patients.
"What they're currently witnessing is very difficult," said Dr. Jody Underwood, chief of psychiatry and behavioral health at Rhode Island Hospital, The Miriam Hospital and Lifespan Physicians Group Inc.
"This is to provide emotional support in real time in the midst of a stressful situation," Underwood said, adding that the sooner a traumatic situation is addressed, the less likely it is to cause post-traumatic stress disorder.
About 24 therapists have volunteered for the program.
'This is to provide emotional support in real time in the midst of a stressful situation.'
DR. JODY UNDERWOOD, chief of psychiatry and behavioral health at Rhode Island Hospital, The Miriam Hospital and Lifespan Physicians Group Inc.
The team has been trained in a stress first-aid model used by the National Center for Post-Traumatic Stress Disorder that has been adapted to address the needs of health care workers during the pandemic.
Since its start, the service has received a steady volume of calls. A few weeks into the program, psychiatrists began making daily rounds in the hospitals, checking on staff, offering the opportunity for private talks or organizing impromptu group sessions, said Lifespan spokeswoman Christina O'Reilly.
Both Lifespan and Care New England were quick to establish baseline support for all employees soon after the pandemic took hold, and by the end of April were partnering to offer mental health support for health care workers.
The collaborative hotline, at (401) 606-6000, is staffed Monday through Saturday by behavioral health specialists from Care New England's Butler Hospital, The Providence Center and Women & Infants Hospital, and from Rhode Island, The Miriam and Newport hospitals, all owned by Lifespan.
The Care New England Employee Support Service, organized by Dr. Stephen Correia, Butler Hospital's director of psychology, is a joint effort involving Butler, The Providence Center and Women & Infants Behavioral Health Services.
Open to all 7,688 of CNE's employees since April 1, the line is staffed by more than 20 faculty members, most of whom specialize in psychology or psychiatry.
The line offers confidentiality and a chance to vent, but it isn't designed to address serious mental health issues.
"We're not providing in-depth counseling or emergency mental health services, it's really peer support," Correia said.
Employees fielding calls focus on coping skills and lifestyle choices that can have a positive effect on mindset, said Dr. Margaret Howard, who helped develop and implement the service.
"The intent of the support line is not to provide therapy, but rather support, tips for managing stress … what techniques and skills can I learn right now to minimize my stress to allow me to be fully present for my job the next day," said Howard, division director of Women's Behavioral Health at Women & Infants Hospital and executive director of Women's Behavioral Health at Care New England.
So far, call volume remains low, as it does at Lifespan, where a hotline is available to its more than 15,000 employees.
Fifteen therapists and a psychiatrist are on hand to take calls from workers dealing with anxiety and uncertainty stemming from COVID-19, or who are having difficulty adjusting to changes at work.
Despite receiving fewer calls than expected, Lifespan plans to keep the line operating in case of an unexpected surge in cases of the virus.
"It's priceless at this point," Underwood said.

Want to share this story? Click Here to purchase a link that allows anyone to read it on any device whether or not they are a subscriber.