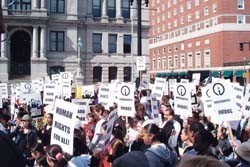 In Rhode Island, only 25 percent of workers in the hotel industry are unionized. In Boston, it's more like 50 percent. But things are looking up from the perspective of UNITE HERE! Local 217.
During the past three years, the union has progressed in its efforts to form partnerships with developers of hotels early in the planning and zoning approval process. Doing so has led hotel operators such as Denver-based Sage Hospitality Resources to sign a legally binding "labor peace agreement" with Local 217.
The agreement binds Sage to remain neutral in the event that workers decide to form a union. Sage is the developer of the Renaissance Providence Hotel, in the former Masonic Temple, which is slated to open this year.
"We can also agree in the process by which they should form a union," said Jenna Karlin, Rhode Island-area director of Local 217. "There are processes that are fairer than others."
For example, an agreement could ensure that union organizers won't picket or leaflet, in return for a neutral environment and fair process for the workers to choose whether or not they want to form a union, she said.
"As an operating management company … we want the associates to make those decisions," said Brad Robinette, senior vice president of revenue growth services at Sage.
"We want them to understand what's available to them on both sides." Robinette said Sage operates both union and non-union hotels across the country.
As for other hotels coming into the downtown, Karlin said Local 217 has been reaching out to the developers of those projects as well.
"We reach out to developers with the goal of figuring out how we develop a partnership to help the project happen," she said. "Hotels need project approvals. When we have a partnership with a project, we are definitely going to be very supportive through the approval process."
Karlin said Local 217 has made contact with the Wichita, Kan.-based hotel operator, LodgeWorks, that is going through the approval process to develop a Sierra Suites Hotel downtown. But she could not comment on where those talks are, since the two parties are still forming a relationship.
Cheryl Doll, vice president of marketing for LodgeWorks, said it is too early to anticipate anything, because the project has not been officially approved.
"We're really small hotels; we're not large convention hotels," she said. "So usually, union operation doesn't come into play."
Doll said that, to her knowledge, LodgeWorks does not operate any union hotels. The effort to reach out to industry is part of a national campaign launched by UNITE HERE! last February. The campaign, called Hotel Workers Rising, is about developing partnerships with industry that will result in the unionization of more hotel workers, said Amanda Cooper, spokeswoman for the national union.
Local 217 started the campaign informally, before the national launch, because of all the new development going on here. "We've had a pretty consistent presence and position that we believe in development," Karlin said. "We want to see the city grow and prosper. … But it's not just about pretty buildings. It's about making sure that there are good, permanent jobs that allow people to take care of their families and have affordable health care."
John Alvarez, lead cook at the Providence Biltmore Hotel and Local 217 vice president, said he knows firsthand the difference in treatment of a union worker versus a non-union worker. He started working at the Biltmore in 1999, but before then, he had worked almost entirely at non-union restaurants that didn't offer health care or paid vacation, holidays or sick leave.
At the Biltmore – a union hotel since 1979 – Alvarez said he pays $26 a week for a family health care plan, and every employee gets two weeks' paid vacation after a year of employment, in addition to paid holidays and sick leave.
Alvarez said he also knows union employees get paid more, based on conversations he's had with housekeepers at The Westin Providence, which is also unionized, and at the former Holiday Inn, now a Hilton hotel managed by the same owner, The Procaccianti Group.
Alvarez said housekeepers at the former Holiday Inn, when it was under different management, made $7 per hour and were expected to clean more rooms per day than housekeepers at The Westin, who make $14 per hour.
The Procaccianti Group did not return phone calls regarding whether or not the company will sign a "labor peace agreement" should workers at the Hilton Providence Hotel decide to form a union.
Rachel Miller, director of Rhode Island Jobs With Justice, said such agreements are important because they allow for a more democratic process while employees decide whether they want to form a union.
Jobs With Justice is a coalition of labor unions, community organizations and faith-based groups supporting economic and racial justice in the state.
Miller said the need for some type of neutrality agreement "doesn't come out of nowhere." She added: "Historically, when workers try and organize a union in a private workplace, more often than not, the employers run a very effective anti-union campaign." Employers will often fire union activists and hire professional anti-union consultants, she said.
In addition, during the past few years, Miller has noticed more and more service-related unions are using the "labor peace agreements" as a strategy in negotiations with industry. She said Jobs With Justice supports the agreements, because "from our perspective, we recognize having folks in unions … is one of the best ways to fight poverty in this country."