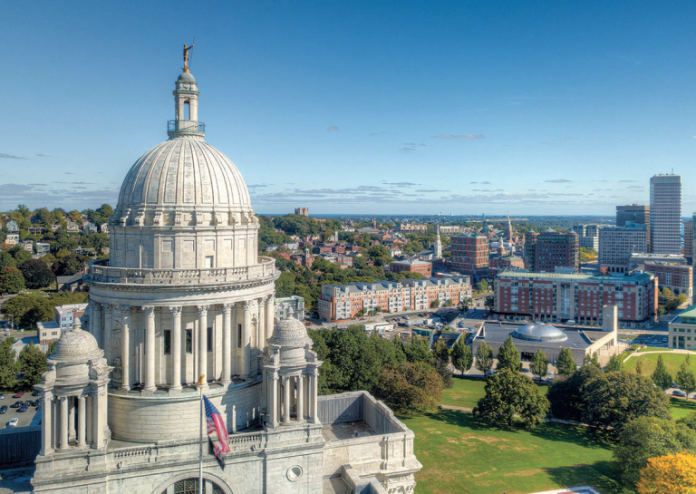 PROVIDENCE – The House on Saturday overwhelmingly approved a $9.97 billion spending plan for fiscal 2020 that continues a car-tax phaseout and expands a medical-marijuana program, while closing an estimated $200 million budget gap.
The budget, approved by a vote of 64 to 9, now moves to the Senate. It doesn't include several initiatives sought by Gov. Gina M. Raimondo, including an expansion of the Rhode Island Promise program to Rhode Island College. It does fund the two-year, tuition-free option at the Community College of Rhode Island.
The plan rejects the governor's proposed legalization of recreational marijuana use for adults, although it includes funds for six new "compassion centers," where authorized residents can purchase medical marijuana. The spending plan also scraps the governor's plans to charge large employers a fee for not providing health care insurance to employees. The so-called Medicaid assessment would have levied a fee of up to 10% of a part- or full-time employee's wages.
"This is definitely a pro-business, pro-consumer budget that reflects our commitment to operate within our state's means. We are fully funding the essential programs our state provides to its citizens, particularly education, and keeping our commitments without instituting new taxes or plunging our state into unjustifiable debt. This budget is balanced and sound, and will help Rhode Island continue to move forward in the coming year," House Speaker Nicholas A. Mattiello said in a statement.
The House-passed budget makes a special exception for the state land under contract to The Fane Organization of New York, in the Interstate 195 Redevelopment District. In an amendment approved Friday night, the budget allows Parcel 42 to exceed the existing Rebuild Rhode Island cap for incentives, up to $25 million.
The existing cap  for Rebuild credits is $15 million per project, and under the House budget will be subject to any additional sales tax incentives awarded to a particular development.
House members approved the amendment referencing the Hope Point tower parcel 62-12, without discussing that aspect of it.
Instead, House members debated at length another controversial inclusion in the House budget – a proposal that would allow the I-195 district to become a special economic development district with more freedom from local zoning review.
The proposal, based on a Senate plan introduced by Senate President Dominick J. Ruggerio, D-Providence, was amended Friday to exclude state-owned lands in other communities.
For now, it will only apply to Providence in the I-195 district, under an amendment announced by the House leadership Friday.
Providence-based House members who were opposed warned their colleagues that in the future, it could be their districts. "If we're willing to do this in the capital city, there is nothing to stop us from doing it in any city," said Rep. Moira Walsh, D-Providence.
While inspired by the Hope Point project, which many legislators say has been held up in review unnecessarily by Providence city boards and panels, that tower has already moved through the city process, noted Rep. Edith H. Ajello, D-Providence.
Now, if approved by the Senate and Raimondo, the new power for the I-195 district will apply to all 19 acres of developable land in the district.
"It's alarming to me that a small number of folks, just seven, on this commission, will replace the knowledge" of city zoning officials, planners and the mayor, Ajello said. "Seven people would come in and be able to make decisions for the locals."
The budget provides another $50 million for Rebuild Rhode Island, a signature economic development program created by Raimondo in 2015. But it moves all previously authorized state credits for sales and use taxes for Rebuild projects under the aggregate cap for the program.
This effectively will cut $41 million from the program's capacity in future years.
Several House members objected to any more money going to the program. Rep. David J. Place, R-Burrillville, a new member, said he knew plenty of small businesses that would appreciate a tax break.
"I don't think [General Dynamics] Electric Boat needs $20 million in tax credits to build their new facility," he said, referring to the amount of sales and use tax exemptions awarded last year by the R.I. Commerce Corp. to the federal contractor. The $18 million awarded by the Commerce RI board to Electric Boat was the largest single authorization for the sales and use tax incentive.
"I could think of a couple of contractors in my district that could use the sales tax relief we're providing this company," Place said.
The budget fully funds the third year of a car-tax phaseout championed by Mattiello. The phaseout is set to be completed in 2023. Raimondo had sought to slow down the phaseout.
Mary MacDonald is a staff writer for the PBN. Contact her at macdonald@pbn.com.