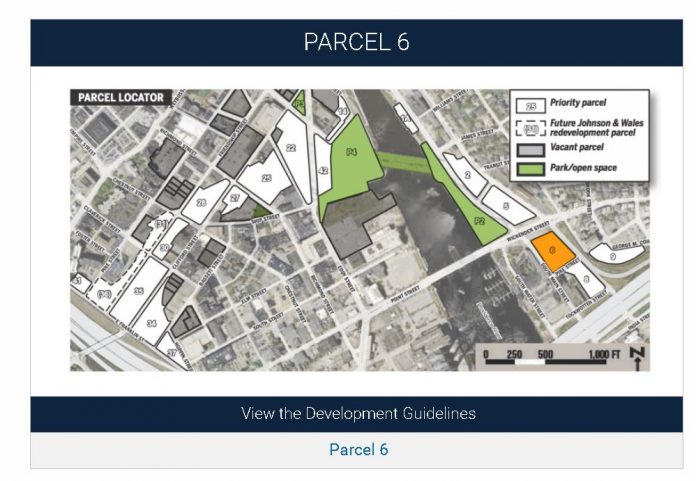 PROVIDENCE – The I-195 Redevelopment District Commission is trying to stir more interest in a nearly 1.5-acre parcel of developable land in Providence, with frontage on Wickenden Street.
The property, known as Parcel 6, is in the Fox Point neighborhood and among the East Side parcels in the I-195 district. Although several developers have expressed interest in building on some of these sites, no one has an active proposal for Parcel 6.
The Carpionato Group last year pitched a large-scale development covering three East Side parcels, including Parcel 6, but the company has since withdrawn its interest.
According to a request for proposals, or RFP, issued recently, the commission is seeking a high-quality, financially feasible project that will advance economic development. It can include a mix of uses, but the commission is specifically encouraging something that has a "substantial ground-floor retail component" of 10,000 to 20,000 square feet on Wickenden Street.
A grocery store is "particularly encouraged."
In addition, the RFP states that all parking is to be provided on-site, and projects that include residential housing are encouraged to include workforce housing that would be affordable to households who earn up to 120 percent of the Providence area median income.
Those incomes vary by household size but include some of the following possibilities: for a household of one person, an income up to $67,500; for a family of three, an income of up to $86,760.
The RFP deadline for submissions is April 26. A public presentation will be required of all development proposals and is tentatively scheduled for May 22. The commission anticipates selecting a preferred developer at its June meeting.
Mary MacDonald is a staff writer for the PBN. Contact her at macdonald@pbn.com.