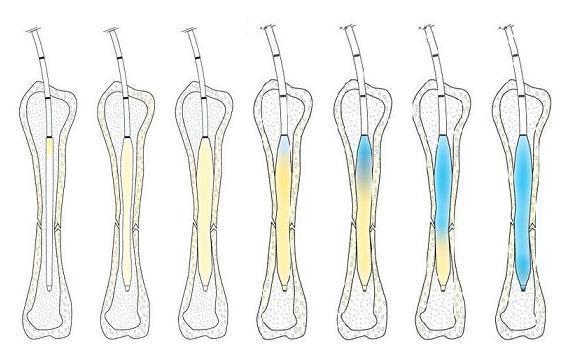 EAST PROVIDENCE —IlluminOss Medical has received U.S. Food and Drug Administration de novo clearance – the first granted by the FDA's Orthopedic Branch – for the IlluminOss Bone Stabilization System using light-sensitive resin for treatment of fractures of the humerus, radius and ulna from metastatic bone disease, a form of cancer.
The East Providence-based, privately held, commercial-stage medical device company will now be able to commercialize its system in the U.S., aiming to meet a critical need to make less invasive orthopedic fracture repair options available to an aging and underserved market segment, according to the company.
The IlluminOss System uses a thin-walled Polyethylene terephthalate, or PET, balloon infused with a liquid monomer delivered into the intramedullary canal of a patient's bone through a small incision.
Once the balloon is infused with monomer, it conforms to the shape of the patient's specific bone. The surgeon then activates a light source which delivers visible light to the PET balloon, polymerizing the monomer. The cured, hardened implant provides longitudinal strength and rotational stability over the length of the implant, stabilizing the fracture.
The IlluminOss System, which has been commercially available in international markets and been in clinical use since 2010, will now be available to patients in the U.S. for the treatment of pathological fractures of the humerus, radius and ulna.
"The IlluminOss System has significantly changed the way we are able to approach the treatment of certain impending and actual pathological fractures resulting from metastatic bone disease," said Dr. Richard McGough, Department of Orthopaedic Surgery, University of Pittsburgh Medical Center. "We were able to offer patients a quick, reliable surgical option that minimized pain and hospitalization. We were also able to consolidate their treatments; in some cases, we moved from two-day admissions to outpatient surgery, and we were ultimately able to complete radiation much more quickly."
The next steps for the company will be hiring, staffing, sales & marketing distribution channels and product production for the USA market, said Jordan Bouclin, spokesman for IlluminOss Medical.
IlluminOss plans to start commercialization efforts in the U.S. in second quarter of 2018.
The metastatic market for humeral/arm disease is about a $100 million market segment, Bouclin said.  "As we branch into normal bone fractures – the market segment increases to about 875 million in total."
Rob Borkowski is a PBN staff writer. Email him at Borkowski@PBN.com.